April 17, 2013 -
Erik Oehler
NFP Mock Draft – Version 12.0
1. Kansas City Chiefs: Luke Joeckel, OT, Texas A&M, Junior: Although Joeckel and Fisher are different style players, they both have the talent to warrant being the first offensive tackle taken. Joeckel's better footwork and consistency block with base/leverage could be the reason that the Chiefs lean in his direction over Fisher.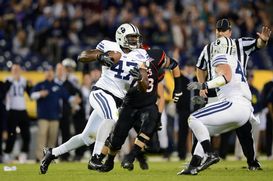 US PRESSWIREBYU's Ezekiel Ansah runs with the ball after making interception.
2. Jacksonville Jaguars: Ezekiel Ansah, DE, BYU, Senior: For coach Bradley to turn the Jaguars around he needs to upgrade their defense and turn them into a play making unit. Blessed with a rare combination of size, length and explosiveness, Ansah could be the impact edge rusher to build their defensive front around.
3. Oakland Raiders: Star Lotulelei, DT, Utah, Senior: With defensive linemen Richard Seymour and Tommy Kelly not returning, the Raiders need an influx of talent in order for their defense to have any chance of being good in 2013. Star is the most versatile interior defensive linemen in the draft and would help the Raiders with his ability to move around and align in numerous spots.
4. Philadelphia Eagles: Geno Smith, QB, West Virginia, Senior: The Eagles have a number of quarterbacks on their roster, but none is a proven starter and new head coach Chip Kelly needs an athletic quarterback to run his offense. Although Smith's mechanics need work, his ability to make big plays with his feet and strong arm could be a perfect fit for the new Eagles' offense.
5. Detroit Lions: Eric Fisher, OT, Central Michigan, Senior: Rumors continue to swirl that the Lions have concerns about Riley Reiff's ability to play tackle in the NFL and with long time left tackle Jeff Backus no longer there they must address the problem now. Fisher is a significantly better athlete than Reiff and should be able to step in and handle the left tackle spot as a rookie.
6. Cleveland Browns: Cordarrelle Patterson, WR, Tennessee, Junior: Despite rumors that the Browns will select a quarterback, we believe they will draft another big receiver with game breaking ability to help current signal caller Branden Weeden continue to develop.
7. Arizona Cardinals: Lane Johnson, OT, Oklahoma, Senior: With QB Carson Palmer now in the fold, the Cardinals cannot afford to sit back and hope that the left tackle position works itself out. Although Johnson may be raw, he is a premier athlete who improved so much in 2012 that his future looks very bright.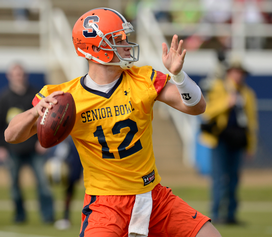 Syracuse's Ryan Nassib prepares to make a throw during Senior Bowl practice.
8. Buffalo Bills: Ryan Nassib, QB, Syracuse, Senior: With more and more people coming out and declaring that they feel Ryan Nassib is the top quarterback in the Draft, I do not believe the Bills will take the chance of waiting to try and pick him in the second round. With his experience playing under coaches Marrone and Hackett, Nassib could really shine in an offense that will be similar to the one he ran at Syracuse.
9. New York Jets: Dion Jordan, OLB, Oregon, Senior: The Jets defense has lacked "bite" in recent seasons due to their lack of an outside pass rush, so they select perhaps the most dynamic, natural pass rusher in the draft. Jordan is long and linear, but has the explosiveness off the ball and pass rush moves to easily defeat pass blocks when he has space to work with.
10. Tennessee Titans: Bjoern Werner, DE, Florida State, Junior: The Titans believe that defensive end Derrick Morgan is on the verge of breaking out and becoming a top pass rusher, so adding Bjoern Werner would give them two high end defensive ends.
11. San Diego Chargers: Chance Warmack, OG, Alabama, Senior: While the Chargers would prefer a left tackle, with no elite one remaining they select Chance Warmack. After losing guard Louis Vasquez in free agency and Kris Dielman to injury in recent seasons, the Chargers need to upgrade their interior offensive line also.
12. Miami Dolphins: Dee Milliner, CB, Alabama, Junior: In the last two off-seasons the Dolphins lost cornerbacks Vontae Davis and Sean Smith and free agent signing Brent Grimes is coming off a season ending injury. Milliner would secure on cornerback spot and give them a strong, physical and tremendously athletic defender.
13. Tampa Bay Buccaneers: Sylvester Williams, DT, North Carolina, Senior: Gerald McCoy is an elite defensive tackle and the chance to place Sylvester Williams next to him is too good to pass up. With his explosive initial quickness, size and strength, Williams would pair up great with McCoy, Bowers and Clayborn to give the Bucs an excellent young defensive line.
14. Carolina Panthers: Sharrif Floyd, DT, Florida, Junior: With Charles Johnson and Greg Hardy the Panthers have two good defensive ends, but their interior defensive line has been a major problem the past two seasons. Floyd would immediately help as he brings the ability to penetrate and disrupt/make plays behind the LOS.
15. New Orleans Saints: Barkevious Mingo, DE/OLB, LSU, Junior: Making the move to a 34 defense is never easy and finding outside linebackers who can rush off the edge is paramount to the success of the unit. Mingo's quick twitch athleticism and natural pass rush ability make him a great fit for the Saints scheme.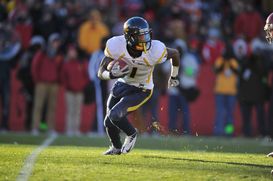 US PRESSWIREWest Virginia's Tavon Austin surveys the field while running with ball.
16. St. Louis Rams: Tavon Austin, WR, West Virginia, Senior: The Rams signed Jake Long to help protect Sam Bradford's blindside, so now they go out and get him a weapon to throw to. I believe Austin is the most dynamic offensive weapon in the draft and would big the big play back to the Rams' offense.
17. Pittsburgh Steelers: Jarvis Jones, OLB, Georgia, Junior: With James Harrison no longer on the team, the Steelers need to find a productive outside pass rusher to get their defense back to its old ways. Despite a bad pro day workout, Jones is thought of very highly by many teams as a player who will excel as an outside linebacker in a 34 defense.
18. Dallas Cowboys: Jonathan Cooper, OG, North Carolina, Senior: Dallas' offensive line has not played well in recent seasons and Cooper is a "plug and play" guard who will upgrade their line as a rookie. Strong and athletic, Cooper has the tools to be effective as an in-line blocker and out in space.
19. New York Giants: Sheldon Richardson, DT, Missouri, Junior: The Giants pass rush was not consistent in 2012 and they need fresh bodies to help. Richardson is one of the most explosive off the ball defenders in this year's draft and would upgrade the Giants' pass rush immediately.
20. Chicago Bears: D.J. Fluker, OT, Alabama, Junior: The Bears held their breath hoping that Fluker would to tell, so they do not hesitate to pick him when he is. With Bushrod manning the left tackle spot, Fluker could step in and handle the right tackle spot as a rookie.
21. Cincinnati Bengals: Kenny Vaccaro, SAF, Texas, Senior: If the season began today, Taylor Mays would likely have to start at one of the safety spots. So they grab Vaccaro who is the best safety in the draft and would upgrade the back end of the Bengals defense.
22. St. Louis Rams (From Washington): Jonathan Cyprien, SAF, Florida International, Senior: So far in the off-season the Rams have made a number of moves to upgrade their offense, but they still need help at the back end of their defense. Cyprien would give the Rams a versatile defensive player who could upgrade their run support and pass coverage.
23. Minnesota Vikings: Keenan Allen, WR, California, Junior: After trading away Percy Harvin the Vikings have issues at receiver and despite running poorly at his pro day, Allen would be a great addition to their offense. With his size, route running and hands, Allen can be the go to receiver to help Christian Ponder develop.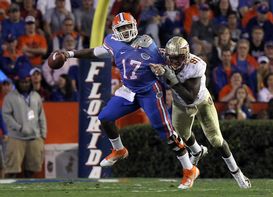 US PRESSWIREFLorida State's "Tank" Carradine sacks the quarterback.
24. Indianapolis Colts: Cornellius "Tank" Carradine, DE/OLB, Florida State, Senior: While OLB is not a dire need, GM Ryan Grigson realizes Carradine would likely have been a top ten pick if he had not injured his knee vs Florida. So he decides to take a gamble that Carradine will likely get back to 100% in time and will be an impact player for them when he does.
25. Minnesota Vikings (From Seattle): Xavier Rhodes, CB, Florida State, Junior: With Antoine Winfield now a Seahawk, the Vikings know he will not be returning. Rhodes is a huge cornerback who does an excellent job of playing physical and can run with an NFL receiver on deep routes.
26. Green Bay Packers: Tyler Eifert, TE, Notre Dame, Junior: Jermichael Finley has never become the premier tight end that many though he would and Eifert has the athleticism, size and receiving skills to be an impact player right away.
27. Houston Texans: Arthur Brown, ILB, Kansas State, Senior: When Brian Cushing was injured the Texans' defensive production slipped, so they need to get another high quality inside linebacker to pair with. Brown and Cushing would give the Texans two of the most athletic inside linebackers in the league.
28. Denver Broncos: Datone Jones, DE, UCLA, Senior: After losing Elvis Dumervil the Broncos make the quick move to replace him by adding the strong and athletic Jones. He has the talent to be a dominant pass rusher and impact run defender.
29. New England Patriots: Jesse Williams, DT, Alabama, Senior: The Patriots defensive line has not been the dominant force it was years ago, so they need to add young talent to their defensive line. Williams is the ultra-powerful defensive lineman that the Patriots like and with his athleticism and versatility he could fill many roles on their defensive line.
30. Atlanta Falcons: DJ Hayden, CB, Houston, Senior: The Falcons cut Dunta Robinson and did not re-sign Brent Grimes, so they are shorthanded at cornerback. If Hayden did not get hurt he likely would have been a top fifteen pick, so the Falcons get great value here.
31. San Francisco 49ers: Corey Lemonier, OLB, Auburn, Junior: When Justin Smith was injured late in 2012 teams were able to focus on Aldon Smith and limited his effectiveness. Lemonier's explosiveness and speed give him the tools to be an impact edge rusher in the 49ers defense.
32. Baltimore Ravens: Alec Olgetree, ILB, Georgia, Junior: Although Manti Te'o is still on the board; Ozzie Newsome once again shows a willingness to gamble on a player with immense physical talent despite character issues. He could be the long term replacement for Ray Lewis if he handles himself away from football because he is such an elite physical talent.
Email Russ at Russelllande@yahoo.com and Follow Russ on Twiiter @RUSSLANDE