February 11, 2013 -
Erik Oehler
NFP Mock Draft – Version 6.0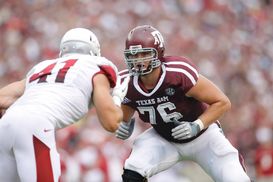 US PRESSWIRETexas A&M OT Luke Joeckel slides out to pass protect.
1. Kansas City Chiefs: Luke Joeckel, OT, Texas A&M, Junior: While the Chiefs have a desperate need for a quarterback, they have let it be known that they will not be re-signing left tackle Branden Albert due to rumored back issues. So it makes a lot of sense for them to draft Joeckel who will be able to handle the left tackle job as a rookie and be their long term answer on the blindside.
2. Jacksonville Jaguars: Ezekiel Ansah, DE, BYU, Senior: Jacksonville has been trying to upgrade its outside pass rush for a few seasons, but has not been successful. The new regime decides to gamble a bit and take Ansah who is the most physically gifted defensive end in the Draft, but is still learning the finer points of playing the position.
3. Oakland Raiders: Star Lotulelei, DT, Utah, Senior: Richard Seymour is not expected to return to Oakland, so the Raiders must find a way to replace his strength and playmaking ability. Many may expect the Raiders to take a quarterback here, but sources have told us they do not feel there is a quarterback worthy of the third overall pick.
4. Philadelphia Eagles: Eric Fisher, OT, Central Michigan, Senior: Jason Peters is no sure thing to be the player he was before his achilles injury and the Eagles right tackle spot is still unsettled. After an outstanding week at the Senior Bowl, where he convinced everyone in attendance that he can be a high end starter, the Eagles know selecting him gives them insurance in case Peters has any issues and stabilizes the right tackle position if Peters is back to his old form for the 2013 season.
5. Detroit Lions: Bjoern Werner, DE, Florida State, Junior: Cliff Avril is a free agent again this off-season and they just released Kyle Vanden Bosch, so they have a real need for an outside pass rusher. With Ndamukong Suh, Corey Williams and Nick Fairley the Lions are set for the long term at defensive tackle, but must improve their outside rush for the defense to take the next step.
6. Cleveland Browns: Keenan Allen, WR, California, Junior: With young talent like Trent Richardson, Josh Gordon and Jordan Cameron on the roster, the Browns need to get more weapons if Brandon Weeden is going to succeed in Coach Chudzinski's downfield passing attack. Allen reminds us a ton of Bengals' receiver AJ Green and could provide the big play ability and security blanket for Brandon Weeden that AJ Green does for Andy Dalton.
7. Arizona Cardinals: Geno Smith, QB, West Virginia, Senior: Although Coach Arians is publicly stating that they are going to work with Kevin Kolb; I believe it is a smoke screen and that the Cardinals will select Smith. A physically gifted quarterback with great football intelligence/instincts, Smith should be able to step in and start as a rookie which would greatly upgrade the Cardinals passing attack and make Larry Fitzgerald happy.
8. Buffalo Bills: Ryan Nassib, QB, Syracuse, Senior: The Bills relax after the Cardinals select Geno Smith as they have been targeting Nassib since Coach Marrone took the job. Blessed with a strong arm, great mechanics and experience running the offense the Bills will run, Nassib should be able to start as a rookie and hit the ground running.
9. New York Jets: Dion Jordan, DE/OLB, Oregon, Senior: Calvin Pace is expected tom be released by the Jets and considering their outside pass rush was a big problem in 2012 they must address it. Jordan is more of a long, linear player than a huge, powerful one, but with his explosive initial quickness, fast change of direction ability and natural pass rush skills he is a perfect fit rushing off the edge in the Jets' defense.
10. Tennessee Titans: Dee Milliner, CB, Alabama, Junior: Since losing Cortland Finnegan a season ago the Titans have wanted to replace him. While they are very happy with Alterraun Verner at one cornerback spot, pairing him with Milliner would give them two good outside corners and would allow Jason McCourty to slide inside to be their nickel cornerback.
11. San Diego Chargers: Lane Johnson, OT, Oklahoma, Senior: After holding their breath since the Eagles selected Eric Fisher with the fourth pick, the Chargers waste no time running their card up to select Lane Johnson. A former junior college quarterback, Johnson's combination of height, long arms and athleticism makes him the ideal candidate to replace Jared Gaiter, who bombed so miserably in 2012 for a variety of reasons.
12. Miami Dolphins: Cordarrelle Patterson, WR, Tennessee, Junior: After trading Brandon Marshall last off-season the Dolphins lacked a top shelf receiver despite the emergence of Brian Hartline. This leads them to select Patterson who reminds many around the league of Julio Jones and will provide Ryan Tannehill a big play target who can open up the Dolphins' passing attack.
13. Tampa Bay Buccaneers: Xavier Rhodes, CB, Florida State, Junior: After trading the frustrating Aqib Talib to the Patriots, the Buccaneers need to upgrade their secondary and Rhodes can definitely upgrade their secondary. Blessed with excellent size, a muscular build and excellent playing strength to go with his high end athleticism, Rhodes can be the physical and aggressive cornerback that Coach Schiano likes.
14. Carolina Panthers: Sheldon Richardson, DT, Missouri, Junior: The Panthers have two quality outside pass rushers in Charles Johnson and Greg Hardy, but are weak at defensive tackle. Richardson will give the Panthers an explosive interior defender who can penetrate gaps to blow up plays behind the LOS consistently.
15. New Orleans Saints: Jarvis Jones, OLB, Georgia, Junior: With Rob Ryan leading the Saints switch to a 34 defense, there is no doubt that he will be looking for explosive, edge pass rushers who can crash off the corner. Jones has the talent to be an ideal fit in Ryan's defensive scheme assuming his neck passes the Saints' physical.
16. St. Louis Rams: Kenny Vaccaro, SAF, Texas, Senior: The Rams cannot believe that Vaccaro slid to them as they have such a desperate need at safety. So there is no hesitation when they select Vaccaro who not only will start as a rookie, but he will immediately upgrade the coverage of the Rams secondary.
PICKS 17-32 CONTINUED ON PAGE 2
Email Russ at Russelllande@yahoo.com and Follow Russ on Twitter @RUSSLANDE