March 01, 2013 -
Erik Oehler
NFP Mock Draft – Version 7.0
1. Kansas City Chiefs: Sharrif Floyd, DT, Florida, Junior: The Chiefs acquired their quarterback by trading for Alex Smith and now the smart thing to do would be for them to re-sign left tackle Brandon Albert. Then they can use the first overall pick on Sharrif Floyd who can immediately upgrade the Chiefs defensive line.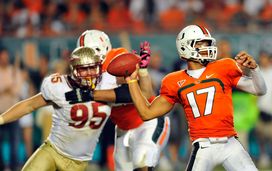 US PRESSWIREFlorida State DE Bjoern Werner closes in on Miami QB.
2. Jacksonville Jaguars: Bjoern Werner, DE, Florida State, Junior: While the Jaguars have many needs, if they want their defense to improve they must address their anemic pass rush. Werner reminds us a lot of current Rams' defensive end Chris Long who has become a top player and team leader, which is what we expect Werner to become.
3. Oakland Raiders: Luke Joeckel, OT, Texas A&M, Junior: If Carson Palmer is going to be productive then the Raiders need to do a better job of protecting him. Joeckel's addition would give them a high end left tackle and they could let Jared Veldheer man the right tackle spot to give them two quality tackles.
4. Philadelphia Eagles: Eric Fisher, OT, Central Michigan, Senior: For Chip Kelly's offense to succeed he needs offensive linemen that can block effectively out in space. Fisher combined with a healthy Jason Peters would give their offensive line a big boost and also provides insurance in the event that Peters does not get back to his pre-injury form.
5. Detroit Lions: Ezekiel Ansah, DE, DE, Senior: The Lions already released Kyle Vanden Bosch and Cliff Avril is unlikely to return, which means they must address their outside pass rush to have an effective defense in 2013. Ansah may be raw in terms of pass rush moves, but his physical talent, smarts and shocking football instincts should enable him to make an impact as an edge rusher as a rookie.
6. Cleveland Browns: Dion Jordan, OLB, Oregon, Junior: The Browns have a lot of talent on their defensive line to make the switch to a three man line, but they need someone to play opposite Jabaal Sheard. Jordan is a freak type athlete who would be especially dangerous rushing the passer off the edge in a 34 alignment where he has space to work with.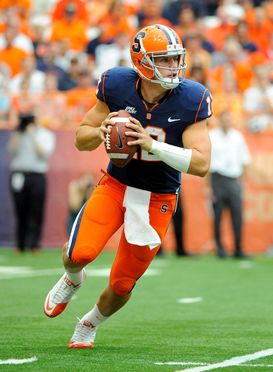 US PRESSWIRESyracuse QB Ryan Nassib rolls out of pocket while keeping his eyes down the field searching for a receiver.
7. Arizona Cardinals: Ryan Nassib, QB, Syracuse, Senior: A big reason that Coach Arians is the head coach is that he has proven he can develop young quarterbacks quickly. Nassib has all the physical tools and outstanding intangibles to be a high end starter in the NFL and plays with similar passion and intensity to Andrew Luck who Arians coached in 2012 in Indianapolis.
8. Buffalo Bills: Matt Barkley, QB, USC, Senior: Ryan Fitzpatrick is not the answer in Buffalo and the new coaching regime wants to pick its own quarterback to build around. While Barkley may lack premier physical tools, he is outstanding above the shoulders, has excellent mechanics and is an accurate passer on quick hitting timing routes.
9. New York Jets: Barkevious Mingo, DE/OLB, LSU, Junior: The Jets outside pass rush was inconsistent in 2012 and they need an infusion of young talent. Mingo definitely did not dominate every game as he is physically capable of, but with his talent and Rex Ryan's coaching he could really explode as an edge rusher in their defense.
10. Tennessee Titans: Dee Milliner, CB, Alabama, Junior: Since losing Cortland Finnegan a season ago the Titans secondary has had a big hole, so they jump at the chance to grab Milliner who immediately becomes their best cornerback.
11. San Diego Chargers: Lane Johnson, OT, Oklahoma, Senior: The Chargers think long and hard about drafting Star Lotulelei to become their nose tackle, but in the end they realize they must upgrade the left tackle spot to give Rivers a chance to shine again. Johnson is inexperienced as an offensive tackle and lacks good playing strength, but he has elite athleticism, surprisingly good instincts and great competitiveness.
12. Miami Dolphins: Keenan Allen, WR, California, Junior: Ryan Tannehill played well as a rookie and showed the potential to be a franchise quarterback. However, to become that player he needs weapons and Allen is the best receiver in the Draft with the size, deceptive speed and receiving skills to be an immediate impact player.
13. Tampa Bay Buccaneers: Star Lotulelei, DT, Utah, Senior: Gerald McCoy is an elite talent on the verge of becoming a star, but with the Buccaneers seemingly ready to let fellow defensive tackle Roy Miller leave as a free agent opposing offenses would be able to focus on him. They decide to gamble that Lotulelei's heart issue is not going to have a long term effect on his career and grab him to play next to McCoy.
14. Carolina Panthers: Sheldon Richardson, DT, Missouri, Junior: With Charles Johnson and Greg Hardy, the Panthers have talent rushing the passer off the edge, but their interior defensive line is an issue. Richardson would bring explosive play-making ability to their interior defensive line, which would make their defense significantly better.
15. New Orleans Saints: Corey Lemonier, OLB, Auburn, Junior: If the Saints are going to successfully make the switch to a 34 defense, they have to find edge pass rushers. While Lemonier may be raw, he is naturally explosive and has the speed to threaten the corner consistently and the burst to finish the sack once he beats the blocker.
16. St. Louis Rams: Cordarrelle Patterson, WR, Tennessee, Junior: For the Rams offense to take the next step, they need to get weapons for Bradford to throw to. Patterson is no doubt raw when it comes to route running, but his ability to make game changing plays once he has the ball in the open field is why the Rams select him.
17. Pittsburgh Steelers: Jarvis Jones, OLB, Georgia, Junior: Jones likely would have been drafted earlier if not for concerns about his neck, but the Steelers desperately need to improve their outside pass rush so they take the gamble. Jones could backup both James Harrison and Lamaar Woodley in 2013 which would keep them fresher and give him time to learn and develop.
18. Dallas Cowboys: Chance Warmack, OG, Alabama, Senior: Historically the Cowboys always take the flashier player and bypass the safer choice, but here they make the smart choice by selecting Warmack who is one of the premier prospects in the entire Draft. Warmack will step in and start as a rookie, will upgrade their rushing attack and add stability to their pass protection.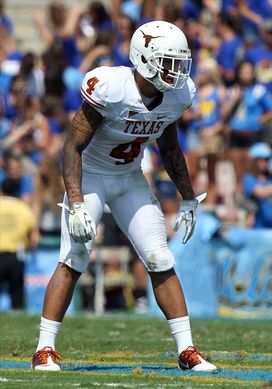 ICONTexas safety Kenny Vaccaro surveys the field to try and read the offense.
19. New York Giants: Kenny Vaccaro, SAF, Texas, Senior: The Giants consider some inside linebackers, but as has been their history they stay true to their board and select the best player remaining. With all the injury issues Kenny Phillips has battled through, Vaccaro gives them a younger, healthier safety who should help the backend of their defense from day one.
20. Chicago Bears: D.J. Fluker, OT, Alabama, Junior: The Bears must find a way to keep Cutler upright and give him a clean pocket for Coach Trestman's offensive system to work. Fluker impressed with his foot quickness, flexibility and all-around athleticism at the Combine could definitely start at right tackle as a rookie and may even be able to handle the left tackle spot.
21. Cincinnati Bengals: Tavon Austin, WR, West Virginia, Senior: Although the Bengals have other needs, the chance to add the most dynamic offensive weapon in the 2013 Draft makes too much sense for the Bengals. Combining Austin's big play ability with that of AJ Green could give Andy Dalton the best pairing of big play receivers in the NFL.
22. St. Louis Rams (From Washington): Menelik Watson, OT, Florida State, Junior: After grabbing a weapon for Bradford to throw to with their first first round pick, the Rams make the bold move of drafting Watson to be their left tackle of the future. Watson is a rare athlete with exceptional flexibility and strength, but has only played football for two years so his production does not match his talent level yet.
23. Minnesota Vikings: Jesse Williams, DT, Alabama, Senior: Long time defensive tackle Kevin Williams is nearing the end of an outstanding career. In order for the Vikings defense to continue to play at a high level they need to replace Kevin Williams with a strong and powerful defensive tackle and Jesse Williams has all those traits.
24. Indianapolis Colts: Cornellius "Tank" Carradine, OLB, Florida State, Senior: The Colts have already informed Dwight Freeney that they will not be bringing him back, so they need to find another edge rusher for their 34 defense. Ryan Grigson has shown a willingness to take gambles and Carradine would likely be a top ten pick if he had not hurt his knee against Florida, so he takes a shot on him here.
25. Seattle Seahawks: Quinton Patton, WR, Louisiana Tech, Senior: While there are few doubters left that Russell Wilson can be a highly productive starting quarterback, but for the Seahawks' offense to take the next step they need to add weapons. Patton is a tall receiver who accelerates to full speed fast, runs sharp routes, has the burst to easily get separation and the run after catch ability to make big plays.
26. Green Bay Packers: Johnathan Cooper, OG, North Carolina, Senior: Not only do the Packers have issues figuring their offensive tackle situation, but their interior offensive line needs work. Cooper is athletic enough to start at guard or center and should be able to challenge for a starting job as a rookie.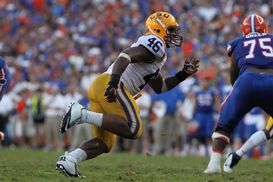 US PRESSWIRELSU linebacker Kevin Minter starts chasing after the ball carrier in pursuit.
27. Houston Texans: Kevin Minter, ILB, LSU, Junior: When inside linebacker Brian Cushing was lost for the season the Texans defense went downhill. Although Ogletree is a much better athlete and Te'o is better in coverage, Minter is the best taking on and defeat blockers at the POA, which would make him an excellent fit next to Cushing.
28. Denver Broncos: Xavier Rhodes, CB, Florida State, Junior: Rhodes has the size, speed combination to excel in press coverage and with his instincts and hitting ability he is able to play well when lined up off the ball despite choppy footwork. He can learn from Champ Bailey for a season or two and then will become their top cornerback.
29. New England Patriots: Margus Hunt, DE, SMU, Senior: Although Hunt's production at SMU does not warrant a first round selection, his combination of great height, long arms, explosiveness and rare athleticism make him the perfect Belichick project.
30. Atlanta Falcons: Eddie Lacy, RB, Alabama, Junior: Everyone is reporting that the Falcons will be releasing running back Michael Turner, but for their offense to maintain its balance they need another bell cow to carry the ball. While Lacy is not a premier prospect like Trent Richardson, he is a big, strong and aggressive runner with the talent to run through contact and gain the tough yards.
31. San Francisco 49ers: Datone Jones, DE, UCLA, Senior: After Justin Smith was injured their defense did not play at the same level during the playoffs. Jones is the versatile type of defensive linemen who can be effective rushing the passer and defending the run from any alignment, which makes him an ideal fit for the 49ers defense.
32. Baltimore Ravens: Manti Te'o, ILB, Notre Dame, Senior: With Ray Lewis retiring and Dannell Ellerbe a free agent the Ravens may need to find two new starting inside linebackers. They have to choose between the elite athlete Ogletree, who has major character questions and did not impress in interviews, and Te'o, whose leadership and coverage ability, give him the edge.
Email Russ at Russelllande@yahoo.com and Follow Russ on Twitter @RUSSLANDE