March 14, 2013 -
Erik Oehler
NFP Mock Draft – Version 8.0
1. Kansas City Chiefs: Eric Fisher, OT, Central Michigan, Senior: After applying the franchise tag to left tackle Branden Albert many assumed the Chiefs would go in another direction with the first overall selection. However, with the release of last year's right tackle Eric Winston, they need a new one and while Joeckel may be more technically sound, Fisher's aggressive and nasty blocking attitude fits right tackle better.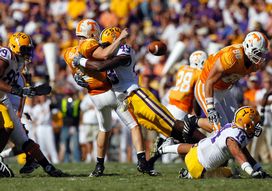 US PRESSWIREBarkevious Mingo delivers violent blow to Tennessee quarterback Tyler Bray.
2. Jacksonville Jaguars: Barkevious Mingo, DE, LSU, Junior: While many point to Mingo being more of an outside linebacker than a down defensive end, new HC Gus Bradley ran a top defense in Seattle with the under-sized Chris Clemons playing defensive end. In addition, he was their defensive coordinator a season ago when the Seahawks drafted Bruce Irvin in the first round.
3. Oakland Raiders: Geno Smith, QB, West Virginia, Senior: Despite having Carson Palmer on the roster, we believe that the Raiders are ready to move on from him. While Geno Smith's accuracy is a major concern in my eyes, there is no denying that he has great character, intangibles and intelligence similar to Andrew Luck and RGIII.
4. Philadelphia Eagles: Dion Jordan, OLB, Oregon, Junior: Many assume the Eagles are content with Trent Cole and Brandon Graham as the outside linebackers in their 34 defense. However, Cole is 30, Graham is unproven and Coach Kelly saw Dion Jordan's dynamic athleticism and pass rush ability first hand when he coached him at Oregon.
5. Detroit Lions: Ezekiel Ansah, DE, BYU, Senior: With Kyle Vanden Bosch no longer a member of the team and Cliff Avril expected to leave as an unrestricted free agent; the Lions have a huge hole at defensive end. Although Bjoern Werner is a more polished and NFL ready pass rusher, the Lions staff coached Ansah at the Senior Bowl and saw for themselves his potential to become a game changing defensive end.
6. Cleveland Browns: Dee Milliner, CB, Alabama, Junior: After signing OLB Paul Kruger in free agency the Browns have the two rush linebackers to man the outside as they switch to a 34 defense. With Joe Haden at one cornerback position, the chance to draft an elite one to play opposite him makes way too much.
7. Arizona Cardinals: Matt Barkley, QB, USC, Senior: The Cardinals' offense has struggled with consistency since Kurt Warner retired and new Coach Bruce Arians does not want to begin his regime with the same quarterback issues. While Barkley lacks premier physical talent, he has a good skill set and is outstanding above the shoulders, which should allow him to start as a rookie.
8. Buffalo Bills: Ryan Nassib, QB, Syracuse, Senior: Coach Marrone took over a Syracuse program that was 10 and 37 in the four years prior to his arrival and went four and eight in his first year as head coach. Then Ryan Nassib took over as starting quarterback and Syracuse went 21 and 17 over the last three years, which led to Marrone being considered for the Bills job. Now he has the chance to begin another rebuilding project and starts it by drafting Nassib, whom he knows everything about, to be his field general in the NFL.
9. New York Jets: Bjoern Werner, DE/OLB, Florida State, Junior: In 2012 the Jets struggled to get pressure on the quarterback, especially from the outside. Despite playing primarily down as a defensive end, Werner is a good enough athlete to be a productive outside linebacker in the Jets 34 defense.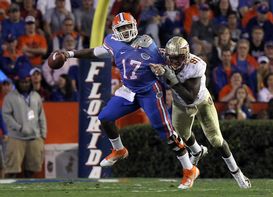 US PRESSWIREFlorida State defensive end Cornell Carradine sacks Florida quarterback.
10. Tennessee Titans: Cornell "Tank" Carradine, DE, Florida State, Senior: While Carradine is still recovering from surgery to repair an ACL injury to his right knee; the Titans are willing to gamble on him because of his potential. If he had not been injured, I believe he would have received serious consideration by the Jaguars with the second overall pick.
11. San Diego Chargers: Luke Joeckel, OT, Texas A&M, Junior: Even though it looks like the Chargers are going to give Jared Gaither a chance to redeem himself in 2013, they are not going to risk going into the season with him as their only option at left tackle. Joeckel is a top athlete with the talent to anchor Phillip Rivers' blindside for the next decade.
12. Miami Dolphins: Lane Johnson, OT, Oklahoma, Senior: With the Dolphins expected to lose left tackle Jake Long in free agency; many expect them to move Jon martin over to the left side. We think they would prefer to keep Martin on the right side as he did not have a great rookie season and can plug Lane Johnson in at left tackle.
13. Tampa Bay Buccaneers: Sharrif Floyd, DT, Florida, Junior: Gerald McCoy is an elite talent, but with Roy Miller expected to leave team as a free agent the Buccaneers need a defensive tackle to pair with McCoy. Floyd is a rare physical talent with a remarkable combination of size, explosiveness and strength and will give the Buccaneers one of the best tandems of defensive tackles in the NFL.
14. Carolina Panthers: Sylvester Williams, DT, North Carolina, Senior: The Panthers have a strong outside pass rush, but their interior defensive line has issues. Williams is a powerful defensive tackle whose initial quickness and competitiveness will make him an immediate impact player in the middle of the Panthers' defense.
15. New Orleans Saints: Jarvis Jones, OLB, Georgia, Junior: While nose tackle is the most important position in a 34 defense, without an elite one available in the Draft the Saints upgrade their outside pass rush. Jones has the edge pass rush skills to be a high end starting outside linebacker in their new defensive scheme if he plays hard every snap.
16. St. Louis Rams: Cordarrelle Patterson, WR, Tennessee, Junior: With the first of two first round selections the Rams make sure they get the best offensive weapon available in Cordarrelle Patterson. While he has his issues, his physical skills are remarkable and would provide Sam Bradford with a legit big play weapon.
17. Pittsburgh Steelers: Star Lotulelei, DT, Utah, Senior: Although the Steelers would love to find a replacement for James Harrison, they would have to reach to fill that spot here. With the Steelers' defensive line getting older and Cameron Heyward not developing yet, they grab Lotulelei who should start at defensive end as a rookie and could end up as the long term replacement for Casey Hampton at nose tackle.
18. Dallas Cowboys: Kenny Vaccaro, SAF, Texas, Senior: Many are predicting the Cowboys will grab guard Chance Warmack here, but with issues on the backend of their defense, the Cowboys grab Vaccaro. Not only is he a gifted talent, but he is smart and mature which should allow him to handle a starting job as a rookie.
19. New York Giants: Chance Warmack, OG, Alabama, Senior: With Kevin Boothe a free agent and the Giants history of sticking to their draft board this pick makes too much sense. Warmack is likely to be the highest player on many team's draft boards after the first five or six players are drafted, so he is a great value here.
20. Chicago Bears: D.J. Fluker, OT, Alabama, Junior: The Bears know that for Jay Cu tler to excel in the Bears' new quick hitting passing attack they must protect him better. Fluker is not a premier athlete, but is a deceptively good one who should start at right tackle from day one and with Jermon Bushrod signed to play left tackle the Bears will have two quality tackles in 2012.
21. Cincinnati Bengals: Arthur Brown, OLB, Kansas State, Senior: After losing Manny Lawson in free agency the Bengals need to replace him. Brown has elite speed chasing down plays in pursuit, plays aggressively versus the run and is strong in pass coverage, which should enable him to step in and start as a rookie.
22. St. Louis Rams (From Washington): Eddie Lacy, RB, Alabama, Junior: The Rams hoped one of the top offensive tackles would still be available, so with none left they select Steven Jackson's replacement. A strong, power rushing attack would help Bradford improve dramatically and Lacy has the talent to be that guy.
23. Minnesota Vikings: Keenan Allen, WR, California, Senior: After trading Percy Harvin, the Vikings are fortunate that Keenan Allen slides to them as he has the size, speed and big play ability to be a consistent number one receiver. While Allen may lack the truly rare physical talent that Harvin possesses, he brings none of the headaches and will be a consistently productive player each and every game.
24. Indianapolis Colts: John Cooper, OG, North Carolina, Senior: Even after signing free agent guard Donald Thomas, the Colts interior line is a weakness. Cooper is the rare guard with the strength to physically control defensive tackles and the athleticism to block well out in space.
25. Minnesota Vikings (From Seattle Seahawks): Sheldon Richardson, DT, Missouri, Junior: Kevin Williams is nearing the end of a great career and the Vikings do not have an impact defensive tackle to replace him. Although Richardson lacks Williams' great size, his explosiveness off the ball and ability to get backfield penetration fits the Vikings aggressive defensive scheme.
26. Green Bay Packers: Menelik Watson, OT, Florida State, Junior: With Aaron Rodgers constantly under pressure in 2012 the Packers offense struggled with consistency. Watson is a rare athlete with excellent natural strength and could well turn out to be the best tackle taken in this year's draft.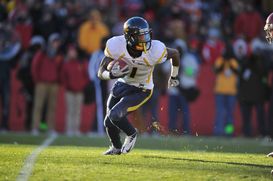 US PRESSWIREWest Virginia dynamo Tavon Austin searches field for open space to make big play running with ball.
27. Houston Texans: Tavon Austin, WR, West Virginia, Senior: The Texans made a big jump in 2012, but their offense had some real ups and downs after the great start to the season. Austin would bring their offense a big play dimension that they lack now, which would make Andre Johnson an even better player.
28. Denver Broncos: John Cyprien, SAF, Florida International, Senior: Despite stating publicly that they are going to work with Rahim Moore, we think he is not a top end starter. Cyprien is an elite athlete who has shown the ability to excel in coverage while making violent hits in run support.
29. New England Patriots: Jesse Williams, DT, Alabama, Senior: The Patriots defense was dominant when they had three first round picks on their defensive line, but that has not been the case since Richard Seymour and Ty Warren left. Williams is a tremendously powerful player with the ability to dominate blockers and would be a good fit as a defensive end or nose tackle in the Patriots defense.
30. Atlanta Falcons: Datone Jones, DE, UCLA, Senior: With John Abraham no longer a part of the team, the Falcons desperately need to find a pass rusher to replace him. Jones is a versatile pass rusher who would help the Falcons' defense with his ability to pressure the quarterback from different alignments.
31. San Francisco 49ers: Corey Lemonier, DE/OLB, Auburn, Junior: Aldon Smith seemed to wear down in his first full season as a starter and was not as effective once Justin Smith was injured. Lemonier would give the 49ers another edge pass rusher to take pressure of Smith to allow him to stay fresh and be consistently dominant.
32. Baltimore Ravens: DeAndre Hopkins, WR, Clemson, Junior: After trading Anquan Boldin the Ravens need another receiving weapon and Hopkins could not be a better fit. Playing him opposite Torrey Smith would give Flacco two big receivers with the run after catch ability to change games once they have the ball in their hands.
Email Russ at Russelllande@yahoo.com and Follow Russ on Twitter @RUSSLANDE