March 27, 2013 -
Erik Oehler
NFP Mock Draft – Version 9.0
1. Kansas City Chiefs: Luke Joeckel, OT, Texas A&M, Junior: Sources insist that the Chiefs will trade LT Branden Albert and will use the top pick in the Draft to replace him. While the Chiefs reportedly love Oregon OLB Dion Jordan, they already have Tamba Hali and Justin Houston, so they select Luke Joeckel to be their LT for the next decade.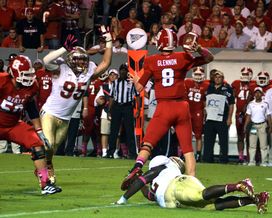 US PRESSWIREFlorida State DE Bjoern Werner closes on N.C. State QB Mike Glennon.
2. Jacksonville Jaguars: Bjoern Werner, DE, Florida State, Junior: Many different players have been predicted to go to the Jaguars this spring, but I think Werner makes a ton of sense because he is an edge pass rusher who plays with the passion and intensity the new head coach Gus Bradley demands. Now after his outstanding Pro Day, concerns about him not being a good enough athlete to be as productive in the NFL are likely in the past, the Jaguars jump at the chance to draft him.
3. Oakland Raiders: Geno Smith, QB, West Virginia, Senior: While I believe selecting Geno Smith here would be a mistake, all the sources I speak with tell me that they are leaning this way. Smith is off the charts when it comes to character, work ethic and intangibles. Combined with his strong arm and athleticism, Smith has all the physical talent to develop into a top NFL QB, but he is a long way from a finished product.
4. Philadelphia Eagles: Star Lotulelei, NT, Utah, Senior: As the Eagles make the switch to a 34 defense they need to fill a number of positional needs and none is more important than a nose tackle. With his ability to physically dominate blockers at the POA, now that he appears to have overcome medical questions he would be an ideal choice to anchor the middle of the Eagles' defensive front.
5. Detroit Lions: Ezekiel Ansah, DE, DE, Senior: With neither Kyle Vanden Bosch or Cliff Avril expected to return in 2013, the Lions have a desperate need for an outside pass rusher. After coaching Ansah at Senior Bowl they know how effective he can be if lined up wide and allowed to attack the edge, so they jump at the chance to select him here.
6. Cleveland Browns: Keenan Allen, WR, California, Junior: As the Browns continue trying to upgrade their offense, the chance to draft Allen who has great size at 6'2, explosive play-making ability and is polished running routes makes too much sense. Pairing Allen with Josh Gordon would give Branden Weeden two young receivers with elite talent to throw to for the next decade.
7. Arizona Cardinals: Matt Barkley, QB, USC, Senior: Despite all the smoke screens that the Cardinals are sending working out different quarterbacks and discussing Drew Stanton as a potential starter, we really believe that they will go with Matt Barkley. While he may not have the best arm, he has a strong enough arm and has similar mental makeup and intangibles to Andrew Luck whom Coach Arians coached in Indianapolis last season.
8. Buffalo Bills: Ryan Nassib, QB, Syracuse, Senior: While the Bills have done everything in their power to convince the public and other teams that they are not interested in Nassib, I do not buy it. Whether or not he is the best QB in this class, he is one of the best and the Bills desperately need one. Their coaches know everything about him; especially what incredible intangibles he has.
9. New York Jets: Barkevious Mingo, OLB, LSU, Junior: Even if the Jets trade Revis, they will have more talent and depth at cornerback than outside linebacker, so they will not pass up the chance to select Mingo. His explosive athleticism and natural pass rush skills make him an ideal fit for the Jets' 34 defensive scheme.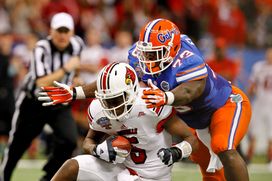 US PRESSWIREFlorida DT Sharrif Floyd makes tackle against Louisville.
10. Tennessee Titans: Sharrif Floyd, DT, Florida, Junior: In recent seasons that Titans' defensive tackles have not been the impact play-makers that they defense needs. While Floyd's short arms are a concern for teams that ask their defensive tackles to be 2-Gap players, the Titans would ask Floyd to be a gap shooting, penetrator, which fits his skill set ideally.
11. San Diego Chargers: Eric Fisher, OT, Central Michigan, Senior: Not believing their luck, the Chargers sprint up with their card when Fisher is still available. Although Fisher definitely has strength issues and is not a franchise LT type prospect, he is a top athlete with great length and competitiveness, which will shore up their LT spot.
12. Miami Dolphins: Lane Johnson, OT, Oklahoma, Senior: Jake Long is now a St. Louis Ram and Jonathan Martin did not "wow" anyone with his play in 2012. Johnson is a top athlete who has made great strides since becoming an offensive lineman/tackle in 2011 and could protect Ryan Tannehill's blindside for a long time.
13. Tampa Bay Buccaneers: Dee Milliner, CB, Alabama, Junior: Things did not go as well as planned when the Bucs signed CB Eric Wright a season ago, so now they make the move to upgrade at cornerback. Milliner is a strong, physical corner with the athleticism and speed to excel in man and zone coverage.
14. Carolina Panthers: Sylvester Williams, DT, North Carolina, Senior: Despite not receiving much national attention, Williams is very high on many draft boards and would be a great choice by the Panthers. With his initial quickness, strength and excellent competitiveness, Williams would provide an immediate upgrade on the interior of the Panthers defensive line.
15. New Orleans Saints: Sheldon Richardson, DT, Missouri, Junior: Although they lack experience, sources tell us that the Saints like OLB's Martez Wilson and Junior Galette to be their outside pass rushers. Cameron Jordan is perfectly suited to man one DE spot in the Saints new 34 defense and Richardson would be an excellent fit playing at the other one.
16. St. Louis Rams: Cordarrelle Patterson, WR, Tennessee, Junior: After signing Jake Long to solve their LT issues and upgrade their offensive line, the Rams use their first first round pick on Patterson whose combination of size, explosiveness, speed and big play ability is unmatched in this year&r squo;s draft.
17. Pittsburgh Steelers: Dion Jordan, OLB, Oregon, Junior: Although Jordan is rumored to be a sure top ten pick; there are always a few players who slip for no real reason. With James Harrison done in Pittsburgh and Lamarr Woodley coming off a disappointing 2012 season, the Steelers must upgrade their outside pass rush to give their defense the teeth to make big plays in 2013.
18. Dallas Cowboys: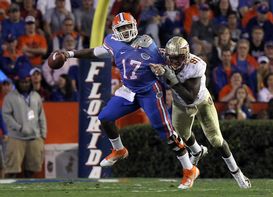 US PRESSWIREFlorida State DE Cornell "Tank Carradine is in process of sacking Florida QB.
19. New York Giants: Cornell "Tank" Carradine, DE, Florida State, Senior: Long time DE Osi Umenyiora is no longer on team and Justin Tuck has not been the same player the last two years, so they need an infusion of pass rush talent. Despite being a one year wonder, if Carradine had not injured his knee against Florida he would likely have been a top ten pick, so the Giants take a gamble here based on need and great value.
20. Chicago Bears: Chance Warmack, OG, Alabama, Senior: After signing Jermon Bushrod to secure Jay Cutler's blindside, the Bears grab the best guard in the Draft to continue their offensive line upgrade. Unlike most guards who are either extremely strong or possess good athleticism, Warmack has both which is why he is such an elite talent.
21. Cincinnati Bengals: Menelik Watson, OT, Florida State, Junior: Although the Bengals may still decide to re-sign Andre Smith, the odds are not in favor of that. So they replace Smith with Watson who has rare athleticism and strength, but is very raw.
22. St. Louis Rams (From Washington): Eddie Lacy, RB, Alabama, Junior: So far this off-season the Rams have upgraded at OT, WR and TE, so adding Lacy gives them the power back that Stephen Jackson used to be. While I have been told that many teams are not sold on Lacy, I think that the Rams believe in his talent.
23. Minnesota Vikings: Xavier Rhodes, CB, Florida State, Junior: With Antoine Winfield no longer with the team the Vikings make the move to grab his replacement. As opposed to Winfield who lacked good size, Rhodes is a huge CB with elite speed that likes to play physical with receiver.
24. Indianapolis Colts: Corey Lemonier, OLB, Auburn, Junior: After a shockingly productive first season playing a 34 defense, the Colts need to find an explosive edge rusher to play opposite OLB Robert Mathis. Lemonier has rare first step explosiveness off the ball to threaten the corner and the natural pass rush skills to defeat the OT inside or out.
25. Minnesota Vikings (From Seattle): Tavon Austin, WR, West Virginia, Senior: After trading Percy Harvin to the Seahawks, the Vikings offense needs a play-maker to replace him. Austin has the dynamic, explosive athleticism to be that player and brings none of the headaches to the locker room that Harvin did.
26. Green Bay Packers: Johnathan Cooper, OG, North Carolina, Senior: After signing Jeff Saturday to fill in at center for the short term, the Packers grab Cooper here with the plan to play him at center. A top athlete with quick hands and good strength, Cooper has everything it takes to be a quality starting center in the NFL.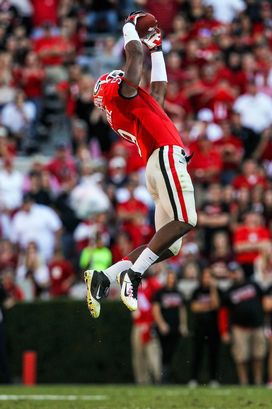 US PRESSWIREGeorgia MLB Alec Ogletree skies to make a tough interception.
27. Houston Texans: Alec Ogletree, ILB, Georgia, Junior: When inside linebacker Brian Cushing was lost for the season the Texans defense was not the same and Ogletree has the rare physical talent to be as good as Cushing, which would give them two Pro Bowl inside linebackers like San Francisco.
28. Denver Broncos: Sam Montgomery, DE, LSU, Junior: After losing Elvis Dumervil due to fax mistake, the Broncos need to get another pass rusher to keep offenses from focusing solely on Von Miller. Montgomery is an excellent run defender who gets more pressure than expected through strength, effort and hand use.
29. New England Patriots: Jarvis Jones, OLB, Georgia, Junior: Chandler Jones looks like he is going to be a highly productive starter for the Patriots, but they still need more pass rush help. Because of that need, the Patriots are willing to gamble that Jones' neck issues are a thing of the past and that his poor Pro Day workout was not indicative of future issues in the NFL.
30. Atlanta Falcons: Jamar Taylor, CB, Boise State, Senior: The Falcons cut Daunte Robinson and have yet to re-sign free agent Brent Grimes, and may not, so they must improve their secondary. Taylor is an under-rated prospect with the athleticism, toughness and ball skills to be an impact starter early in his career.
31. San Francisco 49ers: Johnthan Cyprien, SAF, Florida International, Senior: After losing Dashon Goldson in free agency the 49ers need to upgrade at safety and Cyprien fits the bill. While Kenny Vaccaro is the top safety in the Draft, Cyprien is not far behind him as he excels in run support and coverage also.
32. Baltimore Ravens: Manti Te'o, ILB, Notre Dame, Senior:</a> This one almost seems too easy as the Ravens have to find two inside linebackers after losing Ray Lewis to retirement and Dannell Ellerbe in free agency. Although Te'o may not be a premier athlete, he is a good athlete who will be a productive player and excellent leader for the Ravens.
Email Russ at Russelllande@yahoo.com and Follow Russ on Twitter @RUSSLANDE