December 20, 2011 -
Barry Dorey
NFP Power Rankings
Every week, the National Football Post brings you our weekly NFL Power Rankings: a breakdown of how we stack up the league.
Week 16 (previous rankings in parenthesis)
1. (1) Green Bay Packers (13-1): We need to keep an eye on the O-Line injuries, but one loss (on the road) isn't going to change our opinion on the Packers.
2. (3) New Orleans Saints (11-3): Drew Brees' put up MVP numbers vs. the Vikings and the Saints have ripped off six wins in a row.
3. (5) New England Patriots (11-3): Tom Brady took over the game in the second half in Denver and put to bed any talk of a Tim Tebow comeback.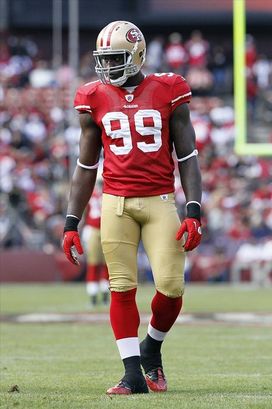 ICONAldon Smith and the 49ers' defense shut down the Steelers in the Monday night win.
4. (6) San Francisco 49ers (11-3): The 49ers looked playoff ready last night on the defensive side of the ball.
5. (2) Pittsburgh Steelers (10-4): Give Roethlisberger credit for playing hurt, but he looked like an old man on that field last night.
6. (4) Baltimore Ravens (10-4): The Ravens are now 3-4 on the road this season.
7. (10) Detroit Lions (9-5): Down six with 98-yards to go? Not a problem when you have Calvin Johnson.
8. (12) Atlanta Falcons (9-5): The Falcons looked like a playoff team in their 41-14 win over the Jags on Thursday night.
9. (13) San Diego Chargers (7-7): The Chargers are playing their best football of the season—but will they get in the dance?
10. (19) Philadelphia Eagles (6-8): Philly in the Top 10? Ask the Jets.
11. (7) Houston Texans (10-4): The Texans had a let down vs. Cam Newton and the Panthers.
12. (14) Dallas Cowboys (8-6): Romo and the Cowboys are back atop the NFC East. Will it stick this time?
13. (8) Denver Broncos (8-6): Can Tebow and the Broncos win games vs. the elite QBs in the NFL?
14. (15) Seattle Seahawks (7-7): Pete Carroll's squad had Bears fans running for the exits in the 4th quarter in Chicago.
15. (17) Cincinnati Bengals (8-6): Don't forget the Bengals in the AFC Wild Card race.
16. (18) Arizona Cardinals (7-7): John Skelton is now 5-1 as a starter for the one of the hottest teams in the NFL.
CONTINUE TO PAGE 2 TO SEE THE BOTTOM HALF OF THE LEAGUE…