September 14, 2010 -
National Football Post
NFP Power Rankings
Every week, the National Football Post will bring you our NFL Power Rankings: a rundown of how we stack up the league.
Week 2 Power Rankings (previous ranking in parenthesis)
1. (3) New Orleans Saints: 1-0
The defending champs jump to No.1 in our rankings and get another primetime matchup on Monday night in San Fran.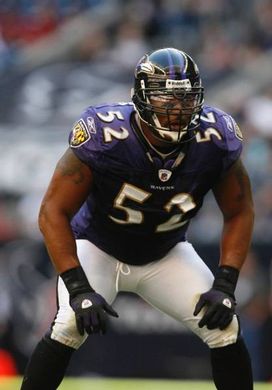 ICONRay Lewis and the Ravens defense were dominant on Monday night.
2. (4) Baltimore Ravens: 1-0
Ray Lewis and the defense are still legit—and Anquan Boldin is a playmaker on offense.
3. (6) New England Patriots: 1-0
The Pats offense looks polished with Tom Brady as they head to New York to take on the Jets.
4. (5) Green Bay: 1-0
RB Brandon Jackson just became a big part of the Packers' offense with Ryan Grant done for the season.
5. (1) Indianapolis Colts: 0-1
Peyton Manning put up big numbers, but the run defense looked soft down in Houston--and losing safety Bob Sanders again doesn't help.
6. (2) Dallas Cowboys: 0-1
Where is the offense? Tony Romo and the Cowboys will get a chance to put the ball in the end zone against a questionable Bears' secondary on Sunday.
7. (7) Minnesota Vikings: 0-1
Favre needs to find a new No.1 WR—but the defense and Adrian Peterson still make them a tough matchup.
8. (10) New York Giants: 1-0
The Giants will continue to score points with a defense that can produce turnovers in New York under new defensive coordinator Perry Fewell.
9. (8) New York Jets: 0-1
Will Mark Sanchez show up against the Patriots on Sunday? Rex Ryan's defense needs some production out of the offense or they will start 0-2.
10. (15) Pittsburgh Steelers: 1-0
Dick LeBeau and the Steelers' defense can win games if QB Dennis Dixon continues to make good decisions.
11. (9) Cincinnati Bengals: 0-1
The 0-1 Bengals now have to take on Lewis and the Ravens in a big divisional game.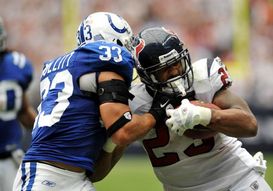 ICONFoster and the Texans gashed the Colts' run defense.
12. (17) Houston Texans: 1-0
If the Texans can continue to run the ball with Arian Foster they will be a player all season long in the AFC South.
13. (11) San Diego Chargers: 0-1
Is another slow start coming from Norv Turner and the Chargers?
14. (13) Miami Dolphins: 1-0
A win on the road at Buffalo, but this offense needs to start producing under QB Chad Henne.
15. (12) Atlanta Falcons: 0-1
Atlanta needs to see numbers in the run game from Michael Turner this week against the Cardinals.
16. (19) Washington Redskins: 1-0
The entire offseason centered on Mike Shanahan's offense, but it is Jim Haslett's defense that will win in Washington.
17. (18) Tennessee Titans: 1-0
When Vince Young is efficient in the passing game, the Titans can control the clock and the game.
18. (16) Philadelphia Eagles: 0-1
The last thing Andy Reid wanted in Philly was a QB controversy—and he might have one with Kevin Kolb and Michael Vick.
19. (20) Chicago Bears: 1-0
The Bears are going to sling the ball around on offense, but the rulebook won't bail them out all season long.
20. (28) Seattle Seahawks: 1-0
Matt Hasselbeck looks comfortable under new coach Pete Carroll—who gets his first win on the sidelines.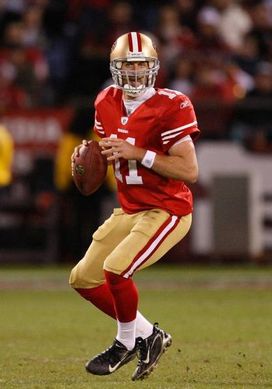 ICONThe Niners need better play from QB Alex Smith.
21. (14) San Francisco 49ers: 0-1
Time to start the Alex Smith talk again in San Fran after Seattle whipped the Niners.
22. (21) Arizona Cardinals: 1-0
Derek Anderson was erratic in the passing game in an ugly win for Arizona in St. Louis.
23. (27) Kansas City Chiefs: 1-0
Used big plays to beat the Chargers at home, but when will we see some solid play out of QB Matt Cassel?
24. (25) Jacksonville Jaguars: 1-0
David Garrard throws 3 TDs in the opening win—now can he continue to produce?
25. (23) Denver Broncos: 0-1
Forget about getting Tim Tebow on the field—the Broncos need to win games.
26. (22) Carolina Panthers: 0-1
Matt Moore won't remain as the starting QB if he continues to turn the ball over in the red zone.
27. (31) Tampa Bay Buccaneers: 1-0
QB Josh Freeman is continuing to improve for the young Bucs.
28. (26) Detroit Lions: 0-1
Were the Lions robbed in Chicago? Probably, but they have bigger issues with QB Matthew Stafford now on the shelf.
29. (24) Oakland Raiders: 0-1
JaMarcus Russell is gone, but the results are the same for the Raiders—bad football.
30. (29) Buffalo Bills: 0-1
It isn't good when your new offensive weapon doesn't show up as C.J. Spiller gains 6 yards—on 7 carries.
31. (30) Cleveland Browns: 0-1
QB Jake Delhomme looks the same—and that isn't good for Cleveland fans.
32. (32) St. Louis Rams: 0-1
QB Sam Bradford made some nice throws, but the INTs will be there all season long for the rookie.
Check back to the NFP every Tuesday for our NFL Power Rankings.
Follow the NFP on Twitter: @FootballPost
Click here to purchase the NFP Fantasy Total Access Pass.