November 22, 2011 -
National Football Post
NFP Power Rankings
Every week, the National Football Post brings you our weekly NFL Power Rankings: a breakdown of how we stack up the league.
Week 12 (previous ranking in parenthesis)
1. (1) Green Bay Packers (10-0): In the win over the Bucs, it was Jordy Nelson's turn to make the big plays for an offense that is loaded with weapons.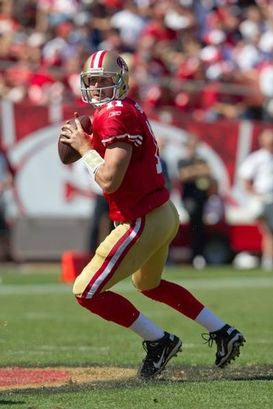 ICONHow will Alex Smith respond vs. the Ravens on Thanksgiving night?
2. (2) San Francisco 49ers (9-1):
Alex Smith vs. the Ravens' defense? That's a matchup to watch on Thanksgiving night.
3. (3) Pittsburgh Steelers (7-3): The Steelers defense could make life rough for Chiefs' QB Tyler Palko on Sunday.
4. (4) New Orleans Saints (7-3): The Saints can hand the Giants their third straight loss this Monday night.
5. (7) New England Patriots (7-3): The Patriots are one of the toughest matchups in the league because of the TE position.
6. (8) Baltimore Ravens (7-3): Good things happen when Ray Rice has the football in his hands.
7. (10) Dallas Cowboys (6-4): After two straight Giants' losses, can we call Romo and the Cowboys the favorites in the NFC East?
8. (5) Chicago Bears (7-3): Five straight for Lovie's club, but a major question mark moving forward without Jay Cutler under center.
9. (12) Detroit Lions (7-3): Is RB Kevin Smith the key to beating the Pack on Thanksgiving?
10. (9) Houston Texans (7-3): It is Matt Leinart's offense now in Houston…let's see what he does.
11. (6) New York Giants (6-4): The Giants had control of the NFC East until the loss at San Fran and the ugly showing vs. the Eagles on Sunday night.
12. (13) Oakland Raiders (6-4): The Raiders need to take care of the Bears at home this Sunday with Tebow and the Broncos on their heels.
13. (11) Cincinnati Bengals (6-4): This is a tough football team that can play with the Steelers and Ravens.
14. (15) Atlanta Falcons (6-4): A possible slide by the Bears could put the Falcons on the cusp of the playoffs.
15. (20) Denver Broncos (5-5): The talk centers on Tebow, but don't forget about Von Miller and the Denver defense in the AFC West race.
16. (14) New York Jets (5-5): If the Jets want to stay in the playoff discussion, Mark Sanchez has to start playing some solid football.
Continue to Page 2 and check out the bottom half of the league...