November 23, 2010 -
National Football Post
NFP Power Rankings
Every week, the National Football post brings you our NFL power rankings: a breakdown of how we stack up the league.
Week 12 Rankings (previous rankings in parenthesis)
1. (1) New England Patriots: 8-2
Tom Brady and the Patriots continue to outplay the league's best.
2. (2) New York Jets: 8-2
Mark Sanchez, Santonio Holmes and the Jets' offense are the reason New York has won three straight games in dramatic fashion.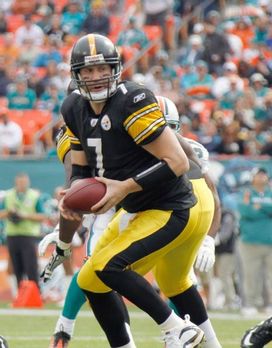 ICONRoethlisberger and the Steelers looked like a championship contender on Sunday.
3. (3) Pittsburgh Steelers: 7-3
The Steelers had no problem taking care of the Raiders on Sunday.
4. (8) Philadelphia Eagles: 7-3
Watch out for Vick and the Eagles—because they look like the best team in the NFC.
5. (4) Atlanta Falcons: 8-2
Time to put Matt Ryan's name into the MVP race? We think so.
6. (6) Baltimore Ravens: 7-3
The Ravens get a surprising test from the 7-3 Bucs this week.
7. (7) New Orleans Saints: 7-3
Getting Reggie Bush back will only improve an offense that is getting hot late in the season.
8. (8) Green Bay Packers: 7-3
Aaron Rodgers was clearly the best quarterback on the field in the win over Brett Favre and the Vikings.
9. (12) Chicago Bears: 7-3
The Bears are playing at a top tier level on defense. Is that good enough to stop Vick on Sunday in Chicago?
10. (13) San Diego Chargers: 5-5
It is time—once again—for Rivers and the Chargers to make their late season run.
11. (10) Indianapolis Colts: 6-4
If the playoffs started today, the Colts would be out. When was the last time we said that?
12. (5) New York Giants: 6-4
The injury to WR Hakeem Nicks should have some Giants' fans worried about their offense.
13. (14) Tampa Bay Buccaneers: 7-3
Did anyone predict that Tampa would be in the NFC South race when Thanksgiving rolled around?
ICONJones-Drew and the Jags hold control of first place in the AFC South.</p>
14. (17) Jacksonville Jaguars: 6-4
Are the Jags really in first place in the AFC South?
15. (19) Kansas City Chiefs: 6-4
The Chiefs lead the AFC West, but will it last?
16. (11) Oakland Raiders: 5-5
Now it is Bruce Gradkowski's turn to play QB in Oakland—again.
17. (21) Washington Redskins: 5-5
The 'Skins and Donovan McNabb made a statement by winning at Tennessee after the embarrassing loss last Monday night.
18. (16) Tennessee Titans: 5-5
Vince Young showed us that talent only gets you so far in the NFL.
19. (15) Miami Dolphins: 5-5
Miami is starting to breakdown and won't catch the Pats and Jets with Tyler Thigpen at QB.
20. (23) Dallas Cowboys: 3-7
The play of Jason Garrett's Cowboys just made the Thanksgiving game vs. the Saints much more interesting.
21. (18) Cleveland Browns: 3-7
The Browns continue to play competitive football, but the 3-7 record is starting to stand out.
22. (20) Houston Texans: 4-6
Has it been that long since the Texans started out 4-2?
23. (21) Seattle Seahawks: 5-5
The NFC West leaders are trying to hold onto a division that nobody wants to win.
24. (22) St. Louis Rams: 4-6
We are starting to wonder just how good Sam Bradford would be if he had a legit No.1 WR to work with.
25. (25) Minnesota Vikings: 3-7
Leslie Frazier now gets the job of cleaning up an absolute mess in Minnesota.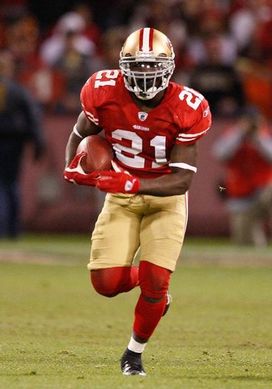 ICONGore and the Niners were shut down by the 7-3 Bucs.
26. (26) San Francisco 49ers: 3-7
We thought the Niners were a physical football team. The loss to Tampa didn't show that.
27. (27) Denver Broncos: 3-7
The Broncos continue to take steps in the wrong direction under Josh McDaniels.
28. (31) Buffalo Bills: 2-8
Thirty-five second half points for Chan Gailey's Bills in the comeback win over Cincy.
29. (29) Arizona Cardinals: 3-7
The Cardinals play on Monday night vs. the 49ers this week in a game that looked good when the schedules were put together.
30. (28) Cincinnati Bengals: 2-8
Marvin Lewis is coaching on borrowed time in Cincinnati.
31. (30) Detroit Lions: 2-8
Detroit has lost six straight Thanksgiving Day games. Looks like it will be seven with the Patriots coming to town on Thursday.
32. (32) Carolina Panthers: 1-9
Tough times in Carolina. What else can you say for a team that isn't competitive?
Follow the NFP on Twitter: @FootballPost