December 11, 2012 -
National Football Post
NFP Power Rankings
Every week, the National Football Post brings you our NFL Power Rankings: a breakdown of how we stack up the league.
Week 15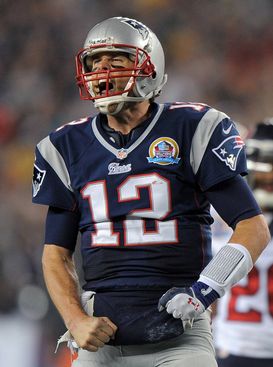 US PRESSWIREBrady threw 4 TD passes in the Patriots' 42-14 win over the Texans.
1. (4) New England Patriots (10-3): Brady and the Pats put on a clinic last night when they whipped up on the Texans.
2. (3) Denver Broncos (10-3): Manning vs. Brady for the AFC Championship? We can hope, right?
3. (5) San Francisco 49ers (9-3-1): The 50-plus yard TD run from Colin Kaepernick is a great example of what the young QB brings to Harbaugh's offense.
4. (2) Atlanta Falcons (11-2): A bad day vs. the Panthers or a team that was exposed?
5. (6) Green Bay Packers (9-4): The Packers found the running game in the win over the Lions. That could be trouble for the rest of the NFC.
6. (1) Houston Texans (11-2): The Texans are 0-2 under the lights against big boy competition.
7. (11) New York Giants (8-5): The Giants responded to the Monday night loss last week by beating up the Saints.
8. (9) Seattle Seahawks (8-5): The Seahawks could have scored 70 vs. the Cardinals.
9. (10) Indianapolis Colts (9-4): Another comeback win for Andrew Luck and the Colts.
10. (14) Washington Redskins (7-6): Backup QB Kirk Cousins grabbed the spotlight as the 'Skins kept rolling with the comeback win vs. the Ravens.
11. (7) Baltimore Ravens (9-4): Jim Caldwell gets three games to fix the Ravens' offense before the playoffs start after the club let go of Cam Cameron.
12. (8) Cincinnati Bengals (8-5): That's a game the Bengals have to close out at home vs. the Cowboys.
13. (15) St. Louis Rams (6-6-1):
14. (18) Minnesota Vikings (7-6): Adrian Peterson continues to run over the NFL.
15. (13) Chicago Bears (8-5): Could these be the final three games of Lovie Smith's tenure in Chicago?
16. (12) Pittsburgh Steelers (7-6): Not the results we expected vs. the Chargers with Ben Roethlisberger returning to the lineup.
CONTINUE TO PAGE 2 FOR THE REST OF OUR POWER RANKINGS