November 27, 2012 -
National Football Post
NFP Power Rankings
Every week, the National Football Post brings you our NFL Power Rankings: a breakdown of how we stack up the league.
1. (1) Houston Texans (10-1): The Texans beat the Lions on Thanksgiving to win their second OT game in a span of five days.
2. (2) San Francisco 49ers (8-2-1): Isn't it obvious that the Niners are tougher to game plan for with Colin Kaepernick at QB?
3. (3) Atlanta Falcons (10-1): Hard to knock the Falcons for winning games—even if they find ways to sneak by at the end.
4. (5) Denver Broncos (8-3): Ugly win in K.C., but the Broncos keep rolling.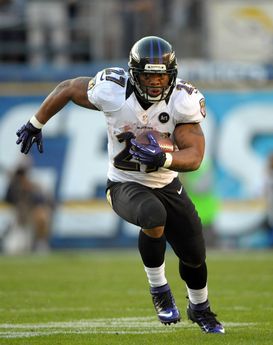 US PRESSWIRE4th and 29? That's not a problem for Ray Rice and the Ravens.
5. (7) Baltimore Ravens (9-2): The effort from Ray Rice was awesome on the 4th and 29 play to save the Ravens out in San Diego.
6. (8) New England Patriots (8-3): That was too easy vs. the Jets on Thanksgiving night.
7. (12) New York Giants (7-4): Are the Giants back? Sure looked like it on Sunday night vs. the Packers.
8. (9) Chicago Bears (8-3): The Bears are a different team when they have Jay Cutler under center.
9. (5) Green Bay Packers (7-4): Someone needs to help out Aaron Rodgers, right?
10. (17) Cincinnati Bengals (6-5): The Bengals are playing their best football of the season.
11. (8) Seattle Seahawks (6-5): How can the Seahawks be so tough at home and look so average on the road?
12. (11) Tampa Bay Buccaneers (6-5): The Bucs saw their four game winning streak come to an end in the loss to the Falcons.
13. (15) Indianapolis Colts (7-4): The story of the Colts season keeps getting better.
14. (10) Pittsburgh Steelers (6-5): If the Steelers don't get Roethlisberger back soon their season could slip away.
15. (14) New Orleans Saints (5-6): Tough loss at home to the 49ers with a trip to Atlanta on the schedule this Thursday night.
16. (18) Washington Redskins (5-6): RG3 vs. the Giants this Monday night? That's good TV.
CONTINUE TO PAGE 2 FOR THE REST OF OUR POWER RANKINGS