December 13, 2011 -
National Football Post
NFP Power Rankings
Every week, the National Football Post brings you our weekly NFL Power Rankings: a breakdown of how we stack up the league.
Week 15 (previous rankings in parenthesis)
1. (1) Green Bay Packers (13-0): The final three opponents for Green Bay: at Kansas City, Chicago, Detroit. We like their chances of running the table.
2. (2) Pittsburgh Steelers: (10-3): Could the Steelers be without both Ben Roethlisberger and James Harrison as they head to San Fran on Monday night?
3. (3) New Orleans Saints (10-3): That wasn't pretty vs. the Titans, but in December football the win is all that counts on the road.
4. (4) Baltimore Ravens (10-3): Terrell Suggs had a career day as the Ravens handled the Colts.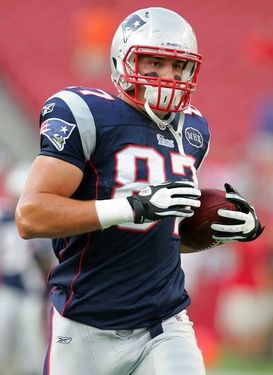 ICONGronkowski continues to dominate NFL defenses in the red zone.
5. (6) New England Patriots (10-3): Until someone figures out how to stop Rob Gronkowski in the red zone the Patriots will continue to produce points.
6. (5) San Francisco 49ers (10-3): Alex Smith struggled and the Niners ran into a hot Cardinals team, but we still like Harbaugh's club heading into the post season.
7. (7) Houston Texans (10-3): QB T. J. Yates didn't look like a rookie on that final drive to beat the Bengals on the road.
8. (8) Denver Broncos (8-5): Tebow can't do it again this week vs. the Patriots, right?
9. (16) New York Giants (7-6): A big jump for the Giants in our rankings, but with Eli Manning they can play with anyone.
10. (10) Detroit Lions (8-5): Detroit had to hang on to beat the Vikings, but a Wild Card spot should be in their future.
11. (11) New York Jets (8-5): That Chiefs offense didn't stand a chance vs. Rex and the Jets on Sunday.
12. (12) Atlanta Falcons (8-5): That draft day trade to get Julio Jones looks pretty good right now.
13. (19) San Diego Chargers (6-7): The Chargers are playing their best football, but it could be too late.
14. (9) Dallas Cowboys (7-6): The Cowboys had a chance to take control of the NFC East—at home.
15. (20) Seattle Seahawks (6-7): We are looking for safeties that want to fill the hole vs. Marshawn Lynch.
16. (15) Tennessee Titans (7-6): Jake Locker is a rookie, but he still has to find a way to avoid a sack on the final play of the game.
CONTINUE TO PAGE 2 TO SEE THE BOTTOM HALF OF THE LEAGUE…