September 07, 2010 -
National Football Post
NFP Power Rankings
Each week, the National Football Post will bring you our NFL Power Rankings: a rundown of how we stack up the league.
NFL Power Rankings: Week One
1. Indianapolis Colts
The league's most well-rounded team still has the best player in the game in Peyton Manning and a fast, athletic defense.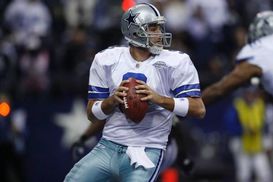 ICONThe Cowboys' Tony Romo.
2. Dallas Cowboys
Wade Phillips' team is loaded at the skill positions and may have the best defensive front seven in football.
3. New Orleans Saints
The Saints will score points with Drew Brees and cause turnovers on defense once again.
4. Baltimore Ravens
Expect the Ravens to be more dynamic as an offense. However, replacing Ed Reed early is the biggest obstacle for this team.
5. Green Bay Packers
Aaron Rodgers is an MVP candidate and Dom Capers' defense will get to the quarterback.
6. New England Patriots
With Tom Brady and Randy Moss, the Pats' offense is primed for a run, but a young secondary will be challenged early in the season.
7. Minnesota Vikings
Hard to count out Brett Favre after '09, but he needs to find a new No. 1 WR with Sidney Rice on the shelf.
8. New York Jets
With Revis under contract, Rex Ryan's defense is one of the league's best, and we get to see if the Jets can run the ball like they did in '09.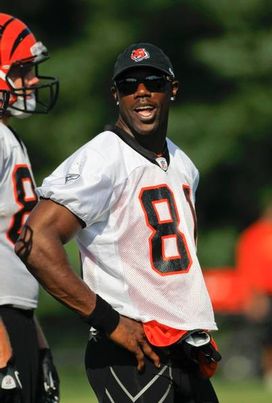 ICONT.O. and the Bengals will have a different look on offense in 2010.
9. Cincinnati Bengals
Terrell Owens adds to an offense that will be improved and Mike Zimmer's defense is one of the most underrated units in the NFL.
10. New York Giants
If new coordinator Perry Fewell can turn around the Giants defense, look for New York to challenge Dallas for the NFC East title.
11. San Diego Chargers
Plenty of talk about the Chargers and WR Vincent Jackson, but we see RB Ryan Mathews as a possible Rookie of the Year candidate.
12. Atlanta Falcons
RB Michael Turner is healthy, but is Dunta Robinson the answer at CB in Atlanta?
13. Miami Dolphins
The wildcat will be back in vogue down in Miami, but we like the Dolphins because of QB Chad Henne and WR Brandon Marshall.
14. San Francisco 49ers
This season hinges on the production of QB Alex Smith for Mike Singletary's club.
15. Pittsburgh Steelers
Dennis Dixon has to protect the ball until Ben Roethlisberger returns, but it is Troy Polamalu and Dick LeBeau's defense that keeps Pittsburgh in the hunt.
16. Philadelphia Eagles
Kevin Kolb looks the part — now he just has to play the part for an entire season in Philly.
17. Houston Texans
If the Texans can run the ball with Arian Foster and Steve Slaton, they become a real player in the AFC South.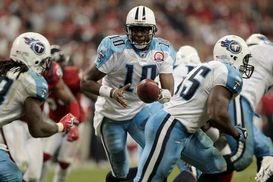 ICONHow far can V.Y. take the Titans this season?
18. Tennessee Titans
Vince Young's maturity on and off the field will tell the story for the 2010 Titans.
19. Washington Redskins
Donovan McNabb takes over Mike Shanahan's offense, but it will be Jim Haslett's defense that keeps the 'Skins competitive.
20. Chicago Bears
There is monumental pressure to win in Chicago — time for QB Jay Cutler to prove his value for Lovie Smith.
21. Arizona Cardinals
Can QB Derek Anderson play consistent football out in the desert for Ken Whisenhunt?
22. Carolina Panthers
The Panthers can run the ball with DeAngelo Williams and Jonathan Stewart, but can Matt Moore make plays down the field?
23. Denver Broncos
Kyle Orton has control of Josh McDaniels' offense, and we will find out how talented the defense is up front.
24. Oakland Raiders
The Raiders have a QB in Jason Campbell — now it is all about playing fundamental football under Tom Cable.
25. Jacksonville Jaguars
The Jags can't rely on RB Maurice Jones-Drew to carry this team all season — time for QB David Garrard to step up.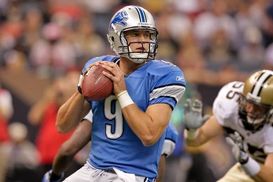 ICONDetroit's Matthew Stafford.
26. Detroit Lions
Plenty of young weapons on offense, but can they stop anyone on defense in Detroit?
27. Kansas City Chiefs
The story in K.C. is simple: this team needs better play out of QB Matt Cassel.
28. Seattle Seahawks
Pete Carroll has turned over the locker room in Seattle, but will it translate to wins in year one for the new coach?
29. Buffalo Bills
The Bills have an explosive talent in rookie RB C.J. Spiller, and now Trent Edwards has to prove he is a No.1 QB in the NFL.
30. Cleveland Browns
Can Jake Delhomme revive his career under Eric Mangini in Cleveland?
31. Tampa Bay Buccaneers
Young talent, a solid draft — but still too many holes in Tampa.
32. St. Louis Rams
Rookie QB Sam Bradford starts for a team that is still learning how to win under Steve Spagnuolo.
Check back to the NFP every Tuesday for our weekly NFL Power Rankings.
Follow the NFP on Twitter: @FootballPost
Click here to purchase the Total Access Pass/ Fantasy Draft Guide from the NFP.