December 14, 2010 -
National Football Post
NFP Power Rankings
Every week, the National Football Post brings you our power rankings: a breakdown of how we stack up the league.
Week 14 Power Rankings (previous ranking in parenthesis)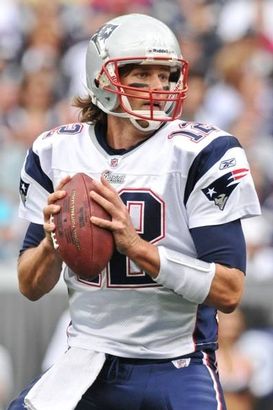 ICONBrady carved up the Bears at Soldier Field in the 36-7 win.
1. (1) New England Patriots: 11-2
Brady reminded us—again—why he is going to walk away with the MVP trophy after throwing for 369-yards in the snow at Chicago.
2. (2) Pittsburgh Steelers: 10-3
Troy Polamalu continues to make plays for a defense that looks playoff ready in Pittsburgh.
3. (3) Atlanta Falcons: 11-2
The Falcons continue to win and should be the NFC favorite if they can lock up home field.
4. (4) New Orleans Saints: 10-3
The Champs are rolling—and head to Baltimore for great December matchup on Sunday.
5. (7) Philadelphia Eagles: 9-4
DeSean Jackson puts up video game numbers as the Eagles win on the road in Dallas.
6. (6) Baltimore Ravens: 9-4
The Ravens survive in Houston, but questions surface about the defense.
7. (10) N.Y. Giants: 9-4
The Giants host Vick and the Eagles on Sunday—which could decide to the NFC East title.
8. (5) Chicago Bears: 9-4
Lovie Smith and the Bears have some corrections to make after the blowout loss to the Patriots before they head to Minnesota.
9. (12) Jacksonville Jaguars: 8-5
The Jags can close out the Colts this week with a win at Indy—and take over the AFC South.
10. (16) Indianapolis Colts: 7-6
There isn't any concern about Peyton Manning this week after he tore up the Titans in Nashville.
11. (9) Green Bay Packers: 8-5
The Packers are on the fence after the loss in Detroit—and up next is a trip to New England.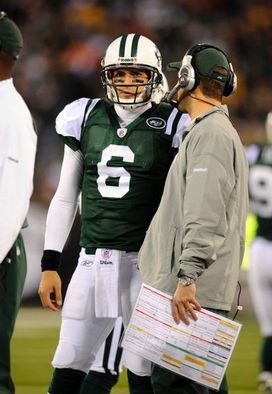 ICONSanchez and the Jets are looking for answers on offense.
12. (8) N.Y. Jets: 9-4
Time to panic in New York? It might be with the current play of QB Mark Sanchez.
13. (14) San Diego Chargers: 7-6
The Chargers will need some help to make it back to the playoffs—even after they blasted the Chiefs 31-0 on Sunday.
14. (11) Kansas City Chiefs: 8-5
The Chiefs need Matt Cassel back under center if they want to prevent the AFC West title from slipping away.
15. (17) Tampa Bay Buccaneers: 8-5
The Bucs benefited from the Redskins' atrocious special teams play—and are still hanging around.
16. (20) Miami Dolphins: 7-6
Where would this Dolphins' team be if they got consistent QB play from Chad Henne?
17. (13) Oakland Raiders: 6-7
Darren McFadden continues to show us why he is a legit No.1 RB in the NFL, but the Raiders failed to close out the Jags in a must-win game on Sunday.
18. (15) Dallas Cowboys: 4-9
Once again, the Cowboys secondary was exposed in the loss to Philly.
19. (19) Houston Texans: 5-8
Big offensive numbers and a late comeback—but the same result for the Texans.
20. (21) St. Louis Rams: 6-7
Sam Bradford struggled with the Saints' pressure defense, but they still can win the NFC West.
21. (18) Minnesota Vikings: 5-8
Tarvaris Jackson looked and played like a backup with Brett Favre on the sidelines in sweats.
22. (25) San Francisco 49ers: 5-8
Alex Smith beat up the Seahawks' defense—but let's see him do it again on Thursday night against the Chargers.
23. (22) Cleveland Browns: 5-8
No other way to say it—that was a bad loss at Buffalo.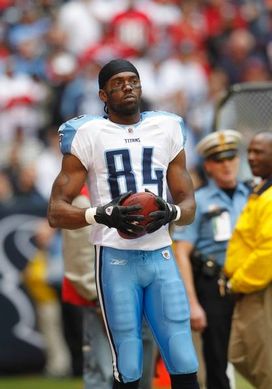 ICONMoss has been a bust in Tennessee.
24. (26) Tennessee Titans: 5-8
Remember when Randy Moss used to take over games?
25. (23) Seattle Seahawks: 6-7
The NFL's most inconsistent team hosts the 11-2 Falcons on Sunday.
26. (24) Washington Redskins: 5-8
Dan Snyder had to expect more from Mike Shanahan this season.
27. (27) Buffalo Bills: 3-10
Chan Gailey gets another win as the Bills continue to play good football in the second half of the season.
28. (28) Detroit Lions: 3-10
Lions' fans should be excited about that defensive line—especially after they beat up the Packers on Sunday.
29. (31) Arizona Cardinals: 4-9
How did the Cardinals score 43 points on Sunday?
30. (30) Cincinnati Bengals: 2-11
The Bengals have now lost 10 straight games. Not good for Marvin Lewis.
31. (29) Denver Broncos: 3-10
Maybe it is time to give Tim Tebow a shot under center in Denver.
32. (32) Carolina Panthers: 1-12
Time to start preparing to make that No.1 pick in April down in Carolina.
Follow the NFP on Twitter: @FootballPost