December 06, 2011 -
National Football Post
NFP Power Rankings
Every week, the National Football Post brings you our NFL Power Rankings: a breakdown of how we stack up the league.
Week 14 (previous rankings in parenthesis)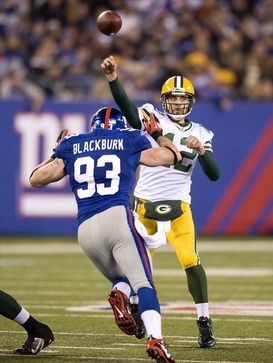 ICONRodgers tossed another 4 TDs as the Packers moved to 12-0 on the season.
1. (1) Green Bay Packers (12-0): It took Aaron Rogders only three plays to set up the winning FG vs. the Giants—and it looked easy.
2. (2) Pittsburgh Steelers (9-3): The Steelers let the Bengals know they aren't ready to challenge for the AFC North just yet in the 35-7 win.
3. (3) New Orleans Saints (9-3): Rodgers is going to run away with the MVP award, but don't let that discount the numbers Brees is putting up in New Orleans.
4. (4) Baltimore Ravens (9-3): Good things happen when you give the ball to Ray Rice.
5. (5) San Francisco 49ers (10-2): The Rams didn't even belong on the same field with Harbaugh's 49ers.
6. (6) New England Patriots (9-3): With Brady, Welker and Gronkowski the Patriots are the toughest offensive matchup in the AFC.
7. (12) Houston Texans (9-3): Can the Texans ride the running game and their defense in January? Looks like it right now.
8. (14) Denver Broncos (7-5): It doesn't matter if you buy into Tebow as a starting QB, because the Broncos are 6-1 when he is under center.
9. (7) Dallas Cowboys (7-5): The NFC East elimination process starts on Sunday night when the 'Boys host the Giants.
10. (11) Detroit Lions (7-5): Will the Lions play disciplined football in December and grab an NFC Wild Card spot?
11. (15) New York Jets (7-5): Here come the Jets with another late season push.
12. (9) Atlanta Falcons (7-5): Matt Ryan and the Falcons didn't have an answer for the Texans' defense in the 17-10 loss.
13. (18) Miami Dolphins (4-8): Forget the overall record with Miami, because they are playing some of the best football in the NFL right now.
14. (8) Cincinnati Bengals (7-5): The Bengals took a step backwards in the loss to the Steelers.
15. (17) Tennessee Titans (7-5): As long as Chris Johnson continues to post big numbers, the Titans will remain in the playoff discussion.
16. (16) New York Giants (6-6): The Giants played tough vs. the Pack, but can they stop anyone on defense?
CONTINUE TO PAGE 2 TO CHECK OUT THE BOTTOM HALF OF THE LEAGUE...