September 21, 2010 -
National Football Post
NFP Power Rankings
Every week, the National Football Post brings you our NFL Power Rankings: a rundown of how we stack up the league.
Week 3 Power Rankings (previous ranking in parenthesis)
1. (1) New Orleans Saints: 2-0
The Saints aren't lighting up the scoreboard, but they are forcing turnovers on defense and winning games in the fourth quarter.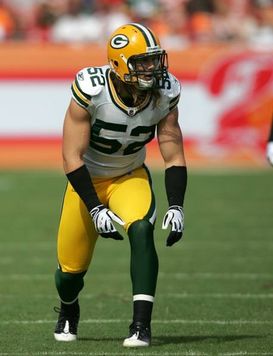 ICONMatthews and the Packers head to Chicago on Monday night.
2. (4) Green Bay Packers: 2-0
The Green Bay offense needs a boost, but the defense—and Clay Matthews—is once again making plays as the Packers get ready to head to Chicago on Monday night.
3. (5) Indianapolis Colts: 1-1
Was anyone shocked to see the Colts rebound and blowout the Giants at home?
4. (2) Baltimore Ravens: 1-1
Ray Lewis and the defense showed up to play, but Flacco and the offense should have stayed on the bus.
5. (12) Houston Texans: 2-0
Matt Schaub throws for 497-yards in the comeback win on the road for the 2-0 Texans.
6. (9) NY Jets: 1-1
A big win at home over the Pats and a big performance from QB Mark Sanchez after a dreadful Week 1 showing against Baltimore.
7. (3) New England Patriots: 1-1
The Patriots stalled out in the second half at New York, but they aren't going anywhere.
8. (10) Pittsburgh Steelers: 2-0
QB issues don't matter when you force 7 turnovers on Sunday—the Steelers defense looks dominant.
9. (11) Cincinnati Bengals: 1-1
Mike Zimmer's defense is the reason the Bengals are back in the top 10.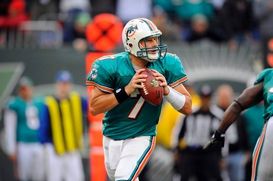 ICONHenne and the Dolphins are 2-0.
10. (14) Miami Dolphins: 2-0
It isn't pretty, but winning two straight road games in tough environments is hard to do in the NFL.
11. (19) Chicago Bears: 2-0
Did we underestimate Mike Martz's impact on QB Jay Cutler?
12. (13) San Diego Chargers: 1-1
The defense did their part at home against the Jags and Antonio Gates shows once again why he is the top red zone target in the league.
13. (15) Atlanta Falcons: 1-1
The Falcons are a much more dangerous team when they can run the ball on offense.
14. (16) Washington Redskins: 1-1
The blown lead at home stands out even more when Donovan McNabb throws for 400-plus yards.
15. (10) NY Giants: 1-1
The Giants looked helpless on the road in Indy, and Brandon Jacobs is already talking.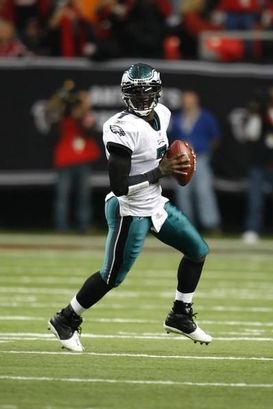 ICONVick will keep his job as the Eagles' No.1 QB.
16. (18) Philadelphia Eagles: 1-1
Time for Michael Vick to take over in Philadelphia as the team's No.1 according to Andy Reid.
17. (6) Dallas Cowboys: 0-2
Where is the running game and red zone production for the Cowboys?
18. (7) Minnesota Vikings: 0-2
Brett Favre suddenly looks old for an offense that can't score points.
19. (17) Tennessee Titans: 1-1
Vince Young got the hook from Jeff Fisher and RB Chris Johnson looked average against the Steelers.
20. (23) Denver Broncos: 1-1
You can't question QB Kyle Orton's ability to run the offense under Josh McDaniels in Denver.
21. (21) San Francisco 49ers: 0-2
The Niners hung with the champs, but with four turnovers and an awful start, they should be sitting at 0-2.
22. (23) Kansas City Chiefs: 2-0
Another big play leads to points for the Chiefs, but will the winning continue without solid QB play from Matt Cassel?
23. (27) Tampa Bay Buccaneers: 2-0
QB Josh Freeman and rookie WR Mike Williams have something going down in Tampa for the 2-0 Bucs.
24. (22) Arizona Cardinals: 1-1
You have to wonder what the Cards see in QB Derek Anderson right now.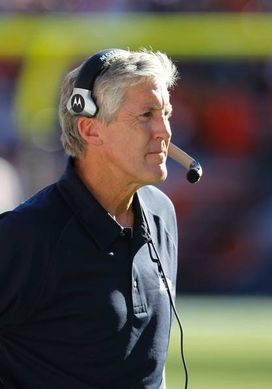 ICONSeattle's Pete Carroll.
25. (20) Seattle Seahawks: 1-1
Did we buy Pete Carroll's Seahawks too soon after the Week 1 win over the Niners?
26. (24) Jacksonville Jaguars: 1-1
After throwing 3 TDs in a Week 1 win, QB David Garrard comes back and throws 4 INTs on the road.
27. (28) Detroit Lions: 0-2
The Lions have a rookie impact player in RB Jahvid Best, but the wins are still hard to come by in Detroit.
28. (29) Oakland Raiders: 1-1
The Raiders get the home win over St. Louis—with Bruce Gradkowski at QB.
29. (26) Carolina Panthers: 1-1
Matt Moore goes to the bench and now we get to see what Jimmy Clausen can do for the 0-2 Panthers.
30. (30) Buffalo Bills: 0-2
Can QB Ryan Fitzpatrick turn the offense around in Buffalo?
31. (31) Cleveland Browns: 0-2
There is some bad football going on in Cleveland right now under Eric Mangini.
32. (32) St. Louis Rams: 0-2
Young teams have to learn how to close out games—and the Rams aren't there just yet.
Follow the NFP on Twitter: @FootballPost
Click here to win cash today playing fantasy football with the NFP and FanDuel.