November 13, 2012 -
National Football Post
NFP Power Rankings
Every week, the National Football Post brings you our NFL Power Rankings: a breakdown of how we stack up the league.
Week 11 Rankings
1. (2) Houston Texans (8-1): Do the Texans deserve the top spot? We think so after they went into Chicago and beat the Bears on Sunday night.
2. (1) Atlanta Falcons (8-1): No one thought the Falcons were really going to run the table, right?
3. (3) San Francisco 49ers (6-2-1): A tie vs. the Rams? The Niners were lucky to get that.
4. (5) Green Bay Packers (6-3): The Packers come back from the bye with two straight games on the road vs. the Lions and Giants.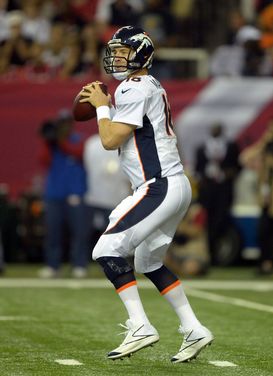 US PRESSWIREManning and the Broncos are rolling.
5. (8) Denver Broncos (6-3): Are the Broncos playing the best football in the NFL right now?
6. (4) Chicago Bears (7-2): With Cutler likely out this Monday night, it's Jason Campbell vs. the 49ers' defense. That could be trouble.
7. (10) Baltimore Ravens (7-2): The Ravens rolled the Raiders on Sunday as the prep for two games vs. the Steelers over the next three weeks.
8. (8) New England Patriots (6-3): The Patriots put up big offensive numbers against the Bills—again.
9. (7) Pittsburgh Steelers (6-3): While the Steelers wait to get the results on Ben Roethlisberger's shoulder, its time for Byron Leftwich to take over the huddle.
10. (11) Seattle Seahawks (6-4): The Seahawks beat up on the Jets to stay unbeaten at home.
11. (6) New York Giants (6-4): Another mid-season slump from the Giants?
12. (13) Tampa Bay Buccaneers (5-4): That's three straight for Schiano's Bucs. Can they hang around and make a push for a playoff spot?
13. (14) Indianapolis Colts (6-3): Did anyone see Colts-Pats as a marquee matchup before the season started?
14. (17) Minnesota Vikings (6-4): What knee injury? A.P. is leading the NFL is rushing,
15. (18) New Orleans Saints (4-5): That goal line stand vs. the Falcons was impressive from a defense that has struggled all season.
16. (19) Dallas Cowboys (4-5): Is one win over Philly enough to buy into the Cowboys? No, but it did save the season for the moment in Dallas.
CONTINUE TO PAGE 2 FOR THE REST OF OUR RANKINGS