December 19, 2012 -
Erik Oehler
NFP Power Rankings
Every week, the National Football Post brings you our NFL Power Rankings: a breakdown of how we stack up the league.
Week 16
1. (2) Denver Broncos (11-3): Peyton Manning and the Broncos move to our top spot after their ninth straight win.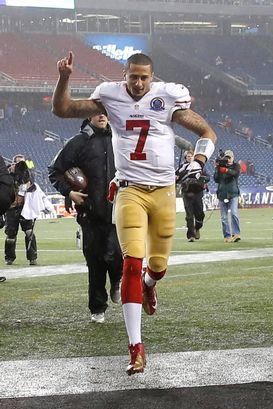 US PRESSWIREColin Kaepernick threw 4 TDs to beat the Patriots on Sunday night.
2. (3) San Francisco 49ers (10-3-1): Anyone out there still questioning Harbaugh's decision to start Colin Kaepernick?
3. (4) Atlanta Falcons (12-2): The Falcons made a big statement by shutting out the Giants at the Georgia Dome.
4. (1) New England Patriots (10-4): Tom Brady almost brought the Patriots back to pull off the win Sunday night.
5. (5) Green Bay Packers (10-4): Rodgers and the Packers beat up the Bears (again) on their way to another NFC North title.
6. (6) Houston Texans (12-2): After getting whipped by the Patriots last Monday, the Texans came back to knock off the Colts.
7. (8) Seattle Seahawks (9-5): The 49ers-Seahawks game is the best matchup on the Week 16 schedule.
8. (10) Washington Redskins (8-6): You know the 'Skins are rolling when the rookie backup QB can throw for 300-plus in another win.
9. (9) Indianapolis Colts (9-5): The Colts should scoop up a win this week with the Chiefs on the schedule.
10. (12) Cincinnati Bengals (8-6): Cincy can knock the Steelers out the playoff mix this Sunday.
11. (7) New York Giants (8-6): With two weeks left can the Giants find a way get in the dance?
12. (17) Dallas Cowboys (8-6): The Cowboys are making plays when it counts to stay in the playoff discussion.
13. (11) Baltimore Ravens (9-5): Maybe Cam Cameron wasn't the problem.
14. (14) Minnesota Vikings (8-6): How many wins would the Vikings have without Adrian Peterson? Two?
15. (16) Pittsburgh Steelers (7-7): Is there any way Todd Haley is calling plays in Pittsburgh next season?
16. (15) Chicago Bears (8-6): The Bears have lost five of six and still can't compete with the Packers.
CONTINUE TO PAGE 2 FOR THE REST OF OUR RANKINGS