December 04, 2012 -
National Football Post
NFP Power Rankings
Every week, the National Football Post brings you our NFL Power Rankings: a breakdown of how we stack up the league.
1. (1) Houston Texans (11-1): The Texans continue to march towards home field advantage in the AFC.
2. (3) Atlanta Falcons (11-1): It was the Falcons' defense that made the plays in the divisional win over the Saints.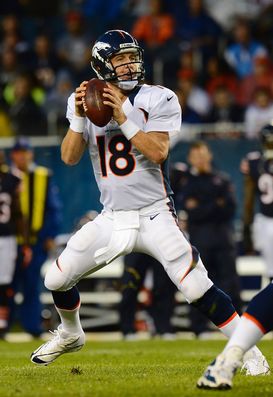 US PRESSWIREManning and the Broncos have already clinched the AFC West title.
3. (4) Denver Broncos (9-3): The Broncos have already clinched the AFC West.
4. (6) New England Patriots (9-3): How about Brady as the favorite for MVP?
5. (3) San Francisco 49ers (8-3-1): Not the outcome Jim Harbaugh was looking for after sitting Alex Smith for Colin Kaepernick.
6. (9) Green Bay Packers (8-4): The Packers need to get healthy on defense in a hurry.
7. (5) Baltimore Ravens (9-3): We are still waiting for Joe Flacco to jump into that "elite" category at the QB position.
8. (11) Cincinnati Bengals (7-5): The Bengals are quietly moving up our board after four straight wins.
9. (11) Seattle Seahawks (7-5): Russell Wilson played like a 10-year vet in the win over the Bears at Soldier Field.
10. (13) Indianapolis Colts (8-4): Andrew Luck threw two TDs in the final three minutes to steal one from the Lions in Detroit.
11. (7) New York Giants (7-5): We are still trying to figure out the logic behind the Giants offensive game plan last night in the loss to the Redskins.
12. (14) Pittsburgh Steelers (7-5): Charlie Batch deserves some credit for bouncing back to beat the Ravens.
13. (8) Chicago Bears (8-4): The Bears have lost three of their last four games with a defense that suddenly looks old.
14. (16) Washington Redskins (6-6): Do you have a game plan that can stop RG3? We don't either.
15. (21) St. Louis Rams (5-6-1): The Rams continue to give the 49ers problems.
16. (11) Tampa Bay Buccaneers (6-6): The Bucs are starting to cool off a bit.
CONTINUE TO PAGE 2 FOR THE REST OF OUR RANKINGS