November 15, 2011 -
National Football Post
NFP Power Rankings
Every week, the National Football Post brings you our weekly NFL Power Rankings: a breakdown of how we stack up the league.
Week 11 (previous rankings in parenthesis)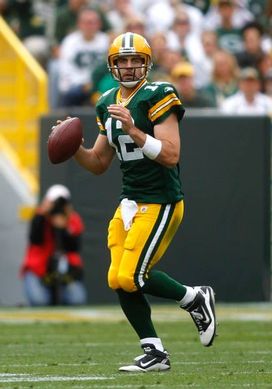 ICONWill Rodgers and the Pack run the table?
1. (1) Green Bay Packers (9-0): Is it time to put the '72 Dolphins on alert?
2. (3) San Francisco 49ers (8-1): The NFL's most physical team continues to rack up wins.
3. (6) Pittsburgh Steelers (7-3): Reports of a broken thumb for Big Ben are sure to cause some worry in Pittsburgh.
4. (7) New Orleans Saints (7-3): The Saints are back in our Top 5. Will they stay there?
5. (9) Chicago Bears (6-3): Lovie has the Bears looking like a playoff team—again.
6. (2) New York Giants (6-3): The schedule doesn't get any easier for Eli and the Giants.
7. (10) New England Patriots (6-3): The Pats took control of the AFC East by beating up the Jets in New York.
8. (4) Baltimore Ravens (6-3): What happened in Seattle?
9. (14) Houston Texans (7-3): Are the Texans still a legit contender in the AFC with Leinart at QB?
10. (16) Dallas Cowboys (5-4): Don't forget about Romo and the Cowboys in the NFC East race.
11. (12) Cincinnati Bengals (6-3): The loss of CB Leon Hall hurts, but the Bengals showed us they can play with anyone in the loss to the Steelers.
12. (5) Detroit Lions (6-3): No other way to spin it: the Lions were pounded by the Bears at Soldier Field.
13. (18) Oakland Raiders (5-4): The trade for Carson Plamer looked like a smart move in the win over the Chargers.
14. (8) New York Jets (5-4): Rex Ryan's defense didn't stand a chance vs. Tom Brady in the second half on Sunday night.
15. (11) Atlanta Falcons (5-4): Maybe it wasn't such a good idea to go for it on fourth down, in your own territory, in overtime.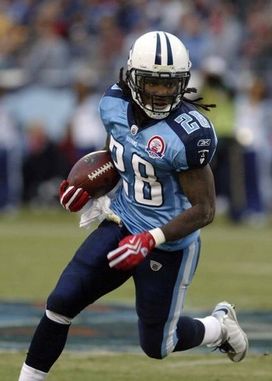 ICONJohnson finally posted some numbers in the Titans 30-3 win over the Panthers.
16. (21) Tennessee Titans (5-4): Aren't those the type of numbers you expect to see from Chris Johnson every week?
17. (13) Buffalo Bills (5-4): The Bills don't resemble the team we saw early in the season.
18. (17) San Diego Chargers (4-5): The slide continues in San Diego with a trip to Chicago next up on the schedule.
19. (15) Philadelphia Eagles (3-6): "Dream Team?" Not even close right now.
20. (24) Denver Broncos (4-5): That offensive game plan vs. the Chiefs? Something you would see from a high school option team—but it worked.
21. (19) Tampa Bay Buccaneers (4-5): Time for the Bucs to work on some tackling drills in practice.
22. (27) Miami Dolphins (2-7): That's two straight for a Dolphins team that is finally playing good football.
23. (20) Kansas City Chiefs (4-5): With Matt Cassel out, the road just got really bumpy in K.C.
24. (25) Jacksonville Jaguars (3-6): Some signs of improvement from rookie Blaine Gabbert in the win over the hopeless Colts.
25. (30) Seattle Seahawks (3-6): How about Pete Carroll's squad? We didn't see that coming vs. Ray Lewis and the Ravens.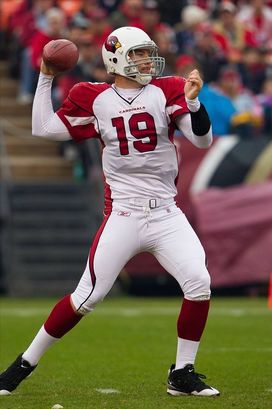 ICONSkleton put together a 4th quarter drive to beat the Eagles on Sunday.
26. (28) Arizona Cardinals (3-6): Is there a QB controversy in Arizona after Skleton brought the Cards back in Philly?
27. (22) Minnesota Vikings (2-7): Jared Allen continues to produce, but the holes on the Vikings' roster are obvious.
28. (23) Carolina Panthers (2-7): The Cam Newton hype is wearing off and the losses are piling up on Carolina.
29. (31) St. Louis Rams (2-7): The "highlights" from the Rams' win over the Browns didn't offer much.
30. (26) Washington Redskins (3-6): The season is unraveling (again) in Washington.
31. (29) Cleveland Brows (3-6): Time to set up the draft board out in Cleveland.
32. (32) Indianapolis Colts (0-10): Is this club really going to win a game this season?
Follow the NFP on Twitter: @FootballPost