December 07, 2010 -
National Football Post
NFP Power Rankings
Every week, the National Football Post brings you our NFL Power Rankings: a breakdown of how we stack up the league.
Week 14 Rankings (previous rankings in parenthesis)
1. (1) New England Patriots: 10-2
Tom Brady put on a clinic against the Jets' defense in the 45-3 Monday night win.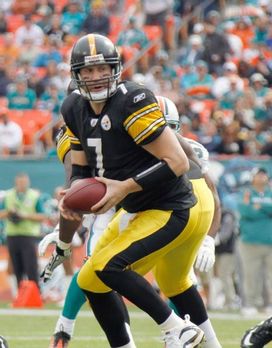 ICONRoethlisberger and the Steelers sit alone on top of the AFC North.
2. (3) Pittsburgh Steelers: 9-3
Troy Polamalu's strip of Joe Flacco opened the door for the Steelers to take over first place in the AFC North.
3. (4) Atlanta Falcons: 10-2
Matt Ryan made the 4th quarter plays to keep the Falcons in the top spot in the NFC South.
4. (6) New Orleans Saints: 9-3
Another 4th quarter game winning drive from Drew Brees gives the Saints five straight wins.
5. (7) Chicago Bears: 9-3
The Bears' December stretch is loaded—and it starts with Tom Brady and the Patriots this Sunday at Soldier Field.
6. (5) Baltimore Ravens: 8-4
The Ravens couldn't close out the Steelers, but they are still one of the league's top teams.
7. (9) Philadelphia Eagles: 8-4
That Sunday night matchup in Dallas looks a lot tougher with Jason Garrett coaching the Cowboys.
8. (2) New York Jets: 9-3
It isn't often that Rex Ryan is at a loss for words at the post game presser.
9. (10) Green Bay Packers: 8-4
Aaron Rodgers continues to play at an elite level for the Packers as they chase the Bears in the NFC North.
10. (11) New York Giants: 8-4
Perry Fewell's defense forced six turnovers in the blowout win over the Redskins on Sunday.
11. (13) Kansas City Chiefs: 8-4
With a two game lead in the AFC West, the Chiefs have an opportunity to close out the Chargers this Sunday in San Diego.
12. (14) Jacksonville Jaguars: 7-5
Expect to see more Maurice Jones-Drew this month as the Jags try and ride him into the playoffs.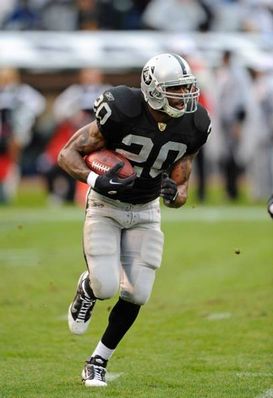 ICONCan McFadden and the Raiders make a December run?
13. (20) Oakland Raiders: 6-6
That was the Tom Cable style of football that had us talking playoffs last month with the Raiders.
14. (8) San Diego Chargers: 6-6
Hard to win in the NFL when you only run the ball eight times in a divisional matchup.
15. (23) Dallas Cowboys: 4-8
Too high for the Cowboys? Not with the way they are playing under Garrett.
16. (12) Indianapolis Colts: 6-6
Peyton Manning has four games to put a run together in Indy. Can he do it?
17. (15) Tampa Bay Buccaneers: 7-5
The Bucs need to win those divisional games at home to be a real player in the NFC South.
18. (17) Minnesota Vikings: 5-7
Expect plenty of Brett Favre talk this week in Minnesota, but the A.P. and the defense are the reason Leslie Frazier is 2-0 as the interim head coach.
19. (18) Houston Texans: 5-7
Here comes another mediocre finish for Gary Kubiak and the Texans.
20. (16) Miami Dolphins: 6-6
You have to wonder where the Dolphins would be if they had consistent play from Chad Henne.
21. (21) St. Louis Rams: 6-6
The Rams took care of the Cardinals to stay atop the NFC West and travel to New Orleans this Sunday.
22. (22) Cleveland Browns: 5-7
Is it time for defensive coordinator Rob Ryan's name to be thrown around for head coaching opportunities in 2011?
23. (25) Seattle Seahawks: 6-6
Pete Carroll's club had to comeback to beat the Panthers at home, but they still have a chance to be a playoff team come January.
24. (19) Washington Redskins: 5-7
Albert Haynesworth talk again in Washington?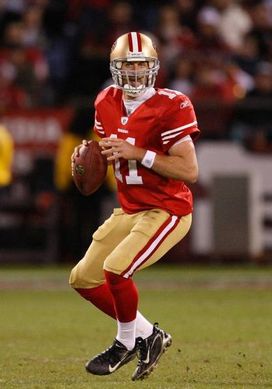 ICONAlex Smith gets another shot under center for the 49ers.
25. (26) San Francisco 49ers: 4-8
Alex Smith gets his chance—again—to show the Niners that he can be the No.1 QB in San Fran.
26. (24) Tennessee Titans: 5-7
Five straight losses have the Titans preparing for the offseason in Nashville.
27. (27) Buffalo Bills: 2-10
The Bills have been playing competitive football, but Sunday was a disaster in Minnesota.
28. (28) Detroit Lions: 2-10
Another good first half of football by the Lions, but where are the big plays in the second half?
29. (29) Denver Broncos: 3-9
Time to play out the schedule in Denver and start searching for a new head coach.
30. (30) Cincinnati Bengals: 2-10
What has happened to Mike Zimmer's defense in Cincy?
31. (31) Arizona Cardinals: 3-9
Finding a QB in Arizona should be the No.1 priority this offseason.
32. (32) Carolina Panthers: 1-11
Jimmy Clausen is finding out that playing in the NFL is a lot different than throwing passes in South Bend.
Follow the NFP on Twitter: @FootballPost