November 21, 2012 -
National Football Post
NFP Power Rankings
Every week, the National Football Post brings you our NFL Power Rankings: a breakdown of how we stack up the league.
Week 12
1. (1) Houston Texans (9-1): Going to OT vs. the Jags allowed Matt Schaub and Andre Johnson to roll up more numbers.
2. (3) San Francisco 49ers (7-2-1): The 49ers whipped the Bears on the Monday night stage.
3. (2) Atlanta Falcons (9-1): Five picks for Matt Ryan? The Falcons are lucky the Cardinals can't move the ball on offense.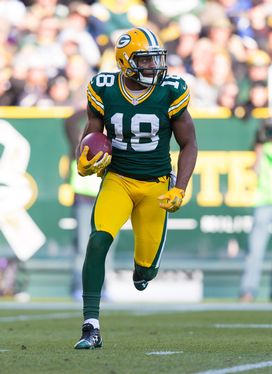 US PRESSWIRERandall Cobb and the Packers used a 4th quarter comeback to beat the Lions in Detroit.
4. (4) Green Bay Packers (7-3): Randall Cobb continues to develop into a playmaker up in Green Bay.
5. (5) Denver Broncos (7-3): Let's see how the injury to Willis McGahee impacts the Broncos down the stretch.
6. (7) Baltimore Ravens (8-2): Even with eight wins on the season, it feels like the Ravens are under the radar.
7. (8) New England Patriots (7-3): Losing Gronkowski will force Brady to find different options in the passing game.
8. (6) Chicago Bears (7-3): The wheels came off for the Bears once again under the primetime lights.
9. (10) Seattle Seahawks (6-4): The Seattle defense gets a shot at Tannehill and the Dolphins this Sunday.
10. (12) Tampa Bay Buccaneers (6-4): That's four straight for Freeman and the Bucs.
11. (11) New York Giants (6-4): Can the Giants break out of this slump vs. the Packers at home on Sunday night?
12. (9) Pittsburgh Steelers (6-4): Charlie Batch is still in the league?
13. (14) Minnesota Vikings (6-4): Adrian Peterson should get at least 25 carries vs. the Bears this Sunday.
14. (15) New Orleans Saints (5-5): The Saints are right back in the NFC mix.
15. (13) Indianapolis Colts (6-4): That was a rough one for Luck and the Colts in New England.
16. (16) Dallas Cowboys (5-5): Everyone watches the Cowboys play on Thanksgiving. But what type of team will we see vs. RG3 and the Skins?
CONTINUE TO PAGE 2 FOR THE REST OF OUR RANKINGS