February 21, 2013 -
Erik Oehler
NFP previews five linebackers/defensive-backs that NFL teams are watching closely at the Combine.
While the Combine has officially begun, no offensive/defensive players will work-out until Saturday, so we continue to look at prospects we are excited to see strut their stuff. Unfortunately Georgia linebacker Jarvis Jones announced he will not be working out in Indianapolis and will wait to do so until his pro day. While Jones not working out is frustrating, players like linebacker Michael Mauti and quarterback Matt Barkley not working out is not as disappointing as they are not participating due to medical issues. Additionally, there is no doubt that linebackers Manti Te'o and Alec Ogletree need to perform well in interviews to ease off-field concerns, but here we look at five players we, along with many in the NFL, are excited to see this week.
1. Arthur Brown, LB, Kansas State, Senior (6004, 226 and 4.66): With many bigger name linebackers getting a ton of publicity, Arthur Brown continues to fly under the media's radar despite being high on NFL draft boards. Despite lacking ideal height, Brown is a solidly built linebacker with the playing strength to fight through blocks and to make strong, physical tackles. Quick to read and react, he has the elite chase speed to easily track down plays in pursuit and has the explosive closing burst to make big, impact plays. Brown needs a strong week in Indianapolis to prove that he has the athleticism to overcome his lack of size. In addition, strong interviews could help brown convince teams that he can play any linebacker position in a 43 scheme and inside linebacker in a 34 defense. Brown may not be viewed as an elite prospect by the media, but he is going to be drafted between the 20th and 50th selections in the 2013 Draft.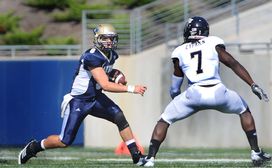 US PRESSWIREFlorida International safety Johnathan Cyprien prepares to make open field tackle.
2. Johnathan Cyprien, SAF, Florida International, Senior (6002, 209 and 4.55 E): Texas safety Kenny Vaccaro has pretty much locked up the spot as the top safety, but the battle to be the second safety selected is going to be a fierce one that goes down to the wire. Muscular and well built; Cyprien was viewed as an elite run defender off Florida International film, but impressed with his athleticism at the Senior Bowl to begin convincing teams that he can be productive in coverage also. Cyprien needs a big week in Indy to convince teams he has the skill set to be productive and make big plays in pass coverage. Not only will his workout shed some light on his potential coverage ability, but his interviews will give teams a chance to test his football knowledge to figure out if he can handle being the quarterback of the secondary.
3. Leon McFadden, CB, San Diego State, Senior (5096, 193 and 4.55 E): One of the favorite players of scouts this fall, McFadden needs to prove he has the explosiveness and speed to carry over his production to the NFL. You would never guess that he lacks ideal size at just over 5'9 when you see him play so strong and physical with receivers. McFadden's excellent footwork/backpedal not only shows he learns well from coaching, but also enables him to transition and close quickly on passes in front of him. McFadden has natural instincts and awareness, which help him to read and react fast to passes in front of him and to close quickly on receivers in his area in zone coverage. Many NFL scouts have told us they feel McFadden is the most technically sound and instinctive cornerback in the Draft, but he needs to run and work-out well to prove that he has the quickness and speed that he has not shown on film. A good showing in Indianapolis could lead to him being a third round pick.
4. Dee Milliner, CB, Alabama, Junior (6010 E, 199 E and 4.45 E): While many players will back out of working out at the Combine for even the slightest medical issue, Milliner will earn a lot of respect from NFL personnel by working out despite announcing that he needs surgery for a torn labrum. The top cornerback in the Draft, Milliner combination of good height, a muscular build, natural instincts and ball skills have many believing he can be a frontline number one cornerback. The only real question surrounding Milliner, other than the medical questions about his soon to be repaired torn labrum, is whether he has the premier explosiveness and speed to cover the fastest receivers. In order to lockup a top ten spot in the Draft, he needs to work-out well and receive a good medical report that states he should be back to 100% in time for training camp after surgery for torn labrum.
5. Kevin Minter, ILB, LSU, Junior (6020 E, 245 E and 4.80 E): After the BCS title game where Manti Te'o struggled and Alec Ogletree running into more off-field trouble, Minter has begun to emerge as potentially the safest choice at inside linebacker. A smart player who reads and reacts to the play fast, Minter is able to play faster than his timed speed. A real technician who takes on blockers with leverage and uses hands excellently to take stay from them, he is constantly around the ball making tackles against the run. Not a premier athlete who is a little stiff, Minter will always have some issues flipping hips and adjusting quickly in pass coverage. While Minter does not have Ogletree's physical talent, he is a good athlete who is productive in all areas of defense and if he has a good Combine in all areas he could lock up a spot in the bottom third of the first round.
Email Russ at Russelllande@yahoo.com and Follow Russ on Twitter @RUSSLANDE