January 19, 2013 -
Erik Oehler
NFP Previews Six Defensive Players in the Senior Bowl.
Now that the Conference Championship Games are completed and the Super Bowl is right around the corner, the scouting world turns their attention to Mobile, Alabama for this year's edition of the Senior Bowl. This past weekend all the invited players arrived in Mobile, so that on Monday they can go through the first padded practices in preparation for Saturday's Senior Bowl Game with over 1000 NFL personnel watching every rep of practice closely. Below we give a short synopsis of six defensive players NFL teams are excited to watch this week.
1. Ezekial Ansah, DE, BYU (6060 E, 270 E and 4.75 E): Possibly the most intriguing prospect in the entire 2013 NFL Draft, Ansah have more attention focused on anyone not playing QB this week. Having grown up in Ghana, Ansah did not begin playing football until the 2010 season and is still a very raw player. Right now, he flashes big play ability, but is still a better athlete than consistent football player. With uncommon quickness, playing speed and explosiveness closing to make plays for a 270 pounder, NFL teams are intrigued by his potential to be a disruptive game changer who can be lined up all over the defense. Right now his production at BYU does not warrant a top ten selection, but if he shines this week he could well force his way into consideration there because of his incredible upside and potential.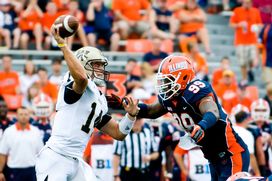 US PRESSWIREIllinois pass rusher Michael Buchanan closes on Western Michigan quarterback Alex Carder.
2. Michael Buchanan, DE / OLB, Illinois (6053, 243 and 4.80 E): A number of scouts told us that when they evaluated Whitney Mercilus for the 2012 NFL Draft (2011 Season Film), that Buchanan displayed better athleticism and was more productive than him, which meant he should be a first round pick in the 2013 Draft. Unfortunately, his senior season was not nearly as productive for a variety of reasons and has teams questioning his ability to become a quality starter in the NFL. Despite possessing the flexibility to sink his hips to rush the passer with leverage, too often he popped upright at the snap, gave his chest up to blockers and did not pass rush aggressively. In the end, Buchanan has the physical talent to warrant a first round selection, but he will need a huge week in Mobile to overcome a wildly inconsistent senior season if he hopes to be selected in the first two rounds.
3. Margus Hunt, DE, SMU (6081, 272 and 4.77): Similar to Ansah, Hunt is new to football and still developing into the player he has the talent to be. His incredible combination of height, long arms, natural explosion and elite speed, give him the tools to not only be a highly productive starter in the NFL, but to do so while lining up in a variety of spots. While he lacks the first step explosiveness and speed to beat NFL OT's around the corner consistently, he has shown the ability to use his long arms, hands and strength to defeat pass blockers surprisingly well. There is little doubt that he will be a high draft pick because of his size, strength and athleticism, but what could help him really climb draft boards is proving that he can be effective playing in both a 34 and 43 defenses.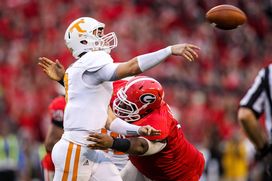 US PRESSWIREGeorgia nose tackle John Jenkins delivers blow to Tennessee quarterback Tyler Bray.
4. John Jenkins, NT, Georgia (6041, 363 and 5.15 E): Despite receiving a lot of hype as a likely first round pick, Jenkins did not play up to that level in 2012 and needs to big week in Mobile to slow his slide down draft boards. With so many teams currently playing 34 defensive schemes, quality nose tackles have gained enormous value. So if Jenkins shows up in decent shape and has a good week of practice he could ease concerns and lock up a spot in the top 60. However, his tendency to play upright/high and without aggressiveness allows blockers to get ahold of him and eliminate him from the play too often.
5. Brandon Williams, DT, Missouri Southern (6017, 330 and 5.05 E): A quick and explosive athlete, Williams has made impact plays all season for Missouri Southern, but NFL teams want to see how he does against much better competition. NFL people do not question Williams' raw physical talent, but have concerns about his technique/hand-use and this week he will need to be spot on with those if he is going to be productive. Having likely never gone up against offensive linemen as strong as he will this week, Williams must show that he can anchor, shed and make plays on OL run blocks. Although Williams is not viewed as a premier prospect that will be drafted in the first round, a breakout week in Mobile could put him in position to be a second day draft pick.
6. Johnthan Banks, CB, Mississippi State (6021, 185 and 4.45 E): Viewed as the best senior cornerback in the nation entering 2012, Banks comes to Mobile having to prove to NFL teams that he warrants being in the discussion as the top overall cornerback now that underclassmen like Dee Milliner have entered the Draft. Banks' combination of excellent size, long arms, playing speed and coverage/ball skills have led to his on-field play being compared to the Ravens' Jimmy Smith. However, Banks does not always play with the physical or aggressive style that NFL teams want and needs to prove in Mobile that he is not afraid to play physical and hit despite having a thin frame. If Banks has a great week, he will likely secure a spot in the first round and could challenge to be a top 20 pick.

Email Russ at Russelllande@yahoo.com and Follow Russ on Twitter @RUSSLANDE