January 13, 2013 -
Erik Oehler
NFP Previews The East West Shrine Game
On Monday, the sports media will turn their entire focus to the Conference Championship Games next weekend, but for nearly every NFL team their focus will be squarely on the beginning of the All Star Game junket. Today all the invited players should be settled in Tampa, Florida so that on Monday they can go through the first padded practices in preparation for Saturday's East West Shrine Game with over 100 NFL personnel watching every rep of practice closely. Below we give a short synopsis of eight players NFL teams are excited to watch this week.
1. Brandan Bishop, SAF, North Carolina State (6004, 206 and 4.60 E): A smart and instinctive defender who was constantly around the ball making big tackles, we, along with NFL people we have spoken with, want to get a better feel for his quickness and athleticism this week. From film study he is viewed as an adequate athlete, but not a top level one that NFL teams look for in starting safeties. He has a chance this week to prove to NFL teams that he has the foot quickness, agility, burst and speed to have legit range in coverage, which would definitely help his draft stock.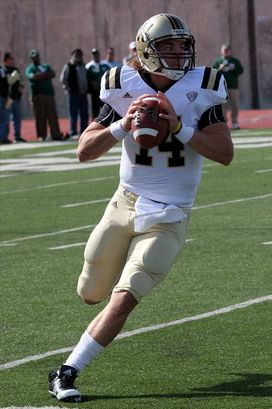 Western Michigan QB Alex Carder prepares to make a throw on the move.
2. Alex Carder, QB, Western Michigan (6016, 224 and 4.80 E): A strong armed and accurate passer, NFL teams are excited to evaluate Carder against top prospects from across the country. Can he stick his back foot in the ground, drive off it and stride into throw to make the quick hitting passes with good timing and accuracy. Additionally, teams want to get a feel for how he handles the uncomfortable situation of adjusting to throwing to new receivers as is proves how quickly a quarterback can adjust to changing circumstances.
3. Marcus Davis, WR, Virginia Tech (6031, 229 and 4.41): A former high school quarterback who made the switch to receiver during redshirt freshmen season, NFL teams are intrigued by his combination of size, explosiveness, speed and toughness. Still learning the nuances of the position, it is clear that he understands what the defense and specifically the cornerback covering him is trying to do, so he can adjust his route accordingly. We, along with many NFL people we have spoken with, want to get a better feel for how natural his hands are to feel more comfortable with him being a third or fourth round pick.
4. Corey Fuller, WR, Virginia Tech (6020, 187 and 4.40): A former track star at Kansas, 2012 was Fuller's breakout season at Virginia Tech and he definitely has caught the NFL's attention. Blessed with rare acceleration and top end speed, we have been impressed by Fuller's route running and look forward to see how he handles the tight coverage that he will face throughout the week of practice. NFL teams also want to figure out if they feel he can add bulk to his frame and can withstand the rigors of playing in the NFL with his slight frame. If he shines this week and at the Combine, I think he could rise up draft boards an enormous amount this spring and could challenge to be a second round pick.
5. Micah Hyde, CB, Iowa (5116, 190 and 4.55 E): Highly productive during his career at Iowa, NFL teams really want to see Hype in coverage this week as he is viewed as one of the most versatile defensive backs amongst the second tier prospects. Naturally instinctive, Hyde consistently reads and reacts to passes in front of him and closes in time to make the tackle after the catch. He does not however have the explosiveness and elite speed that NFL teams prefer at cornerback, which is why he is viewed as a "tweener" between cornerback and safety. He needs to prove this week that he has enough athleticism to cover slot receivers and that he is willing to come up and hit if he wants to assure himself of being drafted as a potential backup cornerback and safety.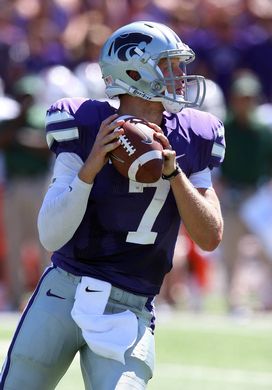 US PRESSWIREKansas State QB Collin Klein about to throw a pass.
6. Collin Klein, QB, Kansas State (6052, 220 and 4.72): While nearly everyone has written off Klein playing quarterback in the NFL, I know more than a few NFL personnel people who definitely view him as a high end developmental quarterback prospect. As I have said all season, putting aside Klein's bad throwing mechanics, he has many attributes, size, physical strength, arm strength, deep accuracy, athleticism to avoid sacks and outstanding character/intangibles, that starting quarterbacks in the NFL need. A strong week here could lead to a late invitation to the Senior Bowl, which could start a rise up draft boards.
7. Zeke Motta, SAF, Notre Dame (6022, 215 and 4.55 E): Possibly the player scouts are most split on across the country; Motta needs a big week after a disappointing game against Alabama has even his biggest supporters questioning his ability While he no doubt looks the part and is willing to fly up the field and make blow up hits, as he showed against Alabama he gets over aggressive and high at times, which leads to him missing tackles he should easily make. He needs to prove to NFL teams that he has the athleticism to handle the deep coverage in the NFL and that he can be a more consistent tackler if he wants to be drafted before the late rounds.
8. Keith Pough, LB, Howard (6016, 236 and 4.93): One of the most productive small school prospects, Pough has to prove that he has the playing speed to maintain his level of production while making the huge jump up in competition. A smart young man with outstanding character, intangibles and competitiveness, there is little doubt he has the off-field traits to be a star in the NFL. Now he must prove that he has enough physical talent to make the jump to assure himself of being drafted in the first four rounds.

Email Russ at Russelllande@yahoo.com and Follow Russ on Twitter @RUSSLANDE.