March 07, 2013 -
Erik Oehler
NFP Pro Day Breakdown – Version 1.0
Now that the Combine is over, NFL personnel are in the thick of the Pro Day schedule traveling all over the country working out prospects. While none of the premier prospects has worked out yet, a number of good players have. As there are so many Pro Days across the country, we cannot be everywhere at once, so we rely upon a network of NFL sources that we have built during our time working for the Rams and Browns. Below is a breakdown of what we have been told by different NFL sources at these workouts:
1. Arkansas - PineBluff: Terron Armstead, OT (6046, 306 and 4.71): One of the stars of the Combine, Armstead followed that up with a strong all-around performance. He did not do any of the Combine type tests as he stood on his numbers from there, but he was put through the positional drill by Chargers new offensive line coach Joe D'Alessandris. Going through a number of pulling drills where he had to adjust on the move he impressed with his athleticism. Most impressive was how good his footwork and technique looked as he went through a number of different blocking drills (Worked on run steps for inside and outside runs and in a goal line type blocking drill. Throughout the workout Armstead displayed the quickness, speed, body control and flexibility that few 300+ pounders have, which is why he is likely to be a second round pick.
2. Haring University: Ty Powell, DE/OLB (6021, 249 and 4.63): Powell choose to stand on his strong testing numbers from the Combine and just went through positional drills at his Pro Day. Colts linebackers coach Jeff Fitzgerald ran the show and put Powell through a thorough workout as both a pass rusher and linebacker. He looked surprisingly smooth and fluid in the coverage drills and displayed quickness and burst changing directions. In the pass rush drills he showed that same change of direction ability and quick twitch off the ball. In the end, Powell's workout reinforced his strong Combine workout and stellar play at Harding and has him in position to be a likely fourth round pick who could slip into the bottom of the third if the rumors I have been hearing from NFL personnel are correct.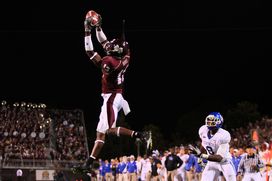 US PRESSWIREMississippi State CB Johnthan Banks goes up to make a great interception.
3. Mississippi State: Johnthan Banks, CB (6020, 185 and 4.53 at this Pro Day); Darius Slay, CB (6000, 192 and 4.36) and Josh Boyd, DT (6025, 307 at Pro Day and 5.06 at Pro Day): After an outstanding Combine workout NFL teams were very interested to see how Darius Slay would perform, but unfortunately he was slightly injured early on and did not work out much at all. However, for Banks who shined in interviews, but struggled in his workout at the Combine, this turned out to be a day for him to shine. In front of many NFL people he ran faster in the 40 (Anywhere from 4.50 to 4.57 depending on the scout I spoke with) and has a strong all-around workout. He was smooth and fluid throughout the defensive back drills, showing the quickness, agility and balance to change directions with ease. He showed the hips to flip and adjust easily and the body control and hands to catch the ball well. Already regarded as an outstanding young man with great height and long arms, his performance today should ease any concerns after his Combine workout and cement a spot in the second round for him.
While Josh Boyd is not the same caliber prospect as Banks or Slay, he continued his strong spring with a good workout. For a 300+ pounder he was light on his feet and was able to maintain proper knee bend and leverage throughout drills. Although he will not be a high draft pick, Boyd's performance today solidified him as a solid fifth or sixth round pick who is a likely backup with a chance to develop into a starter in the NFL.
4. Auburn: Corey Lemonier, DE/OLB (6033, 255 and 4.60): Not surprisingly Lemonier choose to stand on his Combine testing numbers and just did positional drills, but what did shock us was that he was not asked to do any pass rush drills and only went through off the ball linebacker stuff. He impressed many at the workout with his eagerness to learn and get better as he asked questions of NFL as to how he can improve. While his linebacker workout was okay, it is clear he is a little stiff and is going to need work playing upright and off the ball in pass coverage. His pass rush skills will likely have him on the board for 43 teams as a defensive end, but after his showing today teams that run 34 defenses will likely feel comfortable converting him to a rush-linebacker.
5. Wisconsin: RB Montee Ball (5104, 210 at Pro Day and 4.51 at Pro Day), CB Devin Smith (5103, 182 and 4.51 – All from Pro Day), Travis Frederick (6035, 316 and 5.58) and Ricky Wagner (6061, 308 and 5.17): Perhaps the most shocking event so far in the spring Pro Day season is that when Wisconsin held their Pro Day on Wednesday there was not one running backs coach in attendance to workout Montee Ball. Although Ball does not rate as highly as Trent Richardson did a season ago, he is still a very good prospect with the talent to be a starting back in the league. After not running a good 40 at the Combine, Ball helped himself by running a 4.51 on the field turf at Wisconsin, although sources told us that they feel the field turf was packed down in the area where the players ran their 40's to make it a faster running surface. Amazingly, because there were no running backs coaches at the workout, Ball did not do much in terms of working out except what the scouts in attendance asked him to do.
Center Travis Frederick definitely made up for a less than stellar performance at the Combine with his work at Madison Wednesday. While he is never going to win any races, he displayed better foot quickness and agility than he generally gets credit for and moved well throughout the workout. He proved that he has enough athleticism to be a solid starting guard or center in the NFL. In addition, offensive tackle Ricky Wagner had a solid workout displaying better knee bend, footwork and athleticism than he showed at the Senior Bowl. He is not viewed as a top end prospect, but on the third day of the Draft he will hear his name called.
Email Russ at Russelllande@yahoo.com and Follow Russ on Twitter @RUSSLANDE