March 08, 2013 -
Erik Oehler
NFP Pro Day Breakdown – Version 2.0
Now that the Combine is over, NFL personnel are in the thick of the Pro Day schedule traveling all over the country working out prospects. As there are so many Pro Days across the country, we cannot be everywhere at once, so we rely upon a network of NFL sources that we have built during our time working for the Rams and Browns. Below is a breakdown of what we have been told by different NFL sources at these workouts:
1. Illinois: Michael Buchanan, DE/OLB (6051, 247 and 4.78), Glenn Foster, DT (6035, 286 and 4.78), Terry Hawthorne, CB (5116, 195 and 4.44), Akeem Spence, DT (6012, 306 and 5.14) and Hugh Thornton, OG (6037, 322 and 5.11):
Despite winning only two games in 2012 there were more than 50 NFL personnel in attendance as Illinois' prospects went through their pro day on Thursday. There were many players who worked out, but only four were viewed as definite draft picks, so below is a breakdown of those players and one additional player who really helped himself with a great workout.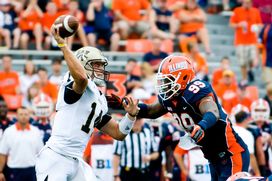 US PRESSWIREIllinois' Michael Buchana closes on Western Michigan quarterback Alex Carder.
After an outstanding junior season in which he often out-produced Whitney Mercilus, Michael Buchanan nearly came out for the 2012 NFL Draft, but he choose to return to try and improve his Draft stock. Unfortunately for him, the defensive scheme changed drastically and Buchanan, along with most of the defense, struggled greatly. A long and linear pass rusher who played primarily out of a three point defensive end stance in 2012, he was put through both defensive line and linebacker drills. Choosing to stand on his Combine testing results, he had a good overall workout displaying the foot quickness, speed and athleticism in the positional drills. While he definitely showed some stiffness in his workout, he definitely showed the athleticism to be productive playing from a two point outside linebacker stance in a 34 scheme and a source at the workout told us that in his view that is clearly his best position in the NFL.
While defensive tackle Glenn Foster was expected to be a solid free agent signing before Thursday, he is pretty much assured of being a late round pick after his Pro Day performance. At 286 pounds, Foster amazed by running a 4.78 40, vertical jumping 39