March 04, 2013 -
Erik Oehler
NFP Pro Day Preview March 4 – 8: Part One
Although the Combine is now behind us, the Pro Day season kicked off when Purdue held its on Friday, although defensive tackle Kawaan Short did not work-out as he is still recovering from injury. While the evaluation of game film is still bar far and away the most important aspect of scouting, NFL teams send coaches and scouts across the country to work-out prospects to fill in the last piece of the scouting puzzle. Today we look at the first batch of Pro Days this week, Mississippi State, Pittsburgh, Wisconsin, Illinois and Missouri. On Tuesday we will preview the important remaining Pro Days this week, Syracuse, Florida International, Ohio State, Southern Mississippi and Texas A&M.
1. March 6, Mississippi State: CB's Johnathan Banks and Darius Slay:
Coming to the Combine Banks was viewed as a definite second rounder with a chance to move into the first round with a strong performance, while Slay was considered a good third rounder. However, after Banks struggled during the workout portion of the Combine (He excelled in interviews), Slay stepped up and had a strong all-around workout looking like the better athlete. Teams come to Starkville, Mississippi hoping to see Banks display the quickness and smooth athleticism that he showed on film in his workout in order to ease concerns about his workout in Indy where he looked choppy and awkward in positional drills. A good day by Banks should erase concerns and assure him a second round selection, while another good showing by Slay could lead to him locking up a spot in the second round also.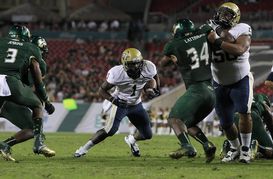 US PRESSWIREPittsburgh RB Ray Graham makes a sharp cut to break behind block of offensive lineman.
2. March 6, Pittsburgh: RB Ray Graham:
A player that NFL scouts have been telling us was a "sleeper" all season because of his lack of ideal size and injury history, Graham greatly hurt his chances of being drafted by running the 4.7's at the Combine. After an excellent week of practice at the East West Shrine Game, people we spoke with felt confident Graham would be drafted despite the limitations mentioned. However, he needs to really workout well to prove to NFL teams that he has the burst and speed to be a productive third down back and warrant being drafted.
3. March 6, Wisconsin: RB Montee Ball and C Travis Frederick:
In a Draft where it seems many running backs are battling to be the second one chosen after Alabama's Eddie Lacy, Montee Ball has a chance to make a big statement. Despite not running a good 40 at the Combine, Ball's positional workout was considered good. He will however need to impress during workout to ease concerns about his ability to get through holes quick enough and that he is not a straight line runner to assure himself of being a Top 50 selection. With many elite offensive tackle and guards available this year, there is a real drop in talent at the center position. Frederick is one of the best centers in the Draft, but needs to prove that his workout at the Combine where he ran slow in the 40 and looked slow footed in positional drills was an aberration. If he shows the flexibility to maintain good knee bend while moving quicker during drills he should be able to lock up a spot in the first three rounds.
4. March 7, Illinois: DE/OLB Michael Buchanan, DT Akeem Spence, CB Terry Hawthorne & OG Hugh Thornton
After an incredible 2011 season in which Buchanan often out-played Whitney Mercilus, the Illinois' defensive scheme changed and Buchanan's responsibilities were different and led to decreased production. Scouts and defensive coaches want to get a better feel for Buchanan's physical talent to determine if he can get back to being the impact player he was in 2011 when he played like a first round pick. Having already graduated, Akeem Spence did not surprise anyone when he came out early for the 2013 NFL Draft, however after measuring under 6'1 and with so much talent at the defensive tackle position, Spence needs to prove to NFL teams that he has the explosiveness to be an effective one gap play while also proving he has the strength to be productive taking on and defeating run blocks. Not a highly regarded prospect entering the 2013 season, Thornton impressed with his athleticism and strength playing guard and earned an invitation to the Senior Bowl. Viewed as a likely third or fourth rounder right now, Thornton can pretty much lock up a spot on the second day with a strong showing this week. Viewed by many scouts as a "tease" Hawthorne confirmed that with his inconsistent play during the season followed by running a blazing 40 and working out well at the Combine. While he did not produce at a high level at Illinois, tall cornerbacks like Hawthorne (5116) with elite speed and athleticism often get over-drafted and he could assure that happens with a standout performance at his pro day.
5. March 7, Missouri: LB Zaviar Gooden and DT Sheldon Richardson:
At Missouri Gooden constantly flashed the elite talent to be a special player, but rarely produced at a consistent level. However, after blowing up the Combine with excellent testing numbers and a good all-around workout, he is in position to be a second day draft pick despite not producing at that level on the field. While he still needs to do well in physical part of the workout in Columbia, he needs to impress the NFL teams that meet with him to ease concerns about his lack of football instincts/awareness. On the other hand, Sheldon Richardson was a dominant player at Missouri, but has largely been the forgotten defensive tackle thing spring as everyone's attention is focused on Florida's Sharrif Floyd. Amongst NFL personnel we have spoken to, Richardson is viewed as right there with Floyd and Lotulelei on many draft boards, especially after impressing in his Combine interviews and workout. If he impresses at his pro day he could challenge to be a top ten pick in the draft by a team looking for an explosive, gap shooting defensive tackle.

Email Russ at Russelllande@yahoo.com and Follow Russ on Twitter @RUSSLANDE