March 28, 2013 -
Erik Oehler
NFP Pro Day Review of USC & Notre Dame
NFL personnel are nearing the end of the Pro Day schedule traveling around the country working out prospects. As there are so many Pro Days across the country, we cannot be everywhere at once, so we rely upon a network of NFL sources that we built during our time working for the Rams and Browns. Below is a breakdown of what I was told by different NFL sources at the USC and Notre Dame Pro Days:
1. USC: Matt Barkley, QB; Robert Woods, WR; T.J. McDonald, SAF and Nickell Robey, CB:
Despite numerous media reports that Matt Barkley struggled, our NFL sources at the workout told us that he had a good, solid day. While he lacks premier arm strength, throughout the workout he showed that he has a strong enough arm to make every NFL throw without any issues. From the beginning of the work out Barkley took command of the players displaying good leadership. He was accurate throwing the ball around the field and really excelled on "deep outs" and deep passes during Wednesday's workout. Although, Barkley lacks the elite skill set that goes with being the top overall pick, he showed Wednesday that he has what it takes to be a good NFL starter and is worth drafting in the first round.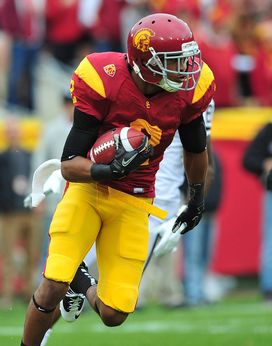 US PRESSWIREUSC WR Robert Woods runs with the ball after the catch.
As all the media's attention was focused on Barkley, receiver Robert Woods actually had the best day that no one has heard about. Although he is not a blazer, he displayed the quick acceleration and burst out of his cuts to make up for that. Running outstanding routes from start to finish, Woods looked like a veteran NFL receiver during the work out. Consistently fast getting his head and hands around as he came out of cuts, Woods showed why he one of the most NFL ready receivers in the Draft. He displayed soft, natural hands plucking the ball away from his body and made a statement that he will be a top 50 pick.
After an up and down final season, safety T.J. McDonald had an expectedly strong work out today. No one has ever doubted McDonald's athleticism and today he showed that he is an elite athlete for a 6'2, 210+ pound safety. Quick and compact in his backpedal; his fluid hips and feet were accentuated in his ability to flip his hips to change directions with remarkable ease. No one in attendance today would deny that McDonald has first round athleticism, but it will be hard for him to overcome his wildly inconsistent competitiveness/production to justify drafting him before the third round.
Despite receiving a ton of hype as a potential high draft pick, Robey showed today that he is at best a late round consideration. Short cornerbacks need to be special athletes and players, and today's workout was not special. After running two excellent 40's (4.40 and 4.43) and vertical jumping 39 inches, the rest of his workout was disappointing. His stiffness hindered his ability to run the short shuttle drill effectively, which led to him attempting it six times before getting through it. In addition, during the positional drills he looked stiff and tight in the hips, which greatly hindered his ability to change directions quickly.
2. Notre Dame: Tyler Eifert, TE; Manti Te'o, MLB and Zeke Motta, SAF:
Although nearly all the media's attention in South Bend was on Manti Te'o, it was tight end Tyler Eifert who stole the show. At 6'5+ and over 250 pounds, Eifert shined while being worked out by the Bengals' tight end coach. He did not drop a ball during the workout and was outstanding high pointing the ball. Running outstanding routes, Eifert's athleticism was readily apparent as an NFL source told us he "ran like he was floating in air." Put through a grueling workout, Eifert did not wear down and showed better strength than he gets credit for in the bag drills. While he will never be a dominant POA blocker, he showed during the workout that he can be a solid positional/backside blocker. After his performance, our sources at the workout said they would be shocked if he is not drafted in the top twenty picks.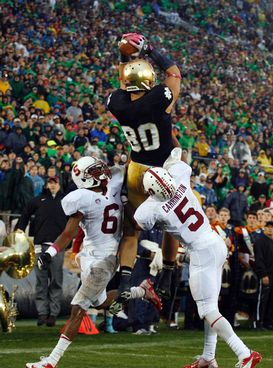 US PRESSWIRENotre Dame's Tyler Eifert climbs the ladder to catch high pass between two Stanford defenders.
Te'o is not as good a prospect as Eifert, but is a good, solid one who once again worked out well (Although his 40 time at the Combine was not special, his positional workout was good) at Notre Dame's Pro Day. Running in the mid-4.7's (sources told us he was generally between 4.73 & 4.75 on most watches) no doubt eased concerns, but his overall workout showed teams that he can be a three down linebacker. A source in attendance told us that his workout proved to him that Te'o has the hips, feet and overall athleticism to be productive in pass coverage in the NFL. In addition to working out well, Te'o was the leader of the team throughout as he cheered on teammates and clearly had the support of all his teammates. His workout today will place Te'o exactly where we have predicted all along between the 20th and 50th picks.
Unfortunately, safety Zeke Motta did not continue the trend in South Bend and have a strong work out. After running poorly at the Combine, Motta did no better running in the high 4.7's Tuesday. It seems clear after his workout that Motta is a "tweener" who is much better playing close to the LOS, but lacks the size and strength to be effective as a full time linebacker. However, as he showed during the workout, the farther he lines up from the LOS the more he struggles moving and adjusting, which makes him a coverage liability. Motta is still likely to be drafted, but probably not before the late rounds.
Email Russ at Russelllande@yahoo.com and Follow Russ on Twitter @RUSSLANDE