October 14, 2011 -
Barry Dorey
NFP Prospect of the day: UNC WR Dwight Jones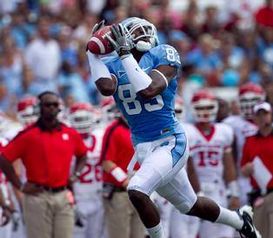 ICONJones looks like the next big time UNC wide receiver prospect.
WR Dwight Jones: No. 83 (6-4, 225)
A tall, long armed, athletic looking receiver who carries his weight well and, despite his length, exhibits an explosive element to his game. Isn't a strider off the line, exhibits an initial burst, eats up the cushion quickly and possesses the speed to get on top of receivers quickly. He builds speed as he goes down the field, though, and possesses the balance to shrug off defenders and get behind defenders on vertical routes. Accelerates well through his breaks on the post and corner, doing a nice job looking off defenders and tracking the football. He exhibits a second gear to his game when trying to run under the throw, extends his arms well and possesses the body control to adjust to the play. Doesn't do a great job attacking the football down the field, he tends to adjust and drift, and balance is a bit of an issue when he has to collect himself, but is routinely able to run under throws.
Is still developing as a route runner on sharply breaking routes, possessing natural fluidity in the hips for his size, but he tends to get choppy into his breaks and will gear down a bit. However, he does a nice job in the intermediate pass game getting on top of defenders quickly and forcing them to open up their hips before he snaps off the route. Looks sharp working the comeback as well and, despite not being overly shifty with the ball in his hands, he struggles with balance at times and looks out of control. He accelerates very well in the open field and can outpace angles with his straight-line speed. Possesses a decent feel in the pass game, and does a nice job slow playing routes off the line and changing speeds. However, he's still learning where/how to sit down vs. coverage and when to run away from it. Nevertheless, he adjusts well to the football and can pluck away from his frame, but gets sloppy over the middle and will allow throws to get into his frame. Possesses the burst, physical and suddenness to beat press man in the NFL.
Impression: Really came into his own during the second half of the year in 2010. Runs well and accelerates quickly for a big receiver with natural fluidity to his game as well. Needs to improve as a route runner, but talent is there for this guy to be a play making starting wide out in the NFL.