May 23, 2011 -
National Football Post
NFP Scouting Series: Alabama
For the rest of the summer, the National Football Post will be breaking down every team in the Football Bowl Subdivision to identify which players who could warrant the most interest from NFL teams in the 2012 NFL draft.
Therefore, today we take a look at the Alabama Crimson Tide.
Offense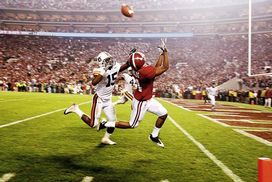 ICONMaze can consistently get behind defenders.
WR Marquis Maze: No. 4 (5-10, 182)
Despite being a bit short by NFL standards, he does possess some natural strength to his game and exhibits good thickness through his upper body. Generates impressive explosion initially with the ball in his hands and transfers his speed into power well when asked to finish a run. Is a gifted straight-line athlete who gets up to speed quickly and looks to have a real second gear to his game. Consistently is playing faster than the opposing secondary and can outpace angles toward daylight. Is a sudden/shifty athlete with the ball in his hands, knows how to make a defender miss and can accelerate quickly.
He's still maturing as a route runner, as he's really jerky at times when asked to change directions. Has a tendency to skip off the line, chops his feet when trying to break down and isn't nearly as sudden or fluid as a route runner at this stage as he is with the football in his hands. However, possesses good body control and locates the football well. Exhibits the body control to adjust to the throw and has the confidence in his hands to extend and pluck off his frame. Is at his best running vertical routes where he can put his foot in the ground and simply run away from defenders down the field. Plays fast and can take the top off a defense. Will need to learn to beat press more consistently, possesses natural short-area quickness and is stronger than his size would indicate, but wastes a lot of time/steps off the line as he's simply looking to run around/away from defenders in order to avoid the bump. However, does do a nice job dropping pad level once he gains a step, maintaining his balance and accelerating quickly down the field.
Impression: There's a place in the NFL for this guy because of his straight-line speed and ability to create after the catch. Adds some punt return ability as well and looks like a sub-package receiver who can run the deep crossers and create big plays when his number is called.
WR Darius Hanks: No. 15 (6-0, 184)
Looks a bit longer/leaner on tape than his height/weight numbers would indicate. Possesses some savvy to his game off the line when setting up routes. Does a nice job changing speeds, but doesn't generate much burst initially on sharply breaking routes. Tends to round off his breaks in the three-step game and isn't physical enough to fight off a defender and box out in order to make a play. Is much more effective when asked to run vertically down the field. Looks more explosive when asked to plant his foot and get up field and tracks the throw in the process. Displays the ability to sells his fake well by sinking his hips and looking off the defender before accelerating quickly toward space and separating. Lets the ball get into his body too often and needs to do a better job extending his hands and plucking the football more consistently.
Isn't a dominant run blocker through contact, but is willing to stick his head in and cut down defenders at the second level. Possesses questionable natural instincts/intelligence as he often lines up wrong and looks confused. Might be only capable of learning one wideout spot in the NFL. On-the-field character is questionable, as well, doesn't seem to be real interested when he knows the ball isn't coming to him. Isn't real comfortable vs. press coverage at this stage. Wastes a lot of time chopping his feet and isn't real physical shedding off the line. Also, isn't the sharpest of route runners even vertically down the field. He's a gifted/explosive enough athlete to get away with it in college, but tends to waste a lot of steps rounding off his vertical routes.
Impression: Possesses good size and above average athleticism for the position. Limited route runner at this stage, but can separate down the field and track the football. Physically he has the tools to make a roster, but his on-the-field character might limit him.
TE Brad Smelley: No. 17 (6-3, 227)
A move tight end/H-back who will motion into the backfield and act as an extra lead guy in the Alabama offense. Doesn't possess an ideal lead blocking body, is a bit lean and tall, causing him to struggle to gain leverage. Tends to double over at the waist into contact, doesn't keep his head up and despite playing hard and looking for contact, he often fails to stick and win through contact at the point as a lead guy. Doesn't possess the natural power to move anyone off the football in-line. Does a much better job as a move guy, gets out to the second level well, extends his arms and consistently is able to stick through contact. Used consistently to split out on bubble screens to block downfield and is very effective in that role.
A strider off the line as a route runner and it takes him awhile to build speed. Isn't real sudden out of his breaks, tends to lean/drift into routes prematurely and doesn't have the short-area quickness to gain much separation in tight areas. Isn't an option to get down the seam either and looks limited as a pass catcher.
Impression: A hard-working move tight end at the college level who doesn't stand out in any area of the game enough to make an NFL roster.
C Williams Vlachos: No. 73 (6-1, 289)
A shorter, squattier center who lacks ideal length and isn't the most flexible of blockers when asked to sit into his stance. Has the ability to gain leverage because of his lacking height and at times will keep his base down. However, will get caught bending at the waist and loses his balance often into blocks. Snaps and steps quickly off the line in the run game, exhibiting the ability to reach defenders initially off his frame and seal. Looks coordinated getting out to the second level as well. However, lacks ideal lower body strength when asked to handle defensive tackles at the point of attack. Shoots his hands quickly and exhibits good initial hand placement. But, lacks the base strength to move defenders off the football and struggles to maintain balance through contact, leading to him being overwhelmed consistently into the backfield.
Isn't the type of lateral athlete his size would have you believe. Struggles to create leverage for himself initially on contact in the pass game, lock out and slide his feet through the play. Is easy to disengage from laterally and doesn't possess the kind of strength to consistently anchor or push his man past the pocket one-on-one. He plays with good grit and will work till the whistle; just struggles to consistently keep the inside of the pocket clean because of his physical limitations. Is at his best working in tandem, keeps his head on swivel, passes off/picks up linemen well inside and does have a good feel for the game.
Impression: An undersized overachiever who plays hard and is rugged inside — just has too many physical limitations for me to give a draftable grade to.
Defense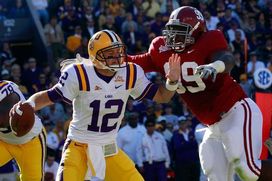 ICONChapman can fight his way through blocks and push the pocket inside.
NT Josh Chapman: No. 99 (6-1, 310)
A thick, girthy defender with a strong looking lower half and longer arms for his frame. Exhibits a strong anchor on contact when asked to eat up blocks inside. Is tough to move off the football, keeps his base down and works his hands quickly to maintain/regain leverage and hold the point inside. Gets himself in trouble at times shooting his hands too high into contact, but works hard to gain proper hand placement through the play and maximizes his length well in tight quarters. Is limited making plays off his frame. Allows himself to be easily sealed from the action inside and isn't real sudden when asked to disengage and range off his frame. Does a decent job fending off slide down blocks and can play the piano in tighter areas down the line, but when asked to work more in space, he struggles to put himself around the football.
Displays a decent get off for his size vs. the pass. Isn't a guy who will threaten gaps off the football, but plays with a good motor, keeps his base down and can fight through blocks working his way up field. Doesn't have the kind of body control to sudden change directions skill to quickly slip blocks, but does display some violence with his hands when asked to disengage while keeping the integrity of the pocket and fending off blocks as the QB steps up.
Impression: Has the making of a starting caliber nose at the next level in either a 3-4 and 4-3 front. Can consistently anchor on contact, is long armed and tough to move off the football. Also, is a better pass rusher than given credit for.
LB Courtney Upshaw: No. 41 (6-2, 263)
A physically imposing, well-put-together linebacker/defensive end hybrid who will stand up and play with his hand on the ground. Displays only average straight-line speed when asked to close from the backside. However, is quicker/more coordinated than fast in tight areas and gets up to speed quickly. Generates a lot of natural power on contact as a tackler. Is long armed, has a snap through his hips into contact and consistently exhibits the power to strike and wrap off his frame. Reads and reacts well in space, deciphers information quickly and doesn't take many false steps trying to find the ball.
He doesn't get much depth in his drop vs. the pass game. Is coordinated and keeps his feet under him, but is tighter in the hips and isn't going to hold up at the next level in space or man consistently.
Is extremely violent/powerful with his hands when attacking downhill. Consistently is able to take on blocks, disengage and make his way toward the football vs. both the run and pass game. Is at his best as a pass rusher standing up. Looks more sudden/shifty laterally off the ball from a two-point stance and can win with power on his bull rush, win with his hands or side step a block and fight through contact. Plays down in most nickel situations and when run at has the power to anchor at the point vs. SEC offensive tackles.
Is violent/coordinated when asked to shed, has a good motor and can disengage consistently and make plays off his frame. Isn't as natural a pass rusher with his hand down at this stage. Is a bit inconsistent getting off the snap on time and is more of a power player only. Does a nice job sitting into his stance, keeping his base down off the football and generating leverage for himself vs. the bull rush. But he doesn't do a great job suddenly changing directions and shedding when engaged. Loves to work the club/rip when trying to reach the corner both when down and standing up, can keep himself clean and works hard to close, but again displays only an average burst in pursuit.
Impression: I like him as a 34 outside backer who can play on the strong side, take on linemen at the point and also rush the passer. He's at his best attacking downhill, using his strong hands to disengage and always is around the football. Looks like a year one starter to me at the next level with scheme versatility and impact potential.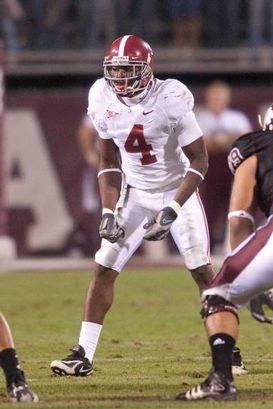 ICONBarron will strike you in the run game.
SS Mark Barron: No. 4 (6-2, 210)
A tall, long-armed and leggy safety who possesses a natural pop to his game when asked to strike ball carriers on contact. Is at his best attacking downhill. Displays pretty good balance and bend when asked to sit into his stance for his size. Stays coordinated clicking and closing on plays and can cleanly drive on the football in front of him. Demonstrates above-average ball skills in man coverage and uses his length well to make plays on the football. However, anytime he's asked to redirect and/or turn and run he will struggle with his balance. Is tighter in the hips when forced to turn and run, gets upright and doesn't reach top end speed quickly. Doesn't break down real well and keep his feet under him either when ranging in the deep half and lacks the ability to collect himself quickly and consistently attack the football. Too often looks to be collecting himself and will drift when trying to make a play on a throw. Makes a lot of calls in the secondary, but possesses only average instincts when feeling routes develop around him.
The same attributes pop up in the run game as well. When he can run the alley and take a beeline toward the ball carrier he drops his pad level well, wraps on contact and consistently brings his man to the ground with a powerful strike. Understands angles well in space and uses the sideline as an extra defender. However, whenever he's asked to redirect or slide his feet laterally in order to bring down a man he has a tendency to overrun the play and/or lose balance causing him to miss on tackles.
Impression: Isn't a guy who can play in space at the next level and will get picked on consistently by NFL offenses. Has the makings of a heck of a special teams player who can attack downhill and play inside the box, but not someone I would trust in nickel situations.
Follow me on twitter: @WesBunting