July 20, 2011 -
Barry Dorey
NFP Scouting Series: Arizona
For the rest of the summer, the National Football Post will be breaking down every team in the Football Bowl Subdivision to identify which players could warrant the most interest from NFL teams in the 2012 NFL draft.
<p> Therefore, today we take a look at the senior class of the Arizona Wildcats.
Offense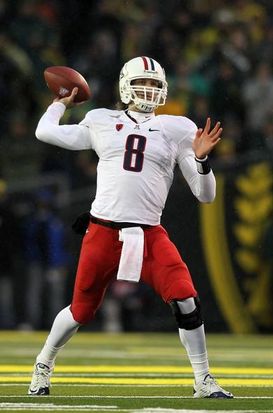 ICONFoles certainly looks the part of an NFL signal caller.
QB Nick Foles: No. 8 (6-5, 240)
A tall, strong-armed quarterback prospect who spins a clean football and can make all the throws with ease. Has experience both from the gun and under center, balances his feet quickly into throws, transfers his weight well and can accurately fit the football into tight areas on all levels of the field. However, accuracy and mechanics both become inconsistent when he feels pressure. Does a nice job keeping his eye level down the field throughout the play. However is slow to decipher information, is limited in his ability to read more than his initial two reads on one side of the field and gets happy feet in the pocket. Is a lanky strider who isn't real smooth or sudden in the pocket when trying to side step pressure, tends to flush himself away from the pocket, will throw off his back foot and trusts his arm too much at times causing his ball placement and accuracy to suffer. Needs to do a better job finding secondary options. When his initial read is on he's very efficient. Does a decent job manipulating defenses, looking off receivers to one side and coming back to his primary target. But when forced to go across the field through his progressions and get the ball out on time he really struggles to be effective.
Doesn't have the quickest of releases, there is a slight wind up to his throwing motion, but nothing too dramatic that it needs to be re-tooled. Footwork gets sloppy at times, especially when asked to quickly set from the gun, doesn't always stride toward his target. However, focuses on his lower body mechanics much more from center. Possesses good bend, short sets quickly and throws well in rhythm with "plus" accuracy. Is a bit inconsistent on his bucket throws down the field. Has a tendency to under throw vertically when he needs to put more touch on the pass, more accurate when he can throw vertically more so on a line
Missed time during the 2010 season with a knee injury and showed some mental grit coming back and playing through some pain. Is a former transfer from Michigan State who left the program after only playing in one game his freshman year. Started and lost the final five games of the 2010 season and winning on the big stage is a concern.
Impression: A big, strong-armed passer who has the tools physically. However, needs to continue to develop mentally as a decision maker if he hopes to have a chance of being even a decent starting option in the NFL.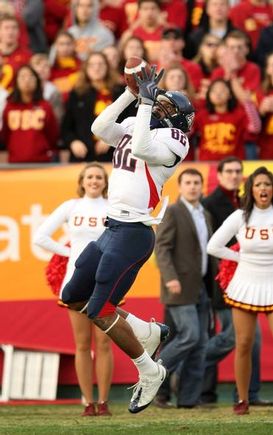 ICONCriner is effective making plays on the football.
WR Juron Criner: No. 82 (6-4, 215)
A strong, physically put together receiver who plays much more compact and coordinated than his 6-4 frame would leave you to believe. Displays "plus" short-area quickness for his size and his combo of physicality and suddenness allows him to routinely be successful vs. press coverage off the line. Does a nice job using a stutter step to get corners off balance and can accelerate quickly into his route or use his hands/length to shrug off a jam. Isn't a burner, looks like a 4.55 guy. However, plays fast because he is a powerful route runner who has good initial quickness both off the line and into his route. Displays an explosive element to his game after the catch and can fend off would-be tacklers as well. Doesn't have much wiggle when he gets up to full speed as some stiffness does show, but he runs hard, lowers his head into contact and gets north to south quickly.
For his size does a nice job showing good change of direction skills and balance on sharply breaking routes. Runs routes at full speed, keeps his feet under him and can create a burst/separation out of his breaks. Tends to round off his angles a bit, but uses his body to box out defenders and isn't afraid to pluck the football away form his frame in traffic. Exhibits good body control and coordination when asked to adjust. Uses his big, strong hands well to pluck off his frame and is a threat in jump ball situations. Does have his fair share of lapses in concentration and will put the ball on the ground at times in traffic. However, showcases a natural feel for the pass game, knows how to sell the double move and works hard to run himself open when asked to improvise. Also, is effective on the edge as a blocker, sticks to defenders and can win one-on-one matchups consistently.
Criner has been rumored to be battling a medical condition however, causing some erratic behavior, possibly due to the news of a sick family member and could miss the 2011 season.
Impression: He's a talent, there is no doubt about that. However, the key in determining his draft stock if where he's at mentally. If healthy he can be a legit starting wide out on the outside early in his NFL career.
WR David Douglass: No. 85 (6-1, 205)
Possesses a lean frame with very average girth and overall muscle tone/strength. Seems to waste some initial movement off the line, dropping his pad level and bending at the knees before releasing into his route. Doesn't have a great first step, isn't someone who can eat up the cushion quickly and threaten defenders down the field. A very average athlete, runs his routes hard, but looks tight trying to get out of his breaks. Is forced to round off his routes and isn't a guy who is going to separate on the outside at the next level. Isn't real shifty off the line either, tends to really round off his release and try to run away/around press coverage when he sees a defender in his grill.
Is at his best vs. a free release, deciphering the defense and working his way open. Doesn't have the kind of athleticism to consistently win his individual matchups vs. man coverage. However, does a great job uncovering when plays breakdown. Finds soft spots in the defense, settles down well and can pluck the football off his frame. Routinely seems to be working himself open, is fearless when asked to extend his arms and make a play in traffic. Exhibits good hand/eye coordination and concentration near the sideline, keeping his feet in bounds and securing the football. Will get after in the run game, isn't overly physical, but works hard, sticks to blocks and his effort consistently shows on the outside. Isn't going to create for himself after the catch, but does a nice job getting his body between the ball and defender and absorbing contact.
Impression: Is just really limited in terms of athletic ability. Knows how to find soft spots and work himself open vs. zone, but there are just more intriguing athletes out there that can do the same.
RB Keola Antolin: No. 2 (5-8, 195)
A shorter, tightly wound back with a low center of gravity and thicker base. Possesses a good initial burst when asked to press the line of scrimmage and displays much better vision/patience running from I-formation sets than from the gun. Is able to attack downhill quickly, keeps his feet under him and exhibits good one-cut ability. Runs his pad level low through contact, can use a shoulder fake in tight areas to gain a step and burst toward daylight. Gets back up to speed quickly out of his breaks. However, lacks ideal size for the position and struggles to routinely churn out tough yards through contact. Isn't a guy who can move the pile inside.
Plus, looks a bit tight hipped. Isn't a back who can routinely create on his own and make a man miss in tight quarters. Has a tendency to drop his eye level, continue to bounce the football toward the edge and doesn't have the straight-line speed to simply outpace defenders. Isn't as natural running from the gun when exposed more so in space and is asked to make defenders miss. Looks more comfortable/effective playing in tight areas where he can get north/south quickly and use his vision to stick his foot in the ground and get up field. Is natural flaring out of the backfield and can catch the football in space, but again isn't overly dynamic making defenders miss one on one.
Impression: A tough, hard-nosed runner who plays with a chip on his shoulder. However, isn't as explosive laterally and/or shifty as you would like in an undersized back to be considered a draftable prospect.
Defense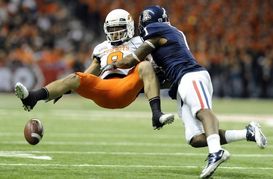 ICONGolden will come up and lay the wood.
CB Robert Golden: No. 1 (5-11, 200)
A strong, physically put together defensive back with experience at both safety and corner. Started at strong safety in 2009 and moved to corner in 2010. Is still developing as a corner from a technical standpoint. Has a tendency to get a bit leggy when asked to redirect in coverage and looks a bit stiff trying to transition out of his back-pedal, as he has a bit of a hitch opening up his hips. Possesses only average make-up speed at the position. However, is developing as a press corner, possesses the length/strength to routinely re-route off the line, does a nice job keeping his feet under him and if he doesn't have to turn and run displays a real quick twitch ability about him closing underneath. Displays developing natural instincts as a corner, feels his cushion well when in off coverage, stays low in his backpedal and despite getting a bit overextended at times, collects himself quickly and has impressive click and close ability. Showcases a real explosive element to his game when driving on the throw, not only when playing the football, but also as a tackler. Displays plus ball skills coming downhill, adjusts well to the play and looks natural under cutting routes. Gets himself in trouble at times down the field, will allows receivers to get behind him, if he can't get an arm bar into them he will give up separation vertically. However, does do a nice job looking and leaning when the ball is in the air and can highpoint the throw.
Is a "plus" tackler who isn't only going to set the edge on the outside, but will attack downhill and create collisions on contact. Breaks down well, possesses a natural snap to his game and is one of the better tackling corner prospects I have seen on tape this year.
Impression: Might be limited to more of a cover two/click and close type corner, but he does have some developing press coverage skills. Also, has a lot of value as a safety as well, as he can anticipate in the deep half, drive on throws under him and play over a receiver in nickel situations. Looks like a dirty starter either as a safety or corner.
OLB Paul Vassallo: No. 41 (6-3, 247)
Possesses a more athletic-looking frame than his height/weight numbers would indicate. Plays hard and exhibits a "plus" motor in pursuit. However, lacks much range/closing speed. Is tighter in the hips and it takes him a bit to redirect and reach top-end speed. Doesn't have much of a burst when asked to close and doesn't create much of a pop into contact in any area of the game. Fails to routinely take on blocks with much power or violence. Extends his arms well in order to try to shed, but routinely can be overwhelmed/sealed on contact. Doesn't create much of a snap into contact as a tackler either, breaks down with some success, but fails to consistently create much of a snap from his hips and is more of a catcher/drag down guy.
Possesses average instincts vs. both the run and pass game. Works hard to put himself around the football, but doesn't anticipate plays overly well. Doesn't have much range in and out of his breaks vs. the pass game. Will come out at times in nickel situations and doesn't play overly fast vs. the pass game because of his average instincts and slightly below average athleticism/range. Isn't a guy who can turn and run down the field with NFL caliber tight ends/backs.
Impression: A solid college linebacker who doesn't stand out enough in any area of the game to warrant a roster spot at this stage at the next level.
Follow me on twitter: @WesBunting