June 03, 2011 -
National Football Post
NFP Scouting Series: Arkansas
For the rest of the summer, the National Football Post will be breaking down every team in the Football Bowl Subdivision to identify which players could warrant the most interest from NFL teams in the 2012 NFL draft.
Therefore, today we take a look at the Arkansas Razorbacks.
Offense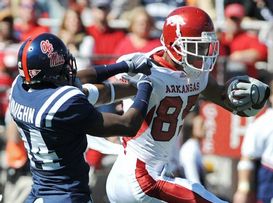 Childs is more than just a big body.
WR Greg Childs: No. 85 (6-3, 217)
A tall, long-armed wide receiver prospect with a big wingspan and great body control when asked to adjust to the catch. Is a strider down the field who isn't real shifty off the line when asked to beat press coverage. Can fend off corners with his length/physicality and track the football vertically, but isn't a guy who initially can get behind defenders and separate. Lacks great straight-line speed as well; looks like a 4.55 guy. Makes most of his big plays adjusting to the throw and simply high pointing the throw, as his ball skills, body control and coordination are all very good.
Is a much better route runner than given credit for, especially in the three-step game. Does a nice job when lined up off the line slow playing his route, selling the fake with an outside jab/shoulder fake and accelerating through the inward breaking routes. Uses his big body to box out defenders and has a tremendous area to throw at when asked to go get the football.
Is an above-average blocker on the outside as well and is willing. Not overly physical, but his long arms and big frame allow him to initially stick to defenders through contact. Does a better job creating yards after the catch than you would think for a bigger wideout, consistently attacks throws and runs through them, allowing him to gain momentum into the catch and initially break a tackle and/or outrun his defender. A natural plucker off the football who extends his long arms and can make some tremendous catches off his frame.
Missed the final part of the 2010 season with a patella tendon injury.
Impression: He knows what he is and plays to his strengths. Looks like a big, coordinated possession type receiver at the next level who can win in the three-step game and create some big plays for a team in jump ball situations as well.
WR Joe Adams: No. 3 (5-11, 190)
Looks smaller and thinner on tape than his numbers indicate. However, is a good athlete who has some wiggle off the line getting into his routes. Sets up his routes well from the slot. Does a nice job changing gears, selling the shoulder fake and displays the balance/fluidity to sharply get out of his breaks with a burst. Snaps his head around quickly and locates the football. However, isn't quite as sharp/precise as a route runner when asked to run routes at full speed, gets leggy out of his breaks, gears down and struggles to generate the same kind of burst. Is inconsistent plucking the football. Lets far too many throws go through his hands and needs to do a better job securing the catch on all areas of the field. Looks a bit weak in the wrist. Adjusts well and isn't afraid to take a lick over the middle, but looks content to trap the ball on his chest too often. At his best running vertically down the field. Demonstrates good straight-line speed, has a second gear when he can put his foot in the ground and track the pass. Is a tough guy to overthrow.
Showcases some shiftiness off the line vs. press when he wants to get behind corners, but lacks the physicality to fight off defenders when trying to gain an inside release. Is coordinated/shifty with the ball in his hands. Possesses above average "make you miss ability" and can create after the catch. Isn't real physically built and isn't going to break many tackle in space as he gets tripped up easy by tacklers.
Impression: An explosive athlete who can go get the football down the field and has some savvy to his game setting up routes. However, is inconsistent catching the football and as a route runner. Nevertheless, does enough well to make a roster and see playing time both from the inside and out. An ideal fit for Philadelphia running the deep crossers.
WR Jarius Wright: No. 4 (5-10, 180)
An undersized, shifty little receiver with good balance and footwork as a route runner both from the outside and from the slot. Does a nice job selling routes inside, cleanly is able to break down, keeps his feet under him and generates a burst/separation out of his breaks. Has the body control/balance to do the same on the outside vs. off coverage. Eats up the cushion quickly, drops his pad level well on a dime when asked to run the deep out and can separate or even turn the play up the field on a double move. However, struggles to get off press coverage initially off the line. Isn't real long/physical, can be re-routed initially and slowed into his route.
Exhibits the ability to adjust and pluck throws off his frame, but looks content to simply trap passes against his chest when thrown on target. Tracks the ball well vertically and can get behind defenders off the line, but isn't a guy who's going to win in jump ball situations. A tough kid though, will hold onto the football in coverage, take a lick and still come down with the catch. Displays good short-area quickness with the ball in his hands and has the initial burst/speed to outpace angles in space. Has some real savvy about his game underneath, recognizes coverages well, sits down in soft spots underneath and works his angles well toward the quarterback
Impression: A coordinated slot guy who is sharp as a route runner, tough over the middle and knows how to get open vs. man and zone. Struggles vs. press and is an inside player only at the next level, but has the skill set to make a roster and carve out a niche.
Defense
ICONBequette has a motor that runs non-stop.
DE Jake Bequette: No. 91 (6-5, 271)
A thick, physically built defensive end prospect who possesses the frame to play the run at the next level. Sits into his stance well and can generate leverage off the snap. However, lacks a great first step when trying to reach the corner. Doesn't have the ability to consistently threaten the edge at the next level. Tries to drop his pad level when trying to flatten out, but isn't real flexible. Tends to drop his head and bend at the waist and initially can get under blockers, but then pops upright and can routinely be pushed past the pocket. Demonstrates a great motor and works hard in pursuit and most of his outside pressures come off his motor/power and not first step burst. Doesn't have much of a counter off his outside rush either.
A linear rusher who struggles to change directions at speed. However, does have some savvy off the snap. Will work the jab step to the edge and cleanly shoot the C-gap, fighting his way into the backfield. However, is at his best as a push/pull guy. Displays a strong bull rush, gets his hands under the pad level of defenders, keeps his base down, feet under him and can overwhelm on contact. Not overly sudden when asked to disengage through contact and change directions, but creates havoc in the backfield and will work till the whistle. Has experience playing on both sides of the line of scrimmage at the college level and I could see him doing the same in the NFL as well.
Is a solid run defender, plays the run game with integrity, finds the football quickly and works hard in pursuit. Not overly fluid/flexible when asked to break down closing from the backside, but works hard to get there and puts himself in position to consistently make plays on the ball carrier. Comes off the ball low when asked to anchor, gains inside leverage with his strong hands and not only can control blocks on contact, but does a nice job disengaging and making a play on the back. Lacks ideal range, but has some stack and shed ability when run at.
Impression: Not a special athlete, more of a savvy power player, but works hard rushing the pocket, has a great motor and can play the run. A rotational guy early on who has the ability to earn a starting role as a 43 overachieving DE at the next level, potentially can play on either side, but more of a base end.
LB Jerry Franklin: No. 34 (6-1, 241)
A stout, thicker inside linebacker prospect who displays a natural feel and demonstrates above-average instincts in all areas of the game. Reads and reacts quickly to the run game inside, picks his way through traffic, plays off blocks and breaks down well in tight quarters. Less effective in space, has the short-area quickness to make a pulling lineman whiff, but doesn't have the initial burst to quickly close and make a play on the football. Is a solid wrap-up guy, but doesn't generate a ton of snap into contact. Would like to see more of a "pop" in the hole, more of a catcher. Isn't overly rangy, locates the ball well and is quick to close, doesn't have a second gear when closing. Stays patient when lined-up off the edge in an "over" call and keeps his outside leverage, but not a guy who will make plays from backside. At times doesn't trust himself when he sees a potential big play, puts himself around the football shooting gaps inside when attacking downhill, but will slow his feet into a tackle and see an angle outpaced. Doesn't anchor consistently in the hole, doesn't create a ton of force attacking downhill and can be sealed from the play once a lineman gets his hands on him.
Displays natural balance in his drop in coverage. Keeps his feet under him and possesses decent fluidity when asked to redirect and open up his hips. Gets good depth in his drop and feels routes develop around him. Keeps his head on a swivel and is tough to fool in zone coverage. However, doesn't generate much of a burst when asked to stick his foot in the ground and drive on throws off his frame. Plays with only one gear and despite his compact frame doesn't generate much explosion in any area of the game. Nevertheless, breaks down well after the completion and is a consistent wrap up tackler.
Impression: A coordinated middle linebacker prospect who picks his way through the line of scrimmage, finds football and can hold his own in coverage. However, would like to see a more explosive element to his game in all areas. A solid MLB prospect, not the top-tier senior backer many are making him out to be in my view.
LB Jerico Nelson: No. 31 (5-10, 214)
An undersized outside linebacker who possesses the frame more so of a defensive back. Has a thick set of legs, but narrow through the upper body/waist. Plays fast. Runs well in pursuit, can track the football sideline-to-sideline and is at his best as a chase player vs. the run. Lacks the frame to hold up physically at the point of attack at the college level and can easily be washed out of the play. Struggles to shed/fend off blocks even vs. receiver when lined up in the slot.
Looks very fluid/balanced in his drop in coverage. Displays natural bend off the line sitting into his stance, opens up his hips cleanly when asked to redirect and generates a good burst out of his breaks closing on the throw. Will line up over the slot routinely and has a good feel for diagnosing routes, quickly drives on the football and holds up very well in space. Has some savvy as a blitzer, makes himself small, explosive off the line and finds a way to knife his way into the backfield and cause havoc off the edge.
Impression: A tough, rangy kid who holds up well in coverage and I like him as a college player, but where do you play him in the NFL? Body type says strong safety, but he's not physical enough to even warrant a high grade in that area as a defensive back.
S Tramain Thomas: No. 5 (6-0, 198)
A solidly built free safety prospect who isn't afraid to mix it up and attack the run game downhill. However, struggles to set the edge, lacks balance into contact and can routinely be blown out of plays. Will run the alley inside and is a solid wrap-up guy in tighter quarters. However, isn't a real consistent open field tackler and will struggle to bring down backs in space and doesn't take the best of angles in pursuit in any areas of the game. Plays out of control at times and will whiff on his fair share of tackles.
Isn't as instinctive as you would like at the free safety position. Gets caught with his eyes in the backfield, will bite on play fakes and take himself out of plays. However, displays natural movement skills. Sits into his drop well, keeps his feet under him and looks balanced out of his breaks. Generates a burst when asked to click and close on throws in front of him and displays the ball skills/coordination to adjust and come down with the grab. Runs well for the position in the secondary, plays fast and has good enough speed to play in the deep half. Gets a bit upright and leggy when asked to turn and run in man coverage. However, does well in off, staying patient in his drop, reading the route and calmly opening up his hips and redirecting.
Impression: An NFL-caliber athlete, but struggles with instincts at times and isn't a real consistent tackler. Nothing more than a later round pick because of it at this stage.
Follow me on twitter: @WesBunting