May 25, 2011 -
National Football Post
NFP Scouting Series: Auburn
For the rest of the summer, the National Football Post will be breaking down every team in the Football Bowl Subdivision to identify which players could warrant the most interest from NFL teams in the 2012 NFL draft.
Therefore, today we take a look at the 2010 national champions, the Auburn Tigers.
Offense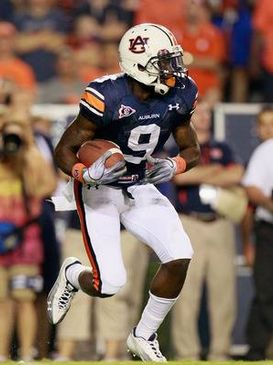 ICONCarr is still waiting to have that "breakout" season.
WR Quindarius Carr: No. 9 (6-1, 180)
A tall, lean wideout who displays some natural shiftiness off the line vs. press coverage. Gets up to top-end speed quickly, locates the ball well and can track the throw vertically. Possesses good, not great, play speed and is more "athlete" than polished route runner at this stage. Looks natural with the ball in his hands, but isn't the most consistent of pluckers and has yet to really mature as a route runner, especially on sharply breaking routes. Lacks significant experience up to this point. Has some experience as a punt returner, but doesn't look like the type of overly dynamic punt return man to make a NFL roster based off those talents alone. Averaged under 6.0 yards per return with 0 touchdowns on the year.
Impression: It's hard to give a high grade to a wideout who has yet to be productive at the college level.
OT A.J. Greene: No. 77 (6-5, 298)
Possesses better natural girth than his height/weight numbers would indicate, as he exhibits a broad lower half, which could easily add additional girth. Isn't a real natural bender though when asked to sit into his stance. Plays upright, bends at the waist and really struggles to gain leverage in pass protection. Isn't real compact with his footwork, seemed to get overextended initially on his power step — side step — and struggled with his power/balance because of it. Is a natural lateral athlete who does have the ability to shuffle and slide in space and through contact. However, struggled to stick to blocks in the pass game. Isn't a real compact/clean puncher either. Exposed his chest consistently, failed to routinely gain proper hand placement and could be overwhelmed on contact because of his high pad level.
Is inconsistent in the run game as well, struggled to maintain balance coming out of his stance and will overextend/whiff on blocks off his frame. Lacks ideal range when asked to pull and break down in space, seemed to always be a half step slow, causing him to lunge into blocks and routinely lunge into his man. Is better when asked to quick set and seal in the run game, as he possesses some coordination in tight areas
Has had a tough time staying on the field the past couple of seasons and durability is a concern. Missed all but three games in 2010 with an ankle injury and missed time in 2009 with a shoulder.
Impression: Possesses a good-looking frame and some natural lateral ability in pass protection. But he struggles to gain leverage, lacks an ideal anchor and I can't see him holding up vs. power at the next level.
OT Brandon Mosley: No. 75 (6-6, 306)
A tough, rugged right tackle who plays with some nasty, likes to finish blocks and consistently plays through the whistle. Seems to really get under the skin of opposing linemen the way he always gets the last hit on his man. Plays from a two-point stance, but is a decent bender for his size at times, can keep his base down off the ball well enough in the run game and create leverage for himself at the point. However, will get sloppy with his technique and bend more at the waist when he knows he has to reach speed off the edge in the pass game. Wastes some motion on his punch and will wind up into contact, allowing defenders to initially get into his chest. However, he displays a strong upper body and when he does release his hands he can jar on contact. Exhibits the ability to get an initial push off the line in the run game, is sticky through contact and again will finish. Isn't overpowering, but can create an initial surge.
Possesses average range off the edge in pass protection. Gets overextended on his power step and swings his arms consistently in order to create momentum for himself toward the edge. Needs to do a better job keeping his hands in front of him to protect his chest as he routinely gives up inside hand placement and at times will get jacked on contact because of it. Is gritty though once he gets a hold of you and is tough to disengage from. Demonstrates fair natural balance and can anchor through the play. Gets too wide with his footwork on his initial power step, but keeps working his feet through contact and on tape shows the natural footwork to eventually hold his own when asked to develop a kick slide in the NFL. Understands angles, knows his limitations and loves to compete. Reminds me some of former Virginia OT Will Barker.
Impression: A tough kid who plays hard, likes to finish and understands angles in the pass game. Has some upside coming from a JUCO program and as of now looks like a roster guy in year one who could fight for playing time down the line. Reminds me some of former UVA OT Will Barker.
Defense
LB Eltoro Freeman: No. 21 (5-11, 224)
A shorter, undersized backer who lacks ideal power when asked to even take on a lead backs at the point of attack. Plays hard, doesn't hold anything back, but consistently gets buckled backward on contact and overwhelmed. Is easily washed out by opposing linemen as well when asked to take on blocks. Isn't a guy who can hold up when run at. However, knows how to make himself small when picking his way through traffic. Does a nice job avoiding blocks, breaks down well and tackles with good wrap and leverage. Displays a little pop on contact as well and is a consistent tackler inside.
Plays 100 miles per hour in space and is all over the field. However, lacks ideal balance when asked to break down, takes some really poor angles in pursuit and struggles to consistently tackle in space. Gets good depth off the line in zone coverage, demonstrating clean footwork, keeps his feet under him and base down. But isn't overly instinctive when asked to feel routes develop around him. Is clean when asked to redirect, but needs to see the throw before he closes. Will also take himself out of his fair share of plays keying on play fakes and just being too overaggressive at times.
Impression: Lacks the size/power to hold up inside at the next level. Looks like a free agent who will need to make his mark on special team and dramatically improve his instincts to mature into a potential nickel backer.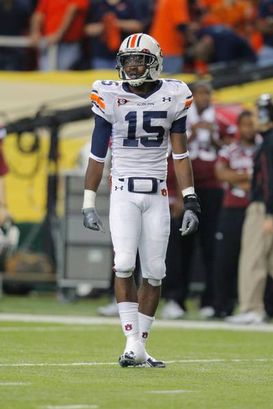 ICONThorpe has the size/speed to make the move to safety.
DB Neiko Thorpe: No. 15 (6-2, 185)
A tall, lean defensive back with good length and possesses the wingspan to press and get into receivers. For his size does a nice job staying down initially in his drop. However, doesn't seem to trust himself when asked to play up near the line. Doesn't extend his arms and shoot his hands quickly and lacks ideal mirror in press. And if he doesn't get a good jam, he lacks the fluidity to mirror and quickly turn and run with receivers vertically. When he does try to extend his arms/hands and re-route off the line, he consistently shoots with the wrong hand and gets stroked initially, forcing him to play from behind. Has a tendency to open up the gate prematurely vs. the three-step game as well and routinely takes an additional step in order to regain balance out of his breaks.
Exhibits some natural fluidity in his hips when asked to turn and run. Uses his length well to stay in the receivers back pocket with a subtle arm bar and can be physical down the field. However, isn't real sudden/balanced out of his breaks. Plays high, more of a strider who rounds off his angles and isn't real sharp or sudden when asked to drive on the throw. Uses his length well to wrap after completions and is a consistent tackler on the outside.
Isn't a real instinctive defensive back and lacks a great feel for the game. Makes some bad decisions coming off his man in order to prematurely jump routes and typically guesses wrong. Lacks a great feel in zone coverage as well. Gets caught with his eyes in the backfield and looking into routes in front of him. Needs to do a better job getting more depth in cover two and playing his drop with more integrity. Will be making the move to safety in 2011. Has the straight-line speed, size and tackling ability to be successful. But, I just don't see the instincts for him to consistently be able to read and react quickly enough from the deep half.
Impression: A solid size/speed athlete who I don't think is real instinctive in any area of the game. Doesn't play nearly as physical in press as his dimensions say he should and strikes me as a size/speed free agent.
Follow me on twitter: @WesBunting