July 27, 2011 -
Barry Dorey
NFP Scouting Series: Baylor
For the rest of the summer, the National Football Post will be breaking down every team in the Football Bowl Subdivision to identify which players could warrant the most interest from NFL teams in the 2012 NFL draft.
Therefore, today we take a look at the senior class of the Baylor Bears.
Offense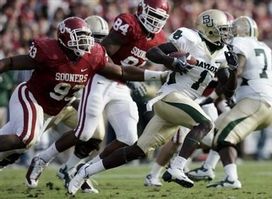 ICONWright has the speed to run away from defenders.
WR Kendall Wright: No. 1 (5-10, 195)
Possesses average height for the position with a solidly built frame. Plays mostly in the slot and is at his best vs. a free release. Eats up the cushion instantly and is a two stepper who has the ability to quickly get on top of defenders down the filed. Possesses a "plus" second gear to his game, looks like a legit low 4.4 guy who tracks the football well over his outside shoulder. Isn't afraid to take a lick and holds onto the ball through contact. Works a lot in the bubble screen game as well, plucks the ball naturally off his frame, has some wiggle and accelerates quickly once he gains a step. But, isn't as elusive as his frame suggests, seems to slow his feet in order to balance himself and is a little tight when asked to make cuts at full speed.
Is still developing as a route runner. Runs his routes at full speed and does have a burst out of his breaks when trying to separate, but isn't real sharp. Again, looks a little tight and tends to round off his breaks even on vertical routes. Will drift into his post route down the field, gets a bit impatient stemming corners off the line and for the most part simply tries to run by defenders. Doesn't seem to possess the lateral wiggle/physicality to routinely beat press off the line in the NFL. Has some short area quickness, but looks content to run around press coverage. To his credit does a nice job lowering his shoulder and absorbing contact once he gains a step. Exhibits impressive ball skills and coordination. Locates the throw quickly, possesses good range and plays big when plucking off his frame. Isn't afraid to go over the middle.
Impression: A speedy slot guy who is more fast than quick. Can make plays down the filled and get on top of corners, but seems like a vertical inside route runner. Good fit for a team like the Eagles who love to run those deep-crossing patterns. More of an inside reserve, but can make plays at the next level.
OC Philip Blake: No. 74 (6-2, 318)
A big bodied offensive lineman with a thick trunk and base. Has the ability to sit into his stance and play with his base under him. However, when he needs to fire off the snap and get into blocks in the run game will get straight-legged off the snap, negating his natural power into contact. Has the ability to still create movement as he keeps his base down, but has a hard time creating consistent power through the play and will fall off blocks because he lacks ideal balance. Plays quick in tight quarters. Isn't a guy who can pull routinely and reach defenders down the field. However, when trying to get around defenders and seal at the line or chip and hit a second target in the area, he's very effective.
Does a much better job keeping his pad level under him in the pass game. Can sink his hips, sit into his stance and anchor vs. the bull rush. Gets himself into some trouble at times not shooting hands quickly off the snap and will allow defenders to gain inside leverage. Recovers well from the lower half and can re-anchor. However, when he can get a hold of defenders he's very tough to disengage from. But, when he has to mirror in space he lacks ideal lateral range, struggles to shuffle and slide and will give up penetration. Keeps his head on a swivel, but displays only average awareness and lacks the lateral quickness/make up speed to re-direct and pick up a backer if slow to locate him.
Impression: Possesses natural power and if he can play with his base under him a bit better in the NFL the guy will routinely create off the snap in the run game. Needs to play in a power based offense, but with some time has a chance to fight for playing time.
OT Robert T. Griffin: No. 79 (6-6, 338)
A tall, heavy legged tackle who struggles to really sit into his stance and keep his base under him. Uncoils at the waist off the ball in the run game and fails to gain leverage for himself on contact. Despite his size routinely can be overwhelmed at the point. Lacks ideal initial quickness off the snap as well. Doesn't have the initial burst to reach speed of his frame and gives up a lot of penetration both vs. the run and pass game because of it.
Does a better job in pass protection because of his size and length. However, has a tendency to trouble over into contact and his weight gets caught on his toes causing him to lose balance. Doesn't stay real compact on his punch and isn't a guy who can mirror laterally through any type of change of direction move. Holds up decently vs. the bull rush, but again it's more because of his size. Struggles with pad level and will be bullied at the point in the NFL.
Impression: Has played both right tackle and guard. Body type says right tackle to me in the NFL. However, isn't real athletic in space, struggles with balance and isn't ever going to be able to gain leverage inside. Size free agent only.
Defense
DT Nicolas Jean-Baptiste: No. 90 (6-2, 316)
A girthy nose tackle who possesses a strong lower half and when he keeps his pad level down is tough to move off the football. Displays an average first step for his size, but at times the last defensive lineman moving off the ball. Hasn't quite put it together yet in all dimensions of the game. At times keeps his pad level down into contact and is a bear to move off the football. However, will get upright into contact, gets too narrow with his footing and will end up on the ground. Doesn't have great ball awareness inside. Struggles to routinely locate the ball carrier quickly and hasn't learned how to use his hands yet to disengage. Is inconsistent with his hand placement, but even when he does gain inside leverage, doesn't exhibit the type of explosive/sudden rip in order to disengage.
Doesn't anchor as well as his physical dimensions would lead to believe vs. the double. Tends to let his pad level rise through contact and despite his initial anchor ability, typically will lose the leverage battle through contact. Surprisingly, plays the run game off his frame well. Does a better job keeping his pad level down, works his legs well when asked to defeat slide down blocks and can overwhelm on contact. Is a bit inconsistent with his footwork sitting into his stance, but possesses good enough natural bend to anchor when his pad level is down.
Isn't an explosive, laterally sudden pass rusher. Can fire off the ball low, gain leverage and work his legs through contact on his bull rush. However, is more of a linear athlete. Struggles to use his arms to disengage, isn't real quick footed laterally and tends to raise his pad level the longer he's engaged.
Impression: His, girth and natural power are intriguing, but still has a long way to go. Needs to play lower consistently and use his hands better if he hopes to make a roster. But his size and natural strength will give him a shot.
Follow me on twitter: @WesBunting