July 12, 2010 -
National Football Post
NFP Scouting Series: BC
For the rest of the summer, the National Football Post will be breaking down every team in the Football Bowl Subdivision (formerly known as Division I-A) to identify players who could warrant the most interest from NFL teams in the 2011 draft.
Therefore, today we take a look at the Boston College Eagles.
Offense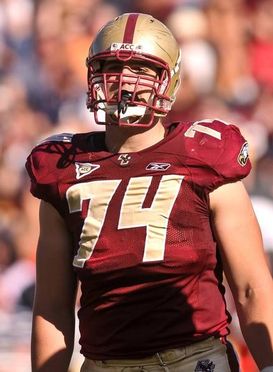 ICONCastonzo certainly looks the part of an NFL caliber left tackle.
OT Anthony Castonzo: No. 74 (6-7, 297)
A tall, natural athlete for the position who displays good length and above-average athleticism when asked to reach the edge. Does a nice job sitting into his stance off the snap and is very comfortable playing from a three-point stance. However, isn't as technically sound as advertised. Struggles to consistently keep his base under him and will bend at the waist and overextend into blocks — especially from a two-point stance — and his footwork on his initial kick-slide isn't the cleanest. Has a tendency to get a bit overextended, will open up his hips prematurely and get caught with his feet parallel to one another vs. speed to the corner. Now, is a natural athlete with fluid hips and displays the ability to cleanly/quickly redirect and cut off blocks inside and counter moves. However, isn't real heavy handed and doesn't have the kind of power to simply lock out and keep defenders from pumping their legs through contact.
Displays good range and body control on the move in the run game. Is natural when asked to get around defenders and seal on perimeter runs, and he looks comfortable chipping at the line and reaching the second level as well. However, again, doesn't generate much power from his lower half on contact. Has a tendency to roll his hips into contact and doesn't get much movement off the snap. More of a finesse guy who understands angles, leverage and does a nice job of getting his hands inside on the target, but lacks the natural strength to simply eliminate defenders from the play.
Impression: The size, length and natural athleticism is there, but he needs more time to mature physically. I don't think he's a guy who you can pencil in as a starter on the left side from day one, but with some time he has the skill set to eventually develop into a serviceable starting left tackle in the NFL. However, as of now, isn't an elite offensive tackle prospect by any stretch in my book.
OT Rich Lapham: No. 66 (6-8, 321)
A tall, long offensive tackle prospect who lacks flexibility in his lower half. Really looks uncomfortable when asked to sit into his stance and struggles to keep his base down on his kick-slide. Gets really overextended with his footwork and fails to quickly redirect and mirror opposing linemen on the edge. Displays only decent initial anchor strength —despite his size — failing to extend his arms and lock out at the point, and simply lacks the kind of lateral athleticism needed to slide his feet and stick to blocks through contact. Struggles to play with any kind of leverage in both areas of the game and consistently allows defenders to get under his pad level and dictate to him on contact.
Is a limited run blocker, has the type of initial coordination to reach defenders off his frame and extend his arms into contact. But, lacks the kind of power and flexibility to generate leverage and drive opposing linemen off the football. Isn't real fluid or rangy in space either and consistently ends up on the ground trying to stay on blocks through the play.
Impression: A limited bender who struggles to play with leverage and lacks the athleticism and power to hold up on the right side at the next level.
OG Thomas Claiborne: No. 78 (6-2, 333)
A thick, compact offensive lineman who possesses good girth through his lower half. But, isn't a real gifted athlete in space and struggles to consistently break down/hit a target when asked to get out to the second level. Displays some natural power in both the run and pass game, but fails to consistently extend his arms into blocks. Isn't real heavy handed and routinely allows defenders to get into his frame and shed rather quickly through contact. Has a tendency to get overextended in his lower half when trying to drive defenders off the football in the run game, causing him to fall off blocks.
Now, he does display decent lateral agility when asked to slide his feet in tight areas. However, consistently lunges into contact when trying to get into blocks and bends at the waist, failing to maintain balance and generate much power into his punch.
Impression: Possesses a thick lower half and has some natural power at the point. However, is heavy-legged and just lacks the balance to effectively stay on blocks in both the run and pass game.
Defense
DE Alex Albright: No. 98 (6-5, 239)
A long, lean defensive end prospect who plays with a great motor and will chase the ball down consistently until the whistle. Lacks power at the point of attack vs. the run and is routinely sealed/driven from the play. However, knows how to be violent with his hands and work himself free through contact. Nevertheless, most of his tackles take place five-plus yards down the field.
Lacks the kind of first step to threaten the edge as a pass rusher, but does do a nice job generating some power on his punch and dropping his pad level as a bull rusher. Works hard to fight his way off contact, but lacks the kind of natural strength to be a consistent threat as a pass rusher even at the college level.
Impression: A hard-working defensive end prospect who simply doesn't offer the burst or power to be real effective in either the run or pass game at the next level.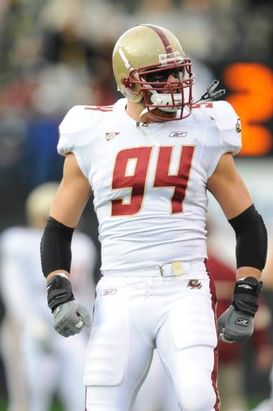 ICONThe talent is there, it will just be interesting to see how healthy Herzlich is in 2010.
OLB Mark Herzlich: No. 94 (6-4, 249)
A tall, well-built outside linebacker who is the fiery, emotional leader on the defense. Exhibits above-average balance and fluidity in space for a guy his size. Does a nice job quickly getting out of his breaks and cleanly closing on the football in zone. Now, lacks an elite initial burst when asked to click and close on the throw and isn't a guy who can consistently make plays in man. But, possesses a good feel in coverage and consistently is able to get early jumps on the football.
Showcases good instincts at the line of scrimmage as well when asked to read his run keys. Routinely is able to diagnose the football quickly and attack downhill. Lacks great range, but runs well for the position and generates good power through his hips on contact. Possesses a long set of arms, which consistently allow him to wrap on contact. Now, isn't the most nimble of athletes and will struggle to break down on shifty ball carriers in space, but uses his length well and simply finds a way to get his man on the ground. Does a nice job when asked to set the edge and anchor on perimeter runs. However, he isn't a real consistent stack and shed guy. Doesn't possess a great punch/pop on contact when trying to shed and can be sealed at times from the play.
Impression: Is a good athlete for his size, but is able to play even faster at times due to his instincts. It will be interesting to see where he is at from a health perspective after missing the 2009 season with cancer. But if he is 100 percent healthy, there is no reason to think this guy can't start early in his NFL career. Reminds me of a more physical version of A.J. Edds.
S Wes Davis: No. 45 (6-1, 220)
Possesses good overall size and exhibits above-average fluidity in his hips when asked to turn and run. Looks comfortable sitting into his stance and remaining pretty compact and patient in his drop for such a big safety. However, is a limited straight-line athlete who has only one gear and struggles to consistently track the football vertically. Doesn't generate much of a burst for himself when asked to click and close on the throw and consistently allows significant separation initially in man coverage. Isn't real effective in the center field type role either, as he lacks the type of range to consistently make plays sideline-to-sideline even at the college level.
Displays a willingness to come downhill and tackle inside the box and does an above-average job diagnosing his run keys. However, has a tendency to see his angles outpaced in pursuit and isn't a real impressive open field tackler, as he consistently ends up grasping at air in space.
Impression: A well-built kid with some natural fluidity and balance in coverage, but his lacking a first step and overall range will keep him from ever being an effective safety in the NFL.
Follow me on twitter: @WesBunting
Ready for fantasy football? Click here to purchase the 2010 Total Access Pass/Draft Guide from the NFP.