July 25, 2011 -
Barry Dorey
NFP Scouting Series: Cal
For the rest of the summer, the National Football Post will be breaking down every team in the Football Bowl Subdivision to identify which players could warrant the most interest from NFL teams in the 2012 NFL draft.
Therefore, today we take a look at the senior class of the California Golden Bears.
Offense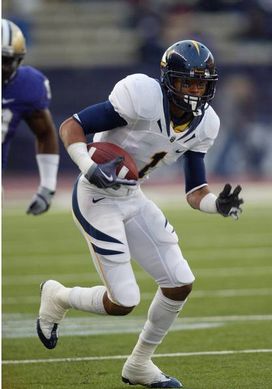 ICONJones is an underrated talent.
WR Marvin Jones: 1 (6-2, 200)
A tall, leaner athlete who for his size possesses natural fluidity in the hips both as a route runner and with the ball in his hands. Isn't as physical off the line as his frame would suggest vs. press. However, displays the ability to set up defenders with a stutter step and then use his length to get into his route. Isn't a dynamic straight-line athlete but plays faster than he times because of his ability to generate a burst initially out of his breaks. Doesn't create a ton of separation vertically, but exhibits good awareness and body control when asked to locate the football. Adjust to the throw well, extends his arms and knows how to go up and make a play even when in battle with a corner. Displays good concentration and has the ability to come down with some tough grabs while contorting his body.
Is a surprisingly pretty smooth route runner as well on sharply breaking routes. Does a nice job stemming his route off the line, keeping his feet under him and being precise when asked to snap off a break. Creates a burst for himself as well, even in tight areas, using his big frame to box out corners and isn't forced to gear down in order to catch his balance. However, has a tendency to really roll into his routes down the field on vertical routes, starts to drift prematurely and looks content to simply try to just outpace corners to a spot. Needs to tighten up his angles down the field. Displays a good feel vs. zone/off concepts though, will find soft spots underneath and isn't afraid to extend and make plays over the middle. For his size can create after the catch. Again, accelerates well with the ball in his hands, displays the fluidity to side step defenders even at full speed and is a bit more sudden then his size would indicate. Isn't overly physical as a blocker, but gets after it, shows some effort and works hard to stay engaged through the play.
Impression: Possesses good size, good body control and hand eye coordination, and for his size and a pretty fluid athlete as well. Isn't a dynamic athlete, but should be able to find a way to make and earn playing time on an NFL roster.
TE Anthony Miller: No. 80 (6-3, 262)
A big, athletic looking tight end who really carries his weight well and certainly looks the part. Displays natural musculature through his base, long arms and is a plus athlete for the position. Possesses the ability to sit into his stance and keep his base down off the ball. Generates a snap into contact, exhibits plus power and can routinely win at the point of attack. However, doesn't seem to possess that consistent mean streak. Gets a bit tentative at times off the ball, doesn't look to routinely finish through contact and at times simply doesn't play up to his physical talents. Can handle defensive ends at the point on one play and then be overpowered by a linebacker on the next. Exhibits natural body control and range getting out to the second level, breaks down well in space and can seal. Is also very coordinated in pass protection, looks compact/smooth toward the edge and extends his arms well. However, needs to be more physical/assertive with his punch and working through contact. Struggles to stay on blocks in both the run and pass game through the play.
Showcases the ability to keep his base down off the snap when getting into his routes, but again seems a bit tentative, doesn't routinely get off the snap on time and has a slight roll of momentum from his heels to his toes when getting into his route. Once he gets his momentum going there is a natural burst with good body control stemming his route and using his balance/foot quickness to cleanly get out of his breaks. Snaps his head around quickly, locates the ball well and uses his long arms to pluck well away from his frame. Displays average straight-line speed, but gets up to speed quickly and can threaten the seam on vertical routes. Exhibits the body control to adjust to the football. However, concentration seems to lapse at times, as he will put the ball on the ground.
Impression: There is a lot physically to like about his game. He's powerful when he wants to be, can block with leverage and separate in tight areas. However, inconsistencies both in the passion and effort department are major concerns when I watch him on tape, and in my mind would keep him from being drafted. Worth a shot in camp though.
OT Mitchell Schwartz: No. 72 (6-5, 325)
Will end up being a four-year starter for the Cal. Possesses a tall, well-built frame, carries his weight well and is natural on the move. At his best in the run game where he does a nice job sitting into his three-point stance, keeping his base down and generating a good snap through the hips into contact. Doesn't waste much motion getting upright off the ball, stays down, possesses a strong lower half, runs his legs through contact and gains solid leverage with his hands. Routinely is able to get into opposing defenders quickly and create a push at the point. Plays through the whistle and takes pride in finishing blocks. However, also looks effective on the move, displays good body control off the snap with the initial quickness to get around on reach blocks and seal. Displays good coordination down the line on slide down blocks as well and can reach opponents at the second level. Lacks ideal body control when looking to drop his pad level and cut down on contact, but stays low off the ball into space, extends his arms and can seal backers down the field.
Is still developing as a pass blocker, displays solid range off the edge and looks athletic enough to reach speed. However, struggles to keep his base down, isn't real technically sound/compact with his footwork and has a tendency to get overextended and double over the waist when looking to anchor. Takes good angles initially, but struggles to shuffle and slide through the play. Loses his balance easily and can be overwhelmed easily on contact because his weight is typically on his toes and he doesn't stay real compact with his footwork lunging into contact. Does a much better job keeping his hands up and base down when he needs to block down or handle bigger/slower defensive ends off the edge where he can play with power. However, vs. speed he chicken wings his arms on his drop in order to create momentum, exposes his frame and doesn't keep his hands up ready to uncoil on his punch.
Impression: Displays solid athletic ability, but looks better suited to play on the right side in the NFL vs. less speed. A nice later round developmental type draft pick who could eventually fight for playing time.
Defense
DE Trevor Guyton: No. 92 (6-3, 289)
A strong, physically put together defensive lineman who has experience both at the nose and the five-technique in Cal's 34 front. Possesses an explosive element to his game vs. the run game. When line-up inside exhibits a plus first step and when he keeps his base down and back straight he not only can anchor inside, but has the lower body strength to overwhelm on contact. Possesses strong arms as well, works his legs through contact and c an clog up run lanes inside. Is still learning how to use his hands consistently to shed inside, as he gets a bit upright and loses balance when trying to disengage. Also, needs to do a better job finding the football. Puts himself around the action routinely to make impact caliber plays vs. the run, but struggles to routinely find the football. However, started only the final four games of the year and awareness should improve with experience.
Will line up outside in pass rushing situations, needs to do a better job playing with a flatter back off the line as he buckles over at the waist and his initial movement is often upright. However, can be violent with his hands when trying to rush the passer, plays with a mean streak and has a good motor in pursuit. Isn't an overly sudden lateral athlete, but is balanced when looking to change directions and keeps his feet under him. Stay active with his hands and can keep himself clean inside when trying to work toward the QB. And when he fires off the ball low he routinely creates a good initial bull rush inside vs. the pass.
Displays only average closing range in pursuit in all areas of the game and is still learning how to shed with his hands and disengage through contact inside.
Impression: A guy who can fill a number of roles on a defense, but he's a naturally powerful kid who can anchor and overwhelm vs. the run game. Needs to improve hands and awareness, but the upside is there for him to move up boards in a big way with a strong senior year.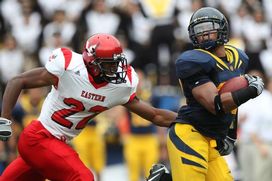 ICONKendricks will find the football.
ILB Mychal Kendricks: No. 30 (5-11, 242)
A compact, stout athlete who plays as an outside backer in Cal's 34 front. Displays slightly above-average initial burst off the snap, but isn't real flexible, looks tight when trying to turn the corner and despite his shorter frame, struggles to drop his shoulder and turn the corner. Plays with natural leverage because of his size, but tends to get a bit upright as a pass rusher and doesn't exhibit the type of lateral quickness to counter off his speed rush back inside. Is tough to get a handle on through contact because of his naturally low frame. However, isn't the type of pass rusher who can routinely keep his base down when gaining leverage and create a snap into contact on his bull rush or cleanly counter. More of a motor pass rusher who because of his work rate and shorter/stouter frame will simply bounce off would be blockers in pursuit of the QB.
Displays decent body control in his drop, gets average depth and can change directions with balance. Plays fast as a straight-line guy, but doesn't anticipate routes well in the pass game and doesn't get many early jumps on the football.
Showcases good range in pursuit when asked to string out plays vs. the run. Displays a good motor, has a passion for getting after the football and will come downhill with some thump. Drops his pad level well into contact in the hole, generates a snap and wraps up well as a tackler. Is a bit linear when asked to breakdown in space and can be sidestepped at times. Doesn't have the type of power to routinely take on blocks on contact. Routinely can be overwhelmed at the point, even vs. tight ends. Lacks ideal length and struggles to disengage initially through contact. Works his legs hard to get around blockers when setting the edge, but lacks ideal flexibility in the hips and ends up on the ground too often.
Impression: A thick, tough high motor player who doesn't stay blocked for long when rushing the passer. However, he's not a natural pass rusher and I can't see him holding up routinely on the outside in either a 3-4 or 4-3 front. Might be limited to more of an inside guy from a physical standpoint, but is a special teams/reserve only to me.
ILB D.J. Holt: No. 3 (6-0, 252)
A thick, tightly wound inside linebacker who displays decent body control when asked to re-direct and change directions in coverage. Possesses natural balance when he has to change directions and in tight areas he can get early jumps on the football. However, doesn't create much of a burst out of his breaks. Plays at one gear and doesn't have much of an explosive element to his game when asked to close. Looks too tight in the hips to properly breakdown in space and too often allows defenders to side step him in the open field.
Isn't real effective inside vs. the run game either as he lacks ideal awareness/instincts to read/diagnose quickly. Rarely gets early jumps on the football and too often struggles to find the ball carrier. Does have some natural initial thump on contact when taking on blocks and can create leverage for himself. However, lacks ideal length, struggles to fend off blocks and even when he does disengage lacks the initial burst/body control to make plays off his frame and tackle.
Impression: A tightly would linebacker who lacks ideal range off his frame, isn't overly instinctive and simply doesn't make enough consistent plays on the football to be considered a legit NFL linebacker.
SS Sean Cattouse: No. 11 (6-2, 213)
A tall, solidly put together safety prospect who displays a bit of thump inside the box. Breaks down well into tackles in tight areas, keeps his legs under him, creates a snap and can tackle in a phone booth. However, isn't nearly as effective coming downhill. Lacks ideal range off his frame, isn't real coordinated when asked to breakdown in space and routinely sees his angles outpaced and/or is sealed from the football. More of a striker in the open field than tackler and routinely slips off tackles and/or fails to get his man to the ground.
Isn't real comfortable in coverage as well. Is patient in his drop, but doesn't look real balanced when asked to sit into his back pedal off the line. Tends to bounce or jump backward, is routinely playing from behind when asked to turn and run, and looks really tight out of his breaks. Does a job dropping his pad level and sinking his hips when he has to change directions, but doesn't create much of a burst and gives up consistent separation underneath. Isn't a guy who can hold his own in space, struggles to get back up to speed quickly, doesn't have any kind of a second gear and is more of a drag down tackler after the completion. Doesn't possess the same type of thump displayed inside the box as he does in space.
Impression: A big, strong safety prospect who does a decent job vs. the run game inside the box. But, isn't nearly dynamic enough in that area of the game to over come his deficiencies elsewhere to warrant a pick.
Follow me on twitter: @WesBunting