July 09, 2011 -
Barry Dorey
NFP Scouting Series: Colorado
For the rest of the summer, the National Football Post will be breaking down every team in the Football Bowl Subdivision to identify which players could warrant the most interest from NFL teams in the 2012 NFL draft.
Therefore, today we take a look at the senior class of the Colorado Buffaloes.
Offense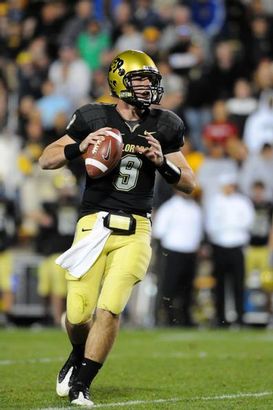 ICONHansen lacks ideal size for the position.
QB Tyler Hansen: No. 9 (6-0, 215)
A short, undersized quarterback who lacks ideal size and has a tough time seeing over the line of scrimmage at times. Is a "plus" athlete for the position who can move around the pocket and find throwing lanes. However, too often his eye level drops prematurely and he doesn't give himself much of a chance to find secondary options. Lacks a great mental clock in the pocket as well, feels ghost pressure at times flushing himself backward and too often gets fidgety for no reason. His accuracy and ball placement suffer significantly because of it and struggles at this stage to be much of a threat with his arm once he's force to deal with pressure and/or move his feet. However, when his feet are set he does a nice job getting the ball out of his hands quickly. Displays good balance in the pocket, transfers his weight well from his back foot, strides into throws and has a compact release. His ball placement and accuracy are both very good when he has time to deliver the football as he is capable of anticipating throws when he knows where to go with it.
Lacks a great physical skill set and doesn't quite have the arm needed to make all the throws routinely in the NFL. Has a tendency to under throw the deep bucket passes and his balls take far too long to get outside the numbers. Doesn't seem to decipher information overly well at this stage from the pocket. Tries to go through his progressions across the field, but gets caught holding onto the football far too long. Missed time last season with a ruptured spleen and doesn't seem to possess the frame needed to take the pounding at the next level.
Impression: He's undersized, lacks a big arm and struggles with pressure. Overall, doesn't have the upside needed to warrant a pick.
RB Rodney Stewart: No. 5 (5-6, 178)
A short, slippery little back with good girth through his thighs, but needs to add a bit more bulk through his entire frame in order to hold up at the next level. Despite his size has carried a hefty load at Colorado over the past three seasons, running the football nearly 300 times in 2010. Is extremely quick in tight areas. Runs a bit upright initially when pressing the hole and can be tripped up easily when trying to accelerate inside. However, finishes his runs low, does a great job making himself small through tight areas and rarely subjects his body to big hits between the tackles. Possesses the vision to routinely spin off would be tackles, maintains balance and keeps his legs churning through contact. Also, displays a good feel at the line of scrimmage, is patient allowing blocks to set up in front of him and exhibits the cut back ability with both legs to instantly explode laterally. Possesses very quick feet, natural fluidity through the hips and routinely can snap off sharp/sudden cuts at full speed and make defenders miss. Can put a pair of cuts together and has the shimmy to consistently create on his own. Is quicker than fast though. Seems to tighten up a bit once he gets into the open field allowing himself to get upright and can be tracked down from behind. Looks like a 4.5 guy. However, he's a two stepper who accelerates extremely quickly and can initially outpace angles.
Will catch the football out of the backfield. Possesses a good feel for the pass game, adjust well to the throw and again is very shifty after the catch. However, at this stage lacks the size/power to hold up in blitz pick up in the NFL.
Impression: Needs to add a little more bulk to his frame. However, he's sudden, dynamic in tight areas and can consistently make defender miss and accelerate. If he can add some weight without losing the quickness, looks like a potential change of pace/reserve type back to me.
OG Ryan Miller: No. 73 (6-8, 312)
At 6-8, Miller possesses the frame more so of an offensive tackle prospect than guard. He has the ability to sit into his stance and keep his butt down off the football. However, at his size it makes it tough for him to gain leverage on contact in both the run and pass game. To his credit he does a nice job creating a snap off the football in the run game as an in-line guy. Doesn't waste much motion and does a decent job keeping his pad level down. However, has a tough time gaining leverage. Allows defenders to get under him and can be initially overwhelmed on contact. Works his hands well in order to gain inside position and pumps his legs through contact. Plays with a mean streak and is tough to disengage from once he gets his hands on you, but isn't a guy who will be able to create a push routinely off the ball inside in the NFL. Looks coordinated on the move, can pull from the backside, breaks down in space and can hit/seal on his target. Is quick footed and corded for his size, steps and seals quickly, looks comfortable on slide down blocks and is effective on the move.
His leverage struggles show up in the pass game as well. Initially will allow defenders to get under his frame and can be worked backward on contact vs. the bull. Is longer armed and it takes him a while to uncoil his length, as he doesn't deliver a great punch into contact. Isn't nearly the Velcro player vs. the pass he is vs. the run game. However, uses his length well when sliding laterally. Showcases good footwork/re-direction skills, can shuffle and slide in space, mirrors wells and uses his length to keep lineman from getting into his frame. However, isn't real heavy handed and too often can be easily disengaged from through contact.
Impression: The big guy can bend, but leverage is always going to be a struggle for him inside. However, he does have some natural balance/coordination to his game in both the run and pass game and in my mind is better suited to play as a right tackle at the next level in any scheme than guard.
Follow me on twitter: @WesBunting