July 17, 2010 -
National Football Post
NFP Scouting Series: Duke
For the rest of the summer, the National Football Post will be breaking down every team in the Football Bowl Subdivision (formerly known as Division I-A) to identify players who could warrant the most interest from NFL teams in the 2011 draft.
Therefore, today we take a look at the Duke Blue Devils.
Offense
OG Brandon Harper: No. 55 (6-3, 309)
Lacks power at the point of attack in the run game and really struggles to generate an initial pop on contact. Possesses decent flexibility and initial quickness off the snap, but can easily get jolted backward and overwhelmed into the backfield. Looks better when asked to quickly get his feet around blocks and try to seal defenders inside. However, lacks ideal balance on contact and isn't real heavy handed. Has a tendency to quickly begin to bend at the waist and will routinely fall off blocks.
Lacks range off the snap in the pass game and struggles to reach explosive linemen firing off his frame. Plays stiff through his lower half and just doesn't have the type of athleticism to hold up inside in pass protection at the next level.
Impression: Struggled at times in both the run and pass game at the college level, which doesn't bode well for his chances in the NFL.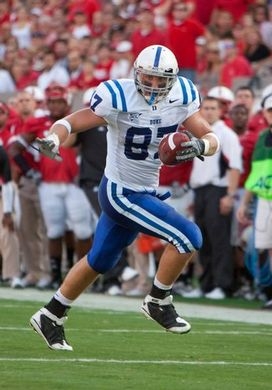 ICONHuffman is a decent athlete, but struggles to breakdown and quickly get out of his breaks.
TE Brett Huffman: No. 87 (6-4, 247)
A tall, thin tight end prospect who lacks ideal strength and pop at the point of attack. Works his legs hard through contact and has the length to at least get into defensive ends initially off the play. However, he has a tendency to overextend and lose his balance when trying to get his hands into a defender. Will come off the field or be split out in obvious running situations and isn't a guy who will be able to hold up at the point of attack at the next level. However, does showcase some coordination on the move, and although he lacks the power to move defenders off the football, he has the ability to stick to slide down blocks for a bit down the line.
Displays decent athleticism in the pass game with average straight-line speed for the position. Adjusts well to the throw and showcases the ability to pluck the ball away from his frame. However, lacks the lateral quickness to do much damage after the catch and doesn't generate significant separation for himself vs. man. Has a tendency to gear down out of his breaks and isn't real explosive when asked to change directions. Now, he does do a nice job selling his blocks out of his stance and slipping into the pass game as a release value. But, he needs to do a better job keeping his pad level down. Has a tendency to come off the ball too high and can be easily re-routed at times and slow to get into his routes. Lacks ideal physicality in the pass game, as well, and can be knocked off balance down the field easily when asked to go up and get the football in jump ball situations.
Impression: Possesses decent overall athleticism for the position, but isn't going to win for me as a blocker at any level and I don't see him as a guy who has the type of fluidity and explosion out of his breaks to separate in the NFL.
WR Austin Kelly: No. 83 (6-2, 203)
A limited athlete on the outside who struggles to fire off the line and eat up the cushion quickly. Is a real strider who has only one gear to his game and isn't the kind of vertical threat who is going to run by anyone at the next level. Now, he does do a nice job setting up his routes and has some savvy to his game in the pass game. But isn't real shifty/explosive when asked to get out of his breaks and doesn't generate much separation for himself on any level of the field.
Builds up speed as he goes and the further down the field he gets the tougher he is to cover. But, isn't real sudden or physical off the line and isn't a guy who will be able to beat press coverage at the next level. Struggles to create yards after the catch and goes down easily on initial contact.
Impression: Possesses a nice-sized frame, but isn't a guy who will be able to consistently separate vs. NFL-caliber defensive backs.
Defense
DE Patrick Egboh: No. 90 (6-4, 247)
Is an undersized defensive end prospect who really struggles to consistently get off the snap count on time. Allows his pad level to get too high off the ball and doesn't do a good job protecting his frame. Consistently allows opposing defenders to get into his body initially on contact, sealing him from the football. Lacks a great first step off the edge and doesn't possess the type of burst to consistently threaten the corner. Also isn't a real powerful puncher because of his inability to keep his legs under him and fails to generate much of a pop from his lower half.
Now, does possess some decent change of direction skills on contact and knows how to work his hands through contact as he begins to start to fight his way off the block. However, isn't real heavy handed and struggles to surge his way past opposing linemen when he gains a step. Isn't a guy who can consistently stack and shed vs. the run game. Is easily sealed on the edge away from the quarterback and lacks the base strength and overall pad level to consistently anchor on contact.
Impression: Possesses an athletic looking frame, but doesn't have the physical skill set to warrant much attention in the terms of NFL potential.

Follow me on twitter: @WesBunting
Ready for fantasy football? Click here to purchase the 2010 Total Access Pass/Draft Guide from the NFP.