June 01, 2011 -
National Football Post
NFP Scouting Series: Florida
For the rest of the summer, the National Football Post will be breaking down every team in the Football Bowl Subdivision to identify which players could warrant the most interest from NFL teams in the 2012 NFL draft.
Therefore, today we take a look at the Florida Gators.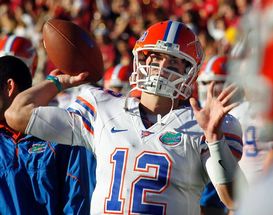 ICONBrantley can certainly throw the football.
QB John Brantley: No. 12 (6-3, 220)
Possesses good enough size for the quarterback position, might need to add a bit more girth to protect himself at the next level but doesn't have any problem seeing over the line of scrimmage. Was really put in a tough spot last year coming in and out of the game depending on the package being run and in my view never got a real fair shake. However, he's a natural passer, displays a good feel in the pocket, side steps pressure and keeps his eyes down the field consistently. Displays balanced, clean footwork in the pocket, keeps a good base under him even when moving around inside and quickly is able let go of the football. Possesses a good feel for the timing and rhythm of the offense, but is limited with his ability to go through progressions and read the entire field at this stage. Gets caught staring down receivers, not recognizing defensive concepts and forcing the ball into coverage. However, he's a smart kid who possesses some savvy to his game and I think it's more of a case where he just needs reps/time to develop in that area. Still developing from under center as well, initially gets away cleanly, but becomes leggy in his 5/7-step drop, collects himself well but will need to continue to polish his drop.
Is a natural thrower of the football and can make all the throws. Displays the arm strength to fit passes into tight areas in the intermediate pass game. His timing and anticipation are good when he sees "it" and has the ability to throw in rhythm with good ball placement allowing receivers to run after the catch. Exhibits good touch down the field, transfers his weight well from his back foot and plant leg is consistent as is his arm angle. At times looks to be guiding the football underneath and doesn't really step into shorter throws, but understands how to take some off and exhibits good touch on all areas of the field.
Possesses some real mental toughness. Replaced Tim Tebow at Florida and struggled at times this past year, but fought through it and now really has a chance to shine.
Impression: Does a lot of things well, but made some really poor decisions as a first-year starter and struggled to decipher info quickly. However, I think he's in store for some big things this year under new offensive coordinator Charlie Weis and I expect him to really take a step forward as legit quarterback prospect this season.
RB Chris Rainey: No. 3 (5-9, 175)
An explosive straight-line athlete who can consistently outrun angles and break off big plays in the open field. Doesn't play quite as fast as he times in my view, but reaches top-end speed quickly and is a routine home run threat. Is undersized however, a thin-framed back who lacks the bulk and/or physicality to hold up inside at the next level.
Can consistently turn the corner and/or put his foot in the ground and accelerate up the field. Runs with a good pad level, stays low out of his breaks and runs/finishes behind his pads. Exhibits impressive lateral quickness when asked to make a man miss at top-end speed. Uses a subtle head fake and has the wiggle to consistently leave a defender in the dust. Plays quick in tight areas, is patient making his way through traffic before accelerating toward space. Has a natural feel about him in tight areas, but goes down instantly on contact. Doesn't break many tackles and doesn't possess the frame to do so in the NFL.
Tougher than given credit for, will stick his head in as a run blocker and isn't afraid of contact. Displays good patience, doesn't lunge into blocks and can cut down on contact. Not an anchor player though. Catches the football well out of the backfired. Has a good feel in the screen game and likes to work the shallow crossers and create after the catch. Adjusts well to the football, but isn't a natural route runner. Doesn't seem comfortable running at full speed at this stage and plucking the football, seems to gear down while locating the football. Nevertheless, can create mismatches underneath in the pass game.
Has some character issues stemming from an arrest in September 2010 when he was charged with aggravated stalking, a third degree felony.
Impression: He's a narrow-framed back, but has natural running ability, keeps his pad level down and can consistently make defenders miss. Needs to add girth to give himself a chance, as there aren't many 175-pound backs playing in NFL. But if he can get up to around 190 pounds and add some strength, he certainly looks like a potential change of pace back with some big play ability in the NFL.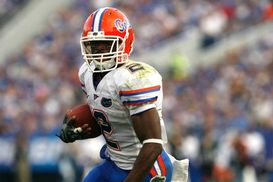 ICONDemps is electric in all areas of the game.
RB Jeff Demps: No. 2 (5-8, 190)
A dynamic athlete with elite initial burst and straight-line speed, looks like he's playing at another gear. A consistent threat when asked to run to the perimeter. Starts and stops instantly, is fluid in the hips even at top-end speed with the balance to consistently make defenders miss. Has matured as a runner, did a better job being patient setting up blocks both inside and out last year, not looking to bounce as many plays outside and outrun everyone. However, still needs to improve further in that area, is more of an instinctive runner in space making defenders miss than reading the line of scrimmage and setting up blocks. Lacks the type of size/frame to hold up consistently as an every down back as well. Struggles with durability when asked to carry a heavy load and goes down too easy on contact inside.
However, is still at his best pressing the edge and playing in space. Is a home run threat every time he touches the football. Exhibits impressive balance laterally and routinely outpaces angles at the second level. Has elite cutting ability even at full speed. Makes defenders think he's going to initially outpace them outside only to stick his foot in the ground and leave them in the dust. Does a great job sinking his hips and making himself small when changing directions, really generating a burst out of his breaks. Keeps his pad level down for the most part when running inside, just lacks the kind of natural size/power to create through contact. Will lower his head and run behind his pads when asked to finish, but doesn't have the frame to wear down opposing defenses and is at his best when his touches are limited.
Is comfortable in the screen game and handling the football running the option. Catches the football when open, struggles more so in traffic. Developing as a route runner at this stage, would rather just run away from defenders. But if you play him in the slot with a two way go he's going to be impossible to keep pace with even at the next level. Is a tough kid as well who has played special teams, not only as a dynamic kick return option but has also blocked a punt as well.
Impression: If he's committed to football over track, the guy can be a dynamic sub package option for an offense in the NFL. A big play threat who can create mismatches in the pass game and h it the home run when you get him in space.
WR Deonte Thompson: No. 6 (6-0, 200)
Possesses average height for the position, but is solidly built and isn't afraid to work the middle of the field. Is inconsistent with his hands. Demonstrates natural coordination when asked to adjust and come down with the football. Can pluck the ball well off his frame and can secure the catch when he wants to. However, concentration/focus comes and goes, as he will put the football on the ground when surrounded by defenders. Locates the throw quickly in all areas of the game, but gets lazy and will let ball into body at times.
Is really explosive off the line. A two stepper who gets to top-end speed quickly. Does a nice job routinely eating up opposing corners cushion quickly and forcing them to open up their hips and turn to run. Has a good feel setting up his comeback and snapping it off cleanly underneath. Possesses a second gear to his game, tracks the football well vertically, can take the top off a defense and consistently get behind defenders. Is a balanced wideout with some natural strength and can fend off corners down the field. Still developing as a route runner. Doesn't attack the inward breaking routes off the line, is a bit slower into his release, seems to gear down in order to collect himself and rounds off his breaks. Does a nice job dropping his pad level and does have a burst initially in order to separate, but there's no real sharpness to his game. Has decent feel vs. man/zone, sits down well underneath and works back well to the quarterback. Strong and explosive after the catch, can create with the ball in his hands and outrun angles toward daylight.
Impression: A naturally put together kid who can really run and separate vertically. Like QB John Brantley could be in store for a big year with the new offense. Has the skill set/frame to make plays both on the outside and from the slot at the next level and is one of the more interesting senior wideout prospects in the country to me.
Defense
CB Moses Jenkins: No. 36 (6-2, 183)
A tall, lanky corner who lacks ideal flexibility when asked to sit into his drop. Has a tendency to double over at the waist, gets upright in his backpedal and too narrow with his footwork. Doesn't generate much of a burst when asked to click and close and doesn't make many plays on the football under him. Is long armed and uses his length to be physical off the line. However, again struggles with balance. Is really grabby, shoots with the wrong hand and can be easily stoked by more physical receivers. Plays at times in the slot and is really ineffective in off coverage. Tries to keep receivers from quickly eating up his cushion, gets rushed in his drop allowing his pad level to get very high and doesn't turn and run well.
Uses his length well to stay in the back pocket of receivers initially down the field. But is a consistently target of the double move. Struggles to get up to speed quickly when asked to run vertically down the field. Is a strider who doesn't exhibit much quick twitch ability to his game. Possesses below average straight-line speed, looks like a 4.55-plus guy and it takes him far too long to reach top-end speed. Fails to redirect quickly out of his breaks, doesn't keep his feet under him and struggles to cleanly stay with receivers out of breaks.
Will be back for a 5th year of eligibility due to medical hardship after missing all but 4 games due to a concussion in 2009.
Impression: A tall, lean corner who struggles with balance, lacks top-end speed and isn't a guy I would trust on the outside at the next level.
Follow me on twitter: @WesBunting