May 27, 2011 -
National Football Post
NFP Scouting Series: Georgia
For the rest of the summer, the National Football Post will be breaking down every team in the Football Bowl Subdivision to identify which players could warrant the most interest from NFL teams in the 2012 NFL draft.
Therefore, today we take a look at the Georgia Bulldogs.
Offense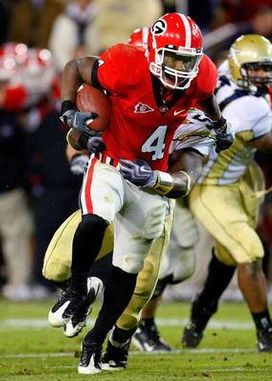 ICONKing needs to learn to run lower inside.
RB Caleb King: No. 4 (5-11, 223)
Possesses good thickness through the mid-section and thighs, but looks thin in the calves. Showcases good patience when asked to set up blocks both on the perimeter runs and between the tackles. However, is a much more comfortable runner when asked to run downhill. Runs with more authority, confidence and better forward lean downhill, allowing him to sink his hips when asked to make a defender miss and can be sudden in tight areas. But, allows his pad level to rise on more misdirection plays, gets a bit tentative as a runner, slows his feet and can be brought down easily inside. Is a naturally balanced back who keeps his feet under him and can side step defenders. But, doesn't have a great first step and seems to only have one gear to his game. An average athlete who struggles to find a burst once he makes a man miss.
Isn't a real aware or coordinated blocker. Doesn't seem to quickly decipher info, slide his feet and pick up blitzing linebackers. When he does recognize it, he drops his head, doesn't see what he hits and isn't real patient into blocks. Has a tendency to whiff and/or can be easily shed. Looks natural in the pass game, can create out of the backfield and has some savvy setting up his routes when asked to create vs. man. But again, not real explosive and struggles to create significant separation.
Impression: Needs to run downhill in more of a power scheme at the next level in order to be effective. An average athlete that looks at best looks like a reserve only. Nothing real dynamic about him and I don't think I would have him on my draft board.
TE Bruce Figgins: No. 89 (6-4, 272)
Certainly looks the part. Has a long, well-built frame, is strapped together in the lower half and possesses an NFL-caliber body. Looks natural when asked to sit into his stance as an "on the line Y." Keeps his base down and can bend. However, isn't real explosive in anything he does. Has only one gear, isn't dynamic at all with the ball in his hands and I can't see him ever separating vs. man in the NFL. Possesses natural body control and coordination. Does a nice job using his big frame and long arms to extend and pluck the football when open and can catch the football.
Has seen time at fullback as well. For his size he coils up well into his stance and attacks the line of scrimmage initially with a good forward lean. However, because of his size will get a bit high and doesn't run his legs consistently through contact. Displays decent body control, but will wind up and lean back before heading into contact, allowing defenders to get under him. Doesn't create much of a surge.
Impression: A good-looking kid who might get a shot as a short yardage/goal line tight end, but he doesn't play nearly as a physical as his size would indicate. A size free agent only in my mind.
OG Cordy Glenn: No 71 (6-5, 348)
A heavy, sloppier looking lineman who isn't a real natural bender sitting into his stance. Struggles to keep his base down, doubles over at the waist and pops upright initially off the ball in the run game. Struggles to create leverage for himself consistently at the point. Isn't overly rangy when asked to pull and get out to the second level, but exhibits some natural body control and can break down on contact. But again, his pad level gets high and he simply just engulfs at the point, doesn't drive his legs or the defender through contact. Displays above-average body control when engaged and despite lacking ideal awareness and routinely getting off the ball late, he has the length and power to get his hands into defenders and seal/turn them from the play in the run game.
Initially isn't overly quick off the snap in pass protection either, but does display some natural shuffle and slide ability. Again, bends at the waist, but keeps his hands up protecting his chest and maximizing his length into contact. Demonstrates the lateral ability to slide his feet cleanly and keep the inside of the pocket clean. Now, he does get upright and overextended with his footwork, relying on his length and natural power to anchor. Will struggle with balance when redirecting in space and isn't a natural mirror player. Needs to play in tighter areas in order to be effective in the pass game. But when he gets his hands on you is tough to disengage from.
Impression: A massive guard prospect who struggles with leverage in the run game. But can keep the pocket clean inside in pass protection because of his size/strength and natural athleticism. Moves well for his size and looks like a potential starter inside for a team who values bigger guard prospects.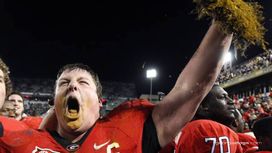 ICONJones possesses an obvious passion for the game.
C Ben Jones: No. 61 (6-3, 316)
Displays decent flexibility in his stance, but does snap and step quickly. Does a nice job getting into defenders over his face in the run game and consistently is able to use his athleticism to seal from the play and works hard to stick through contact. However, despite his size isn't a real gifted power player. Struggles to consistently keep his base down initially and will allow defenders to get under him and can be overwhelmed into the backfield. Gets overextended into blocks and will lunge at times causing him to lose his balance as he tries to create an initial surge off the ball. Exhibits above average range when asked to pull. Looks comfortable reaching targets off his frame in space, breaks down well, has a feel for the run game. Consistently locates and will finish on his man and is a "plus" run blocker on the move.
Sets quickly in the pass game and does a much better job playing with an anchor vs. the bull rush. Will get caught lunging at the point in to order to create more of a jolt, but quickly resets his feet and drops his base in order to hold the point. Needs to do a better job extending his arms into contact and delivering a more effective punch. Is too much of a catcher who waits to work his hands and gain leverage once engaged. Would like to see him be more of the aggressor with his hands. Nevertheless, he slides his feet well and can mirror through contact and for the most part in space.
Impression: I think he would be better suited to play guard at the next level because of his struggles to hold his own inside when asked to quickly snap, step and get a push in the run game. However, is a coordinated athlete on the move, can mirror through contact and looks like a potential starter. But isn't the type of top-tier center prospect many are making him out to be at this stage.
Defense
DT DeAngelo Tyson: No. 94 (6-2, 306)
Looks a bit more angular than his frame would indicate. Has a longer set of arms and a naturally thick base, but doesn't possess much girth through the mid-section. Has experience at the nose in Georgia's 34 front and a s a three-technique in nickel situations. However, isn't a natural anchor player. Demonstrates a solid first step off the football and can keep his pad level down through contact. But his skill set makes me think he's more of a one-gap guy. Can create some initial leverage, but his hand placement is inconsistent and too often he allows opposing blockers to get under his pad level and uncoil/overwhelm him backward. Routinely can be washed out of the play and handled one-on-one inside. Doesn't fare well at all vs. the double team either. Is an above-average athlete for the nose and will work in pursuit. Uses his length well to fend off blocks down the line, but isn't a space-eater inside.
Exhibits the ability to at least threaten gaps inside off the ball vs. the pass. Isn't a natural pass rusher, doesn't exhibit much lateral quickness and fails to use his hands to keep himself clean. More of a linear rusher only. However, when asked to loop inside he does extend his arms well to keep himself clean and eventually can work himself free. Nevertheless, isn't a guy who can consistently win for you inside as a pass rusher.
Displays questionable instincts as well, struggles to routinely find the football and will allow himself to be easily sealed at times.
Impression: Is playing out of position on the Georgia defense in my mind. But either way, doesn't offer enough in any area of the game for me to say he's worth a draft pick at this stage.
CB Brandon Boykin: No. 2 (5-10, 183)
A thin corner who is willing to throw his body around as a tackler and mix it up at times physically. However, he doesn't break down well, struggles to consistently take proper angles in pursuit and can easily be bullied by receivers on contact. Fails to consistently set the edge as well and whiffs on his fair share of attempts.
Exhibits some savvy to his game. Plays a lot in the slot, loves to read the quarterback's eyes and use his athleticism to make plays on the football. Is raw with his footwork off the line, consistently jumps backward and/or shuffle steps into his drop and is a better athlete than corner at this stage. Has the ability to sit into his stance and keep his base down, however, lets his pad level rise the further down the field he goes, getting sloppy and loose with his technique. Is naturally fluid and can turn and run, getting up to speed quickly. But, he struggles with his balance when asked to close on throws in front of him. Consistently is forced to take additional steps in order to get his feet back under him before driving on a pass. Is most comfortable in zone coverage, does feel routes develop around him well, exhibits good range and has the initial burst and closing speed to put himself around the football. Looks too thin/weak to hold his own in man coverage on the outside at the next level at this stage and is too raw technically to play in the slot. Isn't comfortable in press coverage either, lunges into his target with both hands at times and is easily stroked forcing him to play from behind. Demonstrates a second gear when asked to track the football and can make up for a false step when asked to play in space.
Adds some kick return ability as well. Is explosive, sudden and gets up to speed quickly. Has a good feel picking his way through traffic and exhibits big play capability with the ball in his hands.
Impression: An undersized athlete who has some toughness, but has not yet focused on the nuances of the position. Possesses a natural feel, but needs to get stronger and clean up his technique before he's considered anything more than a sub package reserve in more of a zone scheme only.
Follow me on twitter: @WesBunting