June 29, 2011 -
National Football Post
NFP Scouting Series: Illinois
For the rest of the summer, the National Football Post will be breaking down every team in the Football Bowl Subdivision to identify which players could warrant the most interest from NFL teams in the 2012 NFL draft.
Therefore, today we take a look at the senior class of the Illinois Fighting Illini
Offense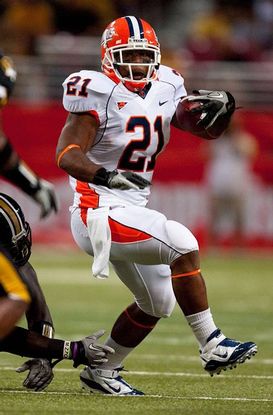 ICONFord is a natrual runner, but needs to improve his burst.
RB Jason Ford: No. 21 (5-10, 236)
A compact, physically put together back who carries a lot of girth/weight on his 5-10, fame. Does a good job keeping his pad level down, churning his legs through contact and is a tough guy to get a clean lick on. Runs from both the gun and behind the I and looks comfortable picking his way through traffic. Displays good balance and lateral quickness in tight areas. However, doesn't have a real explosive first step when pressing the hole and has only one gear once he gets into space. Is patient setting up blocks, slashing his way through traffic and getting up the field with a good forward lean. Displays natural coordination when asked to make a jump cut and find a cut back lane, using both legs well to explode off of and side step defenders. Absorbs contact well and breaks his fair share of tackles. However, has a tendency to slow his feet at times when their isn't any place for him to run and goes down far too easily on contact instead of just trying to burry his head and grind out tough yards. Nevertheless, is just very "Blah" as an athlete and is going to have a tough time averaging 4.0 yards per carry in the NFL.
Showcases natural savvy in blitz pick up. Recognizance's the blitz quickly, slides well laterally and is patient into contact. Has the natural base to anchor on contact as well.. Also, is comfortable catching the football out of the backfield. Adjust to the pass well and has the short area quickness/power to side step a defender and make the first man miss.
Impression: Might be better suited to cut a little weight in order to improve his overall burst. Reminds me some of Dimitri Nance coming out of Arizona State a couple years ago. Seems to "blah" with his initial burst to make an NFL roster.
WR A.J. Jenkins: No. 8 (6-0, 187)
Possesses average height for the position with a thin frame. However, displays a real savvy about his game when asked to find soft spots in coverage. Works his back toward the quarterback, understands angles and is always finding himself open vs. zone. Is also very coordinated when asked to adjust to the throw. Does a nice job extending his arms, plucking the football away from his frame and coming down wit the catch. Displays good body control along the sideline as well, knowing where he's located, maintaining concentration and keeping his feet in bounds. Possesses only slightly above-average straight-line speed. Looks like a high 4.4 guy and isn't a big time vertical threat, but accelerates well underneath on crossing patterns and can run away from defenders at times.
Does a nice job stemming his route off the line, doesn't tip his hand early. Has an average initial explosion when asked to eat up the cushion and has a slight burst when asked to change directions. However, gets leggy out of his routes. Rounds off his breaks consistently and isn't real clean when trying to change directions on sharply breaking routes. Possesses only an average burst down the field out of his break on vertical routes, but does a nice job being patient setting up his breaks. Hasn't been asked to handle much press coverage and/or even man coverage for that matter playing in the Illinois spread offense. Is going to need time to get use to seeing defenders up in his grill. Doesn't seem overly physical or quick in order to handle press however.
Impression: Has a nice feel to the game and plucks the football well, but isn't a dynamic athlete in any area of the game. Looks more like a free agent to me.
OT Jeff Allen: No. 71 (6-4, 315)
A thick, girthy offensive lineman who has experience at both right and left tackle. Doesn't possess a real athletic looking frame, most of his weight is right through the midsection and looks a bit sloppy. Possesses inconsistent bend in pass protection as he's much more comfortable from a three point stance and struggles to keep his base down anytime he's asked to play with his hand on the ground, getting upright off the football. Possesses natural coordination and heavy hands through contact when asked to shuffle and slide. However, is inconsistent with his hand placement and because he gets upright lacks the ability to cleanly re-direct and change directions in space as a tackle. Would be better suited in tighter areas as a guard. His natural girth gives him decent anchor strength, but is more of a catcher, doesn't do a great job extending his arm and jolting defenders on contact. Needs to do a better job sitting into his base better and gain leverage when trying to handle the bull rush.
Does a better job keeping his base down in the run game. Looks more comfortable from a two-point stance getting downhill and coming off the football. Works hard to stick through contact, extends his arms well, generates a slight pop and can turn defenders away from the play. However, still allows himself to get upright and doesn't create the leverage needed to consistently overwhelm. More of a sticky player than explosive power/in-line guy. Can be overwhelmed at times on contact when a smaller defender can get under him and will set the edge. Isn't a great athlete either, lacks the ability to get around on reach blocks, stands upright when trying to get out to the second level and lacks range on the move.
Impression: Needs to play as a guard at the next level to have a chance, but doesn't strike me as a guy who can consistently get a push off the ball in the run game and/or anchor vs. power inside vs. the pass in the NFL
Defense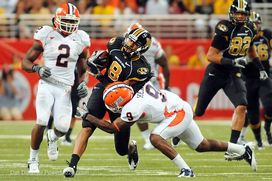 ICONHenry takes good angles in the pass game.
SS Trulon Henry: No. 9 (6-1, 215)
A former junior college All-American with a thick trunk and good overall size for the position. Possesses a surprisingly natural feel for the pass game with only limited experience at the I-A level. Can bend and keep his base down, but at times gets a bit fidgety and upright in his drop forcing him to collect himself before he's asked to click and close. His backpedal improved as the year went on, but at times would revert to a side shuffle drop which got him in trouble out of his breaks. However, displays a good feel of routes developing around him and has an impressive initial burst when asked to close on the throw. Takes good angles toward the play, displays some natural ball skills and can adjust and make a play. Does a nice job deciphering whether to attack the ball or man in space and routinely makes the solid decision. Possesses natural coordination when asked to open up his hips, displaying good enough fluidity to turn and run and average straight-line speed vertically, but plays faster because of his initial burst.
Showcases a good feel vs. the run as well. Consistently carries out his responsibilities, will set the edge, force plays back inside and is a solid wrap-up tackler. Will lay the wood in the deep half as well and has the ability to separate ball from man. Doesn't generate the same type of pop in the run game when attacking downhill, but breaks down well, wraps and routinely gets his man to the ground.
Was convicted of a felony at the age of 19, but seems to have turned his life around since then. However, will be 27 by the time the 2012 NFL draft rolls around.
Impression: This is a pretty good football player. He has a natural feel for the game, a good burst and will click and close on the football. Character and age concerns hurt his chances of getting drafted. However, if he continues to tighten up his technique this guy can make and contribute to an NFL roster at worst as a special teams guy.
SS Tavon Wilson: No. 3 (6-0, 215)
A thickly put together safety prospect with a compact frame and natural girth through the mid section. However, looks heavy-footed when trying to re-direct and isn't real sudden/explosive in space. Tries to sit into his drop off the line and does a decent job keeping his base down and feet under him. However, gets upright when asked to turn and run, is stiff in the hips and lacks the range to get off the top as a centerfielder. Struggles in tight areas as well, doesn't feel routes develop around him quickly and lacks the fluidity to open up his hips laterally and close. Gets very grabby and is uncomfortable in space and doesn't possesses the short area quickness/range to hold up in man. Possesses questionable instincts as well, rarely getting early jumps on the football and struggles to recognize his run/pass keys at times.
Displays a slight burst attacking downhill and running the alley. Locates the football quickly and has the tenacity needed to work his way toward the ball carrier. However, lacks that second gear to routinely make the play. Sees his fair share of angles outpaced toward daylight and isn't the mot effective when asked to breakdown one-on-one. Lowers his shoulder into contact and generates some pop into contact when in a phone booth. But, is inconsistent wrapping up at times, as he will slip off backs and allow ball carriers to create through contact.
Impression: A thick framed kid with some natural power, but his lacking closing gear shows up in both the run and pass game.
Follow me on twitter: @WesBunting