June 18, 2011 -
National Football Post
NFP Scouting Series: Indiana
For the rest of the summer, the National Football Post will be breaking down every team in the Football Bowl Subdivision to identify which players could warrant the most interest from NFL teams in the 2012 NFL draft.
Therefore, today we take a look at the top senior prospects on the Indiana Hoosiers.
Offense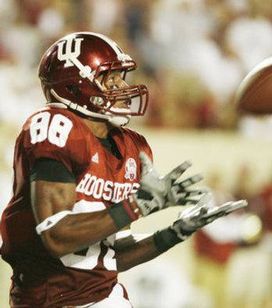 ICONBelcher needs to do a better job plucking the football with his hands.
WR Damarlo Belcher: No. 88 (6-4, 212)
A tall, well built wide receiver prospect who plays a little more compact than his frame would indicate. Isn't real explosive off the snap and too often skips into his route and slows himself eating up a corners cushion. Like to slow play routes, but doesn't have a real snap to his game when getting out of his breaks, especially on inward breaking routes. Can stick his foot in the ground at full speed, but is tighter in the hips and is forced to considerably round off his routes causing him to not generate much separation. Uses his body well to box out defenders, but isn't a natural plucker, too often in traffic likes to shield but lets throws get into his frame. Looks more natural running the outside breaking routes, is more coordinated setting up defenders, drops his pad level well and looks sharper when asked to separate, but again struggles to generate much of a burst. Displays the ability to adjust to the football and will go up and stab the throw at its highest point. However, struggles with concentration and has a tendency to put the ball on the ground when forced to use his hands.
Isn't real sudden/powerful off the line vs. beat press coverage. Consistently allows corners to get their hands on him, is slowed in to his routes and doesn't have any dynamic quality to shed and separate. Looks content to simply run his way through the bump and routinely/easily is re-routed. Possesses average straight-line speed at best for his size, but doesn't play that fast. Isn't a threat to get behind defenses and even on his vertical routes he seems to just drift into/out of his breaks and never really has his feet under him allowing him to generate a burst. Wasn't real physical on the edge when asked to block in the run game. Possesses a big frame and long arms but wasn't real passionate through contact. Displays a little short area quickness after the catch and can side step a tackler, but gets overextended with his footwork and isn't going to make many defenders miss in the NFL.
Impression: Is a big guy with a long frame, but lacks the quickness and/or physicality to consistently make plays vs. NFL caliber defensive backs in man coverage at the next level.
OG Justin Pagan: No. 70 (6-5, 312)
A tall, thickly put together offensive guard prospect who isn't a real natural bender, buckles over at the waist and gets upright initially off the football in all areas of the game. Possesses an average first step when asked to drive defenders off the football as an in-line guy. However, gets upright, struggles to gain leverage and really rolls his hips into contact as there's no real snap to his game. Is long armed/heavy handed and can stick initially on contact, but is tighter in the hips, struggles with body control and has a tendency to fall off blocks and ends up on the ground too often when trying to generate a push. Possesses above-average coordination on the move for his size. Isn't real quick footed or rangy, but looks comfortable pulling from the backside, breaks down well and routinely can hit/seal a moving target.
Struggles with balanced in pass protection when trying to shuffle and slide laterally in space. Gets upright, doesn't keep his hands out in front of him and gets overextended both on his punch and with his footwork into contact. Fails to routinely sit into his stance and anchor, as he simply lunges into contact trying to create a pop and than re-set. Can easily be slipped in space and even overwhelmed at the point because of his lacking base.
Impression: A big body who doesn't have the ability to win in either the run or pass game at the next level.
Defense
ILB Jeff Thomas: No. 53 (6-1, 245)
A short, naturally strong plugger inside with a good pop on contact. Loves to attack downhill, take on blocks in the hole and possesses the type of natural power to stonewall on contact. However, fails to square up blockers, doesn't use his hands at all and looks content to simply turn sideways and throw his shoulder into his man. Doesn't get washed out, but doesn't see the football and fails to give himself many chances to shed and make a play on the ball carrier vs. either pulling linemen or lead backs. However, he can generate space when taking on blocks and tackles well in a phone booth as his shorter, compact frame quickly creates a snap into ball carriers. But lacks ideal athleticism and isn't going to make many plays off his frame as he lacks ideal range. Doesn't exhibit a great feel vs. the inside run either, takes himself out of his fair share of plays and lacks the range to make up for a false step. Possesses a good motor and does work hard in pursuit, but is jut limited because of his natural athleticism.
Lacks fluidity in the pass game, is tight hipped struggles to re-direct and takes numerous secondary steps in order to catch himself before being able to re-direct. Doesn't have the range get himself back into the play quickly and is a liability whenever he's asked to play in space. Isn't a guy who can turn or run either down the field with tight ends.
Impression: A short, compact athlete with only average instincts and doesn't make a ton of plays for the position. Has some experience at full back and his body type/skill set makes me think that could be his best shot to stick in the NFL.
Follow me on twitter: @WesBunting