June 17, 2011 -
National Football Post
NFP Scouting Series: Iowa
For the rest of the summer, the National Football Post will be breaking down every team in the Football Bowl Subdivision to identify which players could warrant the most interest from NFL teams in the 2012 NFL draft.
Therefore, today we take a look at the Iowa Hawkeyes.
Offense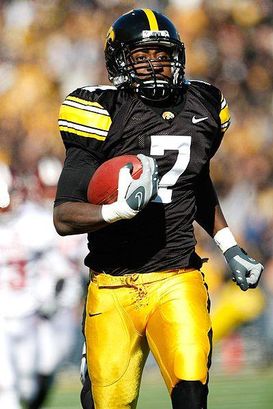 ICONMcNutt is a big body with deceptive strider speed.
WR Marvin McNutt: No. 7 (6-4, 215)
A tall, well-put together wide out with good overall strength and power off the line. Displays above-average short area quickness for his size, understands how to set up routes vs. press coverage and uses his hands well to fend off a corners. Isn't real explosive initially off the line and/or out of his breaks and is more of a strider. However, uses his body well once he gains a step boxing out defenders on all areas of the field and tracking the football. Is a former quarterback and has a good feel for the pass game. Does a nice job sitting down in pockets underneath vs. zone coverage, locates the football well and isn't afraid to extend and work the middle of the field. Displays deceptive strider speed vertically, but isn't a burner by any stretch, looks like a 4.55/4.6 guy. However, once he gets those legs turning he's a tough to cover down the field and knows how to adjust to the football, displaying good coordination and coming down with the catch. Would like to see him do a better job overall plucking the football off his frame, looks content to let throws get into his body to often and for a guy who isn't ever going to separate much at the next level this is an aspect of his game he needs to improve.
Displays good savvy as a route runner on vertical routes, looks off defenders, is patient stemming his route and can put his foot in the ground and use his short area quickness to gain a step and box out. However, gets leggy on sharply breaking routes, rounds off his angles and doesn't have a great burst out of his breaks. Looks a bit high cut/tight in the hipped as well when trying to re-direct and isn't ever going to be a guy who separates consistently on sharply breaking routes. Will get after it in the run game on the edge as a blocker. Is long armed, possesses strong hands and does a nice job sticking to blocks through the play.
Impression: A tall, long armed receiver who can win off the line and use his big frame to box and go get the football. A big third down target who might not be dynamic enough to win on the outside as a starter, but can be used as a situation guy and move the chains.
Defense
DT Mike Daniels: No. 93 (6-1, 275)
An undersized interior lineman who plays low and looks long armed for his size. Fires off the snap count consistently on time and has the initial burst to routinely threaten gaps inside. Gets a bit overextended with his footwork sitting into his stance, but keeps his pad level down, plays with natural balance, a good forward lean and feels his way through blocks. Is really shifty in tight areas, exhibits the ability to routinely side step blocks while keeping his footing through contact and accelerating quickly toward the ball carrier. Never seems to be knocked off balance inside, simply plays with a great motor and good change of direction skills. Looks like a pinball the way he slips defenders, keeps his footing and continues to work his way toward the ball carrier inside. Is violent/sudden with his hands, does a nice job keeping himself clean inside using his arm over. Lacks ideal power on the bull rush, but generates leverage with his hands/pad level and works hard on his counter. Is really sudden when asked to disengage and work his way into the backfield. Showcases natural coordination stunting from the inside, displays good lateral explosion and generates a pop into contact.
Obviously lacks the type of girth to consistently hold up at the point of attack at the next level when run at. Is a real tweener –like many of the past Iowa defensive tackle prospects- and looks limited to more of a one-gap scheme only. Possesses the burst, leverage and quickness to get up find and stop plays before they start, but has to win with that first step. Is a guy who needs to continue to add some weight and prove he can handle the additional girth without losing his explosion.
Impression: A typical overachieving Iowa DT who is going to make a lot of plays inside this year as a senior. He works hard, plays low and is violent to shed. Has a chance if he adds some weight and keep his athleticism to make a roster in the right system.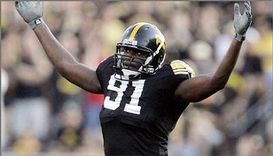 ICONBinns has a massive wingspan for his size.
DE Broderick Binns: No. 91 (6-2, 261)
A shorter, stout defensive end who can bend and does a good job getting off the snap count on time. Is almost freakishly long armed for his size and extends his length well into contact, keeps his base down well off the ball and displays natural anchor strength when run at. Generates a pop into contact and is a consistent leverage player. Does have a tendency to get a bit upright when trying to disengage and lacks ideal fluidity in the hips and short area quickness to disengage. But finds the football well, can set the edge on the outside and works hard playing the piano down the line. Isn't real rangy in pursuit however, displays a good motor but only average closing speed.
Sits a little high into his stance when rushing the passer and allows his pad level to get a bit upright when trying to threaten the edge. Displays an average first step, but isn't a guy who is going to turn the corner and is more of a contact rusher. Looks too tight to drop pad level and flatten out around the edge while keeping his balance. However, does do a nice job dropping his pad level into contact when working the bull rush. Exhibits good hand placement and generates a pop on contact. Also, displays some natural balance and short area quickness when trying to slip the block following his punch to the edge. Generates good separation from contact and can side step blocks laterally. But needs to routinely collect himself before closing with his average burst because of some stiffness. Will drop off into coverage at times and does possess good coordination off the line. However, just isn't real sudden in space, especially when trying to avoid a blocks, as he routinely gets cut down easily on contact and fails to use his arms well enough to keep himself clean.
Was suspended for the opener in 2010 due to an alcohol related incident.
Impression: Plays with natural leverage/power in the run and pass game. Isn't a dynamic athlete, but finds the football, uses his length well and can work his way into a rotation in the NFL.
OLB Tyler Nielsen: No. 45 (6-3, 235)
Possesses an average frame and overall physical make-up for the position. Doesn't come off the field on 3rd down, plays out over the slot and does a nice job feeling routes develop around him. Looks comfortable in space, uses his hands well to re-route receivers off the line and likes to be physical on contact. Isn't the most fluid of individuals however. Lacks ideal fluidity when asked to turn and run, but possesses good straight-line speed for the position. Locates the ball well and is physical down the field. At his best feeling routes in zone where he can get early jumps on the football. Displays some balance a nd coordination with his footwork when trying to re-direct, takes good angles on the ball after a completion and wraps well on contact.
Isn't quite as instinctive vs. the run game inside as he is vs. the pass. Doesn't take the most consistent of angles when attacking downhill and will run himself out of plays. His hip tightness shows up in the run game as well, as he struggles to breakdown in space, lacks ideal lateral quickness and will slip off tackles when he has the chance to wrap. Isn't real physical when asked to take on blocks in any area of the game as he will even struggle to disengage vs. receivers in the slot at times. Suffered a broken vertebra in his neck that kept him out the second part of the season in 2010 and needs to prove his medical is clean.
Impression: Displays natural instincts from the slot in the pass game and runs well for the position. However, isn't real impressive vs. the run and looks like a special teams/reserve guy only to me.
CB Shaun Prater: No. 28 (5-11, 180)
Possesses a tall, lean frame with long arms and a narrow lower half. Is going to need to add some additional girth and continue to get stronger. Displays good bend and flexibility in his drop as he sits into his stance well and is patient off the line, trusting his ability to turn and run. Looks very comfortable in off coverage, stays low, maintains balance with his footwork and is clean/fluid when asked to re-direct and close on the football. Can also be physical up near the line as well. Gets a bit fidgety with his footwork when trying to mirror in pressman, will hop laterally getting caught with his feet parallel. But extends his long arms well, can get a nice bump, maintains his balance/footing and cleanly will turn and run.
Is developing his feel for the pass game, showcases the ability to feel routes at times, undercut throws and take good angles toward the football in zone. However, needs to be a bit more patient, can get overaggressive, prematurely jump routes and take himself out of position to make plays. Gets a bit nonchalant on the outside and trust his range a bit too much vertically. Can turn and run, displays good fluidity in the hips in the hips, has an initial burst to his game. But doesn't have the kind of elite second gear to make up for an overaggressive false step as receivers can get behind him on any type of double move. Looks like a low 4.5 guy on tape to me who plays fast because of footwork and just needs to do a better job being patient in space.
Impression: Is still developing his feel in zone and needs to add more weight. However, he's smooth, fluid and coordinated in his drop and out of his breaks. Has a chance to start in the NFL, more of a zone corner though.
Follow me on twitter: @WesBunting