July 23, 2011 -
Barry Dorey
NFP Scouting Series: Kansas
For the rest of the summer, the National Football Post will be breaking down every team in the Football Bowl Subdivision to identify which players could warrant the most interest from NFL teams in the 2012 NFL draft.
Therefore, today we take a look at the senior class of the Kansas Jayhawks.
Offense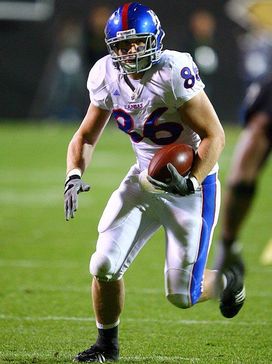 ICONBiere has the size to get a shot in camp.
TE Tim Biere: No. 86 (6-4, 260)
Possesses a naturally big frame, but isn't overly bulky and doesn't have a ton of girth through his base. Doesn't look real comfortable sitting into his stance. At times plays a bit straight-legged and needs to do a better job getting off the snap count on time in both the run and pass game. Has a tendency to get upright off the ball in the run game. Lacks the ability to generate a snap through his hips, gain leverage and drive defenders as an in-line guy. However, understands angles, steps and seals quickly and works hard to stick to blocks. Nevertheless, lacks ideal power, struggles to stick to bigger defenders and can be rag-dolled/overwhelmed because of his lacking pad level/base strength. Isn't overly coordinated in space as well, displays solid range, but struggles to breakdown.
Gets upright and rolls his momentum off the line of scrimmage when asked to play from a three point stance. Looks tighter in the hips when trying to slip the bump off the line, doesn't have an explosive first step and is more of a strider only. Doesn't have a real suddenness/explosive element to his game when trying to separate vs. man coverage.
Does a better job finding soft spots in zone coverage, snapping his head around and locating the football. Relies on his savvy in the pass game in order to get open because the natural athletic qualities simply aren't there for him to make plays routinely vs. man in the NFL. Exhibits solid hands and secures the football well over the middle of the field. Can pluck off his frame, but looks more comfortable trapping the football against his body in traffic.
Impression: Doesn't offer enough in either the run or pass game to warrant an NFL roster spot.
OC Jeremiah Hatch: No. 77 (6-2, 332)
A short, girthy offensive line prospect who displays a thick lower half, long arms, but looks a bit too heavy for his own good. Possesses some fleshy spots and lacks ideal athleticism on the move because of it. Isn't a natural bender, struggles to keep his base under him, bends at the waist and doesn't generate any kind of snap in the run game. Rolls his hips off the football, struggles with leverage and despite his size is more of a catcher who relies on angles/length in order to step and seal. Loses balance easy through contact, is tight in the hips and struggles to stay engaged for any length of time. Is limited when asked to pull and reach defenders on the move, lacks range and is better suited in tight areas.
Needs to work in tandem vs. the pass game. Struggles to with bend and balance off the snap, isn't a consistent anchor player despite his size and I can't see him holding up vs. power players in the NFL. Doesn't display the type of shuffle and slide ability to mirror with any consistency one-on-one. Looks content to catch blockers, give ground and hope the ball comes out before he's bulled into the quarterbacks lap.
Impression: Doesn't stand out even in the college game and isn't a legit NFL prospect.
Defense
OLB Steven Johnson: No. 52 (6-1, 237)
Possesses average size for the position with an athletic build and looks a bit long armed for his size. Is a "plus" athlete who displays good initial foot quickness in his drop, has the ability to keep his base under him, cleanly re-direct and drive on throws with a natural burst. Exhibits natural fluidity in the hips when changing directions in coverage and certainly can hold his own in man, both in tight areas and down the field. Displays solid awareness feeling routes develop around him, but is better suited in cat and mouse where he can lock onto a tight end and use his athleticism to stay in his back pocket. Overall, is a tough guy to separate from.
Is still developing vs. the run game. There are some natural athletic and physical qualities to his game that I like. He is willing to attack downhill with a good initial burst and pad level, extend his arms into contact and despite not being overly powerful has some anchor ability inside. However, is slow to read and react at times vs. the run, has a tendency to take his fair share of false steps and will seal himself away form the action. Doesn't do a great job in pursuit feeling blockers around him and keeping his legs clean.
Possesses solid natural range, a average motor, but gets chopped down too often failing to use his hands. Doesn't have a great understanding how to use his hands to disengage as well at this stage. More of a catcher who tries to create an angle and muscle his way through contact. However, too often is simply ridden to the ground or sealed from the play. Isn' a stack and shed guy at this stage. Exhibits good closing speed when he locates the ball carrier, but doesn't routinely take the best of angles, struggles to routinely square up his man and breakdown well on contact.
Also, lacks an understanding as a pass rusher. Is used as a blitzer at times and gets upright into contact and simply tries to work the bull rush and be sudden through contact. However, plays upright and doesn't have a chance to slip and close.
Impression: His athletic skill set gives him a chance to fight for a roster spot. However, he's not a real decisive backer, doesn't quickly locate the football and is going to need to improve his overall feel for the game in order to have a chance.
Follow me on twitter: @WesBunting