July 30, 2011 -
Barry Dorey
NFP Scouting Series: Kansas State
For the rest of the summer, the National Football Post will be breaking down every team in the Football Bowl Subdivision to identify which players could warrant the most interest from NFL teams in the 2012 NFL draft.
Therefore, today we take a look at the senior class of the Kansas State Wildcats.
Offense
OT Manase Foketi: No. 73 (6-5, 305)
A former JUCO guy who joined the Kansas State football team in 2010 and started every game at left tackle. Possesses natural power through his base, good initial quickness when asked to get into defenders in the run game and creates a snap on contact. Needs to do a better job keeping his base down off the snap, has a tendency to come off the ball a bit high and will struggle with leverage. Gets ahead of himself as well and will lose balance through contact. Isn't tight hipped however, displays natural athleticism, just struggles with balance through contact. Gets his head over his feet and can be shed. Nevertheless, displays good initial quickness when asked to step and seal, is very coordinated on the outside and looks natural on the move. Will struggle to recognize who to hit and awareness is a slight concern, but it should improve with some experience.
Again, pops upright off the snap in the pass game when asked to reach speed off the edge. Displays natural range however, uses his length well to run speedy defenders past the quarterback and displays some natural power in his lower half when asked to anchor. His initial kick-step gets overextended and gets upright at the waist. However, settles his feet quickly and showcases natural balance and stays compact toward the edge. Showcases "plus" re-direction skills, is fluid in the hips and can mirror with consistency through the play.
Improved as the year went on with his pad level, did a much better job toward end of the season keeping base down through his kick-slide. Possesses only average range to the edge vs. speed, will chicken wing his arms and expose his chest in order to create momentum toward the corner. However, exhibits good recovery ability and makes consistent contact on his punch. Isn't real heavy handed and would like to see him do a better job sticking to blocks better in both the run/pass game.
Impression: Raw, but a good athlete who can bend, stays compact with his footwork and possesses good lateral quickness. Needs some time and might be better suited to play inside, but the upside is there for this guy to move up draft boards in 2011.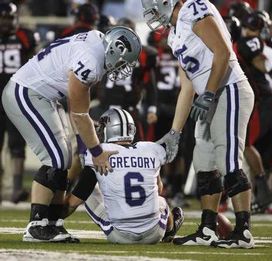 ICONThe Kansas State O-line needs to do a better job keeping their QB upright.
OT Clyde Aufner: No. 75 (6-5, 302)
Possesses only average girth/size for the position and isn't real explosive off the snap. Can sit into his stance a bit, but uncoils at the waist into contact, doesn't generate any snap from his lower half and loses leverage in the run game. Can be overwhelmed on contact, doesn't get any kind of push and routinely lets defenders into his frame. More of a grabber than puncher who is looking to seal defenders from the play. However, anytime he's asked to stick to blocks on the move, lacks an ideal combination of balance, power and range, especially on slide down blocks. Lumbers in space, isn't real sudden and has a tough time reaching defenders off his frame.
Needs to be helped in pass protection. Lacks ideal range toward the edge, looks heavy footed and is routinely asked just to block down. Isn't a guy who can keep his base down and shuffle and slide laterally. Exposes his chest into contact, allows defenders to get under him and can be worked by the bull rush. Isn't a strong puncher either, more of a catcher who gives ground and struggles to stick through contact.
Impression: Doesn't have the natural power or athleticism to hold his own at the next level routinely.
Defense
DT Raphael Guidry: No. 94 (6-4, 296)
Possesses good height, average length and a solid frame. Looks a little soft in the mid-section and isn't a real explosive athlete off the snap. Isn't a natural bender, struggles to sit into his stance and keep his back flat off the ball. Gets upright at the waist into contact and fails to generate much of a snap at the point. Is tighter in the hips, lacks ideal lateral quickness/coordination and can't win off the ball with his first step or counter laterally off it. Ends up on the ground far too often and is easily stonewalled on the bull rush because of his pad level. Does a decent job working his hands through contact, but doesn't keep himself clean initially off the snap. Plus, his hand placement is often too low and doesn't create much of a surge on contact.
Displays decent natural strength vs. the run game when playing either inside or out. However, is routinely waked off the football because he fails to gain leverage. Doesn't have the suddenness/know how to shed blocks and routinely is sealed from the football. Doesn't exhibit much in the form of closing range away from his frame. Lacks an initial burst in space and is slow to close.
Impression: A nice sized kid with the frame to intrigue either inside or out, just doesn't have a NFL caliber athletic skill set.
OLB Emmanuel Lamur: No. 23 (6-4, 220)
A tall, lean linebacker who possesses the body of a defensive back. Lacks ideal girth through his lower half, doesn't generate any power into contact and can routinely be overwhelmed when asked to engage with blocks. Isn't a real natural bender, struggles to gain leverage on contact and snap through his hips. Routinely ends up on the ground. However, possesses a long set of arms and when he puts himself in position to make a play on the ball carrier is patient when asked to breakdown. Wraps well on contact and does a nice job dragging his man to the ground. Isn't a physical striker and doesn't create much snap into contact, but is a solid tackler in tight areas. Doesn't display great instincts though inside, routinely will take himself out of plays with false steps and when he does need to close quickly in pursuit, loses balance into contact and ends up easily being knocked out of the play and/or on to the ground.
Is leggy in his drop, struggles to keep his feet under him and isn't real fluid when asked to turn and run. Struggles with balance when redirecting out of his breaks, fails to keep his feet under him and doesn't generate much of a burst when asked to close. Possesses only an average feel in coverage and doesn't feel routes developing around him well. Is a strider who has only one gear, picks up speed as he goes, but doesn't play overly fast.
Impression: A tall, lanky linebacker who despite his thinner frame doesn't play overly fast and struggles with any kind of power in the run game.
FS Tysyn Hartman: No. 2 (6-2, 205)
A tall, lean defensive back who lacks ideal girth through the base, doesn't look real powerful and fails to create much of a consistent snap into contact as a tackler. Settles his feet well when attacking downhill, however, struggles to drop his pad level and really explode through his lower half. Gets upright into contact, doesn't create many collisions and tends to fall off his fair share of tackles. Isn't a real consistent open field tackler as well and struggles with balance and coordination when asked to breakdown. Wraps well in a phone booth, but is more of a drag down guy who doesn't have the abilit y to create turnovers. Lacks ideal range in pursuit. Plays at one speed, doesn't have a good initial burst and will see his angles outpaced as the last line defender.
Gets leggy and upright in his drop off the line, depth is very average and looks leggy/tight when asked to turn and run. At his best when able to read and react to plays under him and drive on the football. Displays solid instincts, but plays upright and needs to collect himself before driving on the throw. Routinely is forced to only play the man, not the ball. Looks like a 4.6+ guy who lacks the range to play in the deep half. Isn't a real explosive self-starter, doesn't cover a ton of ground in space and lacks the ability to make up for a false step.
Impression: Isn't a great tackler, lacks range and is tighter in the hips. Isn't a guy I would trust in an NFL secondary.
Follow me on twitter: @WesBunting