June 04, 2011 -
National Football Post
NFP Scouting Series: Kentucky
For the rest of the summer, the National Football Post will be breaking down every team in the Football Bowl Subdivision to identify which players could warrant the most interest from NFL teams in the 2012 NFL draft.
Therefore, today we take a look at the Kentucky Wildcats.
Offense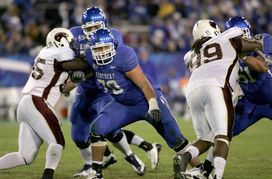 ICONHines will struggle to make an NFL roster.
OG Stuart Hines: No. 70 (6-4, 296)
Possesses average size, but doesn't look real natural when asked to coil up into his stance, seems tight and doubles over at the waist. Allows himself to get upright off the snap. Isn't real compact with his punch as he winds up into contact too often. Does do a nice job winning with his hands off the snap, can create leverage for himself initially and control blocks, but gets upright through the play and tends to lose power from his base. Lacks ideal balance through contact as well and ends up on the ground far too often. Isn't real fluid/rangy on the move and struggles to break down on contact. Doesn't routinely hit a moving target off his frame. Doesn't create a ton of pop initially as an in-line guy, but works hard to stick through the play before eventually falling off the block.
Doesn't get out of his stance real quickly in the pass game, can get jolted at the point of attack and gives ground initially vs. the bull rush. Struggles with anchor and gets caught lunging forward into blocks in order to create more of a "pop" for himself, but loses balance and can be slipped easily. Lacks the initial burst to reach defenders shooting off his frame and gives up his fair share of penetration inside. Displays some natural shuffle and slide ability in space, passing defenders off to his center and working well in tandem, but struggles to do the same through contact.
Impression: Doesn't have the capabilities to hold his own in either the run or pass game at the next level.
Defense
ILB Ronnie Sneed: No. 46 (6-2, 233)
A thick, tightly wound inside linebacker prospect who isn't overly athletic sideline-to-sideline and plays slow. Doesn't read and react real quickly to the football inside, lacks ideal instincts and struggles to anticipate plays. Isn't real explosive on contact when asked to attack downhill. Fails to consistently generate a ton of force into contact, can be overwhelmed/sealed and fails to routinely disengage. Is an average tackler in tight areas, wraps well, but doesn't have a ton of snap and isn't going to make plays off his frame.
Stiff in the hips in his drop. Fails to get much depth off the line, isn't a guy who can cleanly open up his hips and turn and run with tight ends down the seam. Struggles to redirect in space, doesn't create much of a burst out of his breaks and lacks a second gear in pursuit. Isn't a real savvy blitzer, struggles to time up snap count, isn't going to make anyone miss and lacks much power as a push pull guy.
Impression: Possesses the thick build, but doesn't stand out in any area of the game in my mind to warrant a draft pick.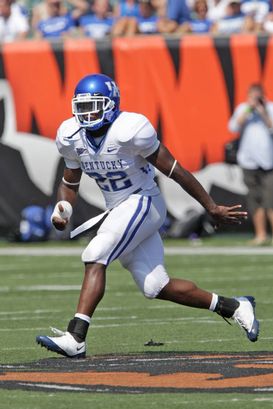 ICONTrevathan is an explosive SEC backer.
OLB Danny Trevathan: No. 22 (6-2, 225)
An athletic, thinner linebacker prospect who is a bit angular through the upper body, but long armed and is a consistent wrap-up tackler inside. Despite his thinner frame displays a real explosive element to his game. Breaks down well in the box, squares up his target and generates a real snap through his hips into contact. Wraps well and is a consistent tackler inside. Showcases impressive range in pursuit as well. Runs very well sideline-to-sideline, can routinely track the ball carrier and has "plus" straight-line speed. Exhibits good short area quickness as well, feels the run game, knows when to side step blocks and keeps himself clean inside. Always seems to be flowing toward the action as well. Plays fast, instincts are slightly above-average. However, at times will stop his feet trying to decipher information and can be slowed initially to drive on the football, hurting his chances of making plays off his frame. An above-average open field tackler, takes good angles, wraps a bit high at times but routinely gets his man to the ground. Struggles to anchor on contact when run at. Is long armed and works hard to shed, but when he does makes most of his plays down the field.
Is coordinated/rangy in his drop. Obtains good depth off the line, can open up his hips and has a good burst out of his breaks. Gets a bit leggy when asked to re-direct and isn't the cleanest change of direction guy. But the natural athleticism is there. Needs to do a better job keeping himself in the play, bites on too many play fakes jumping toward the line of scrimmage and allowing routes to develop behind him. Showcases a savvy as a blitzer, timing up snap count well and closes quickly around the edge.
Impression: Runs well, generates a burst as a tackler and possesses natural athleticism. He is undersized and might be better suited for more of a cover two team, but needs to improve feel in zone coverage if he hopes to ever be more than a special teams guy/reserve.
CB Randall Burden: No. 24 (6-0, 172)
A tall, thinly put together corner who exhibits some natural balance and bend in his drop. Tries to keep his feet under him and stay down and compact. However, gets fidgety, doesn't trust his footwork and will get caught hitching into his drop, causing him to collect himself when asked to click and close. Will waste a lot of steps trying to get out of his breaks. Lacks ideal awareness and ball skills on plays in front of him. Doesn't consistently see the throw and plays the receiver more than the ball. Is more patient/confident in his drop in off coverage, but doesn't have a great feel for the depth he needs to give in order to click and close and make a play on the ball.
Displays some natural fluidity to his game when asked to turn and run. Does a nice job cleanly opening up his hips, gets up to speed quickly and for the most part is a tough guy to get behind when he turns and runs. However, needs to do a better job in pressman, isn't real physical off the line, doesn't generate much of a "pop" on his punch and receivers can easily shrug him off/stroke him on contact. Tends to lose balance trying to re-route, lunges forward and will be forced to play from behind. Doesn't possess the elite make up speed to recover well either. Isn't a real physical tackler, more of a drag down guy, doesn't drop his base and breakdown, not a guy who seems willing to get dirty.
Impression: A tall, thin corner with some natural fluidity to turn and run on vertical routes. However, outside of that his game is too underwhelming to be considered a draftbale prospect.
SS Winston Guy Jr.: No. 21 (6-1, 210)
Is a tall, well-built athlete with V-shape trunk. Isn't the most flexible of athletes in coverage and moved back to safety after a brief stint at corner either in his career. Struggles to really sit into his stance, gets leggy out of his breaks and routinely is forced to chop his feet and waste steps in order to collect himself. However, possesses good closing speed once he gets his feet back under him, but routinely surr enders separation in man coverage vs. tight ends when playing near the line. Doesn't waste nearly as much motion when asked to click and close. Sits into his stance better off the snap, keeps his feet under him and cleanly can drive on throws. Is a bit stiff hipped when asked to turn and run and doesn't get back up to speed quickly. However, displays good range/straight-line speed in space when asked to range in the deep half for the position, exhibiting good ball skills and coordination when asked to go make a play. Plays like a 4.4 guy.
Breaks down well on ball carriers in space, is patient into the tackle and wraps well. Doesn't consistently bring his feet through contact and becomes more of a catcher in the open field. However, when filling the alley downhill, reads and reacts quickly, displays good burst driving on ball carries and creates more of a pop at the point. Is consistent as a tackler as long as he wraps. Will get himself into some trouble at times just trying to strike. Also, gets high when asked to wrap-up and will slip off bigger bodies on the edge. Nevertheless, showcases a good feel for the run game, reads and reacts quickly, takes good angles and displays above-average range in pursuit for the position.
Impression: Still has some upside at the position, as he can tackle, displays good range in space and above-average instincts in all areas of the game. Should be a heck of a special teams player early and looks like a potential starter down the line in the league.
Follow me on twitter: @WesBunting