June 06, 2011 -
National Football Post
NFP Scouting Series: LSU
For the rest of the summer, the National Football Post will be breaking down every team in the Football Bowl Subdivision to identify which players could warrant the most interest from NFL teams in the 2012 NFL draft.
Therefore, today we take a look at the LSU Tigers.
Offense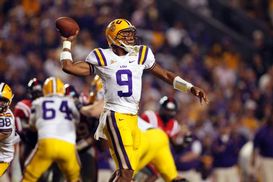 ICONJefferson gives you a run/pass threat.
QB Jordan Jefferson: No. 9 (6-5, 224)
A tall, athletic quarterback prospect who is a consistent threat to tuck the ball down and run. Possesses the ability to create with his legs in the open field and generates a burst at times to outpace angles in the open field. Displays a good feel in the pocket and an improved mental clock when asked to read a defense. A one side of the field read guy only who tries to go through his limited progressions, but if it's not on he is decisive taking off and trying to get all he can with his feet. Limited from the pocket though, doesn't trust what he sees, struggles to throw receivers open and needs to see an open target in the short/intermediate pass game in order to let the football go. Has experience throwing from both the gun and from behind center. Is athletic, takes a big first step and quickly gets away from the line, but struggles with balance when trying to settle himself and is inaccurate at times because of it. Gets too narrow and upright with his footwork in all areas of the game, doesn't consistently have a great base which really affects his accuracy and touch down the field. Also, needs to do a better job transferring his weight off his back foot to his front, seemed rush too often trying to get the ball out.
Displays an above average arm, can stick some throws in the intermediate pass game and for the most part throws a clean football. However, balance will kill him at times, gets out over his front foot too quickly and passes tend to skip into the dirt. Isn't real compact with his delivery and there is a noticeable wind-up as he takes the ball back.
Impression: A good athlete who is learning how to become a quarterback. Is very inconsistent throwing the football and his footwork is the biggest reason why. Struggles to trust his eyes and decipher info in the pass game as well and still has a lot of work to be done.
TE Deangelo Peterson: No. 19 (6-4, 243)
A tall, athletic tight end prospect; looks more like a bulked-up wideout. Quickly gets off the ball when split out, displays the ability to threaten the seam and uses his length/hands well to fend off contact and stay clean into his route. Isn't a clean route runner at this stage though and is more athlete than tight end. Isn't real clean off the line when lined up with his hand on the ground. His initial movement is upright into his route, wastes motion out of his stance and routinely chops his feet in order to get out of his breaks. Isn't a natural plucker, lets the ball get into his frame, tries to body catch and will put the ball on the ground. However, the guy can run and is a consistent threat to get down the seam and tracks the football well. Has the straight-line speed to simply outpace linebackers with his straight-line speed and can be a mismatch guy even on safeties down the field, but needs to learn to sell himself better and become a sharper, more precise route runner.
Isn't a real aware kid, struggles to get off the snap on time as a blocker. Again, allows himself to get upright into contact and doesn't do a great job keeping his base under him. However, he's a naturally strong kid with long arms and can create a bit of a jolt on contact and work his legs to begin to seal. But, isn't really heavy handed and struggles to stick to blocks through the play. Isn't going to move anyone off the ball as an in-line guy. Does a better job maintaining leverage with a defender off his face, but doesn't run his legs through contact and can be easily shed.
Doesn't seem willing to take a lick over the middle of the field and expose his frame in order to make a play. Has had some dumb penalties called on him throughout his time at LSU and immaturity is an issue in my mind.
Impression: An athletic kid who can run and get down the seam. However, is raw in all areas of the game and doesn't seem to have put much work into his trade. Nevertheless, physically the guy is worth a shot because of the immense upside.
OG Josh Dworaczyk: No. 68 (6-6, 295)
A taller guard prospect who looks a bit tight in the hips and struggles to quickly get out of his stance and reach a defender off his frame. Doesn't redirect real well laterally, isn't a mirror player in the pass game and needs to get his long arms on defenders in order to be effective. Isn't real flexible when asked to keep his base under him in pass protection. Gets upright, can be jolted on contact and overwhelmed into the backfield. However, works his hands quickly to gain inside leverage and stick through contact. Does a nice job working in tandem though, keeps his head on a swivel, is quick to recognize stunts/blitzes and has enough quickness/power to keep the inside of the pocket clean.
Displays a decent initial burst when asked to get out to the second level, can drop his pad level when trying to cut down defenders, but isn't the most coordinated into contact. Is a bit slow out of his stance, takes him a while to get those long legs uncoiled and looks tight when asked to break down. Does a decent job through contact, using his length to gain leverage with his hands and seal initially. But is more of a catcher/sealer in the run game than aggressive in-line guy. Isn't a lineman who will drive anyone off the ball and relies more so on his ability to step and seal, which because of his size/length is only average.
Impression: A tall, long guard who isn't a top-tier athlete and will struggle consistently with leverage at the next level.
OG Will Blackwell: No. 60 (6-4, 303)
A smart interior offensive lineman, gets off the snap count quickly, understands the game and displays good awareness inside. Is a little high off in the pass game from a two-point stance, but does a nice job keeping his base under him, extending his arms on his punch and maintaining balance through the play. Has a quick first step, can reach linemen off his frame and redirects well laterally, maintaining his base when asked to shuffle and slide.
Isn't the most natural of benders from a three-point stance in the run game though. His initial movement is upright and despite doing a nice job winning with his hands into contact and than getting his base under him, I'd like to see him waste less movement off the snap. Possesses average coordination through contact, isn't overwhelming but can seal defenders before falling off the block once the run passes.
Missed most of the 2010 season with a broken ankle and even when he did play at the end of the year was rotated in and out at times.
Impression: A tough, smart gritty SEC lineman with some natural shuffle and slide ability. Would like to see him play lower off the ball in the run game, but does enough at this stage to warrant a look.
Defense
DE Kendrick Adams: No. 94 (6-5, 255)
A tall, long-armed SEC-style defensive lineman who certainly looks the part. Does a nice job coiling up into his stance for a big guy, keeps his base down and initially stays low off the football. However, struggled to get off the snap count on time and routinel y was the last guy moving off the ball. Displays a very average initial burst, isn't a guy who can threaten the edge and lacks the power/leverage to create on his bull rush. Plays till the whistle and works hard in pursuit. Uses his long arms well to keep himself clean and can fend off blocks eventually. However, is linear/tight as a pass rusher. Struggles to change directions off his outside rush, consistently has to catch himself in order to maintain balance and there's no real explosive element to his game when trying to reach the quarterback.
Gets upright as a run defender and gives opposing blockers a ton of area to get under his pad level. Is consistently overwhelmed on contact and despite his work rate off his frame, can be easily sealed/blocked at the second level by smaller blockers who reach him down the line.
Impression: Possesses a good-looking frame, but doesn't offer enough vs. either the run or pass game to make an NFL roster.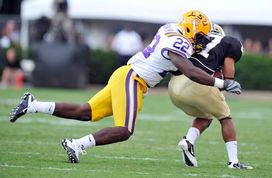 ICONBaker is at his best in pursuit.
OLB Ryan Baker: No. 22 (6-0, 228)
An undersized Will linebacker who is compactly put together, but lacks the girth and power to consistently hold up when run at. Struggles to anchor with any consistency, is routinely washed from the play and once a blocker gets his hands on him the battle is over. Possesses good range in pursuit, but isn't overly aware when closing on the football and will be easily picked off by backs/tight ends getting out to the second level. Doesn't do a great job avoiding contact and shifting his way through traffic. Maximizes his length when trying to fight off blocks and eventually can disengage, but makes most of his tackles when run at down the field. Does a decent job sniffing out the football inside when unblocked. Is more of a drag down guy, but his longer arms and strong frame allow him to routinely get his man to the ground.
Displays the athleticism to get good depth off the line in his drop. Demonstrates natural range when asked to track the football, but is a bit tight hipped trying to get out of his breaks. Doesn't generate a great burst for himself when redirecting and routinely is forced to skip laterally in order to catch himself before changing directions. Isn't overly instinctive reading his pass keys, takes him a while to decipher information and doesn't feel routes develop around him well. Displays a little savvy as a blitzer though, firing off the edge, using his length well to keep himself clean and correctly timing up his blitz. However, is a bit tight trying to turn the corner and struggles to consistently break down on the ball.
Impression: Is consistently washed out of plays in the run game and isn't dynamic enough vs. the pass (either in coverage or rushing the passer) to warrant a draftable grade in my view.
SS/LB Karnell Hatcher: No. 37 (6-2, 212)
A thick, physically put together safety who looks the part and generates impressive explosion into contact. Displays good instincts, always seems to be moving toward the football and can quickly diagnose the run from the secondary and fill the alley in a big way. At his best in tight areas where he gets his feet under him and routinely creates a snap through the hips into contact, getting his man on the ground. Creates turnovers as a tackler because of his pop, but would like to see him do a more consistent job wrapping up in space and be more than just a striker. Falls off some tackles in space and doesn't break down nearly as well in the open field, gets upright and can be side stepped/slipped.
Isn't real fluid when asked to open up his hips and run. Looks a bit tight, struggles to get back up to speed quickly and doesn't create much of a burst initially out of his breaks. Straight-line speed is very average, looks like a 4.55-plus guy. Will make the move to linebacker as a senior.
Impression: A good in-the-box tackler who should really excel from a production standpoint this year playing closer to the line of scrimmage. Looks like a SS-only to me at the next level though who I view more as a free agent type prospect.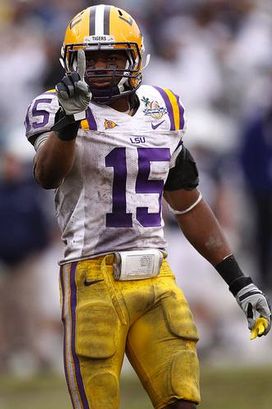 ICONTaylor can win in both the run and pass game.
SS Brandon Taylor: No. 15 (6-0, 195)
A tall, athletically built safety prospect who isn't afraid to mix it up inside and tackle the ball carrier. Displays good range in pursuit, breaks down well and has a little natural power on contact. Isn't a thumper, but showcases the ability to quickly close down the line, wrap and bring the ball carrier down at full speed. A very impressive open-field tackler.
Is a former high school cornerback with some natural coverage skills. Gets a bit upright in his drop at times, but is clean with his footwork when asked to click and close. Sinks his hips well and has the flexibility to stay low, keep his feet under him and generate a burst out of his breaks. Displays good patience in his drop in man coverage, gets a bit leggy when asked to turn and run, but does a nice job keeping his base down and collecting himself quickly in order to track the football vertically. Possesses good range in space, closes well sideline-to-sideline, is fluid for the position when asked to open his hips and takes good angles toward the throw. Demonstrates natural ball skills and knows how to play the throw in coverage. Exhibits a decent feel in coverage at this stage, but isn't a consistent ball hawk.
Missed the final portion of the 2010 season with a leg injury and his medical coming back will be key.
Impression: I like him. He tackles well in the box and in space, displays some natural coverage ability and looks capable of maturing into a potential starting caliber safety in the NFL in my mind. However, that's all based on him coming back 100 percent healthy from the injury.
Follow me on twitter: @WesBunting