July 19, 2010 -
National Football Post
NFP Scouting Series: Miami
For the rest of the summer, the National Football Post will be breaking down every team in the Football Bowl Subdivision (formerly known as Division I-A) to identify players who could warrant the most interest from NFL teams in the 2011 draft.
Therefore, today we take a look at the Miami Hurricanes.
Offense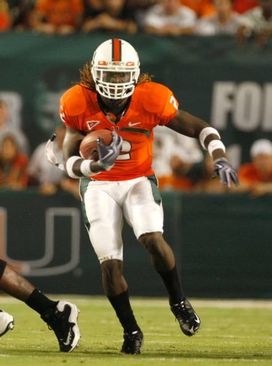 ICONCooper is a dynamic runner, but questions remain about his health and ability to stay on the field.
RB Graig Cooper: No. 2 (6-0, 205)
A tall, lean, upright runner who possesses an athletic looking frame but lacks ideal girth through his lower half. Exhibits an impressive initial step when asked to press the line of scrimmage. Gets up to speed instantly out of his breaks and reaches top-end speed quickly, but he isn't an elite burner in the open field — more of a high 4.4 guy. However, is a pretty patient runner in his own right, especially on perimeter runs. Allows blocks to set up, picks his way through the line of scrimmage well and has the type of footwork and fluidity to quickly change directions. Will occasionally simply outpace defenders to the edge when bouncing the football outside, but isn't a guy who is uncomfortable running in-between the tackles. Showcases natural change of direction skills and suddenness to his game and has the wiggle to consistently make defenders miss in a phone booth and accelerate up the field. Runs hard and isn't afraid to lower his pad level into contact. But, does expose a lot of his frame through the line of scrimmage. Has a tendency to get tripped up and brought down easily at times inside and isn't a guy who has the power or natural pad level to consistently churn out tough yards inside.
Is a really effective receiver out of the backfield. Looks natural plucking the football in the screen game and creating after the catch. Isn't a real savvy route runner at this stage, but certainly has the ability to cleanly get out of his breaks and separate vs. man. However, he is coming off a serious knee injury and it will be interesting to see where he is at physically once the season kicks off.
Impression: I don't know if we'll see him 100% healthy all season long, as these ACL knee injuries usually take two years to fully recover from. However, there is no doubt this guy can be dynamic with the ball in his hands as runner, receiver and kick returner, and he could end up being one of the real steals in the draft if he does fall at all due to injury concerns.
WR Leonard Hankerson: No. 85 (6-3, 215)
Possesses good size for the position and really seems to be strapped together well. Exhibits long arms and strong, powerful hands in which he uses to pluck just about every football throw his way. Displays impressive hand/eye coordination when asked to go up and get the ball and looks natural attacking the throw at its highest point. Consistently is able to contort his body and come down with some really tough grabs on all levels of the field while maintaining the concentration to keep his feet in bounds.
Now, isn't real explosive off the snap and is a bit of a strider. But, has the ability to build speed as he goes and can be tough to cover the further down the field he gets. Knows how to use his big frame to shield defenders from the throw and adjust to the football. However, doesn't exhibit the ability to consistently generate much separation as a route runner vs. man coverage. Does a nice job changing gears, but isn't real explosive in and out of his breaks and has a tendency to start to drift into his routes. Is more graceful than explosive/sudden at this stage. Nevertheless, displays some shiftiness and power to his game with the ball in his hands. Looks natural making a man miss, putting his foot in the ground and accelerating up the field. Is still learning how to beat press coverage and doesn't use his big frame and hands well enough at this stage to cleanly fight his way into his routes. Looks content at times to let defenders get their hands on him and just kind of lumber his way off the line. But, definitely has the strength/physicality to develop in this area.
Impression: I love his frame, hand/eye coordination and ability to pluck the football. Isn't ever going to generate a ton of separation for himself in the NFL, but could mature into a capable possession-type guy because of his ability to attack the throw.
OL Orlando Franklin: No. 74 (6-7, 318)
A tall, well-built interior lineman who showcases natural flexibility in his lower half when asked to sit into his stance. However, because of his height, struggles to play with consistent leverage inside and will allow powerful defensive linemen to get under his frame and drive him into the backfield in the pass game. Now, displays good length and can extend his arms into blocks, but doesn't do a consistent job getting his hands inside the chest plate of opposing linemen. Exhibits impressive lateral ability and overall athleticism when asked to slide his feet and mirror in a phone booth. Knows how to stick to blocks once he gets his hands on you and is tough to disengage from inside. But, he is making the move to left tackle this season and simply doesn't possess the type of range to consistently reach speed off the edge at the next level.
Showcases average range when asked to get out of his stance and reach targets off his frame in the run game. Lumbers in the open field, but exhibits natural body control and can consistently hit/seal his man in tighter quarters. Possesses some natural power and burst out of his stance in short yardage/goal line sets when asked to create an initial surge. However, anytime he's asked to use his hands and sustain a block as an in-line guy, he again struggles to play with natural leverage because of his size and doesn't create a ton of movement vs. more powerful defensive linemen in the run game.
Impression: Strikes me more as a right tackle prospect only in the NFL who could end up maturing into a potential starting caliber guy with some time. But, isn't the type of big-time prospect he's being made out to be.
Defense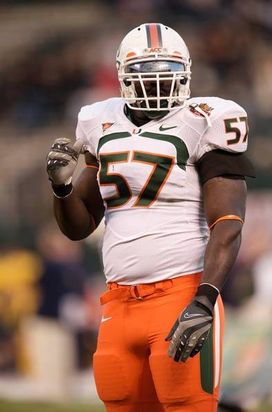 ICONBailey is a gifted athlete who has the ability to line up all over an NFL defensive front.
DE Allen Bailey: No. 57 (6-4, 288)
Possesses a great combination of body control and overall explosion off the snap for a prospect of his dimensions. Looks natural when asked to sit into his stance, keep his base down and fire off the football. Exhibits an impressive first step for a guy his size and possesses the type of natural flexibility to keep his pad level down when asked to get up the field while maintaining his balance and generating good power into contact. Now, isn't a guy who can consistently threaten the corner in the NFL. But is a really effective push/pull defender who routinely is able to get under opposing linemen and drive them into the backfield on his bull. Does a nice job creating natural leverage for himself into contact and is the kind of athlete who can suddenly change directions, disengage and accelerate toward the football. Possesses a powerful set of hands and demonstrates the kind of natural strength to shed blocks consistently on contact. However, is still a bit inconsistent extending his arms into blocks and at times will wait until he is engaged.
Needs to do a better job getting off the snap count on time. Has a tendency to at times be one of the last defensive linemen moving off the ball, which really takes away from his effectiveness. Isn't the most instinctive defensive lineman at this stage, either, as he fails to consistently read his run/pass keys off the snap and will take himself out of some key plays trying to make his way up the field. Nevertheless, has the type of lower body strength to anchor vs. the run and at times can be a dominant stack and shed type player. Is long and powerful in his upper body and exhibits the type of balance to suddenly fight his way off blocks when run at and can absolutely explode toward a ball carrier off his frame. Is very rangy for a guy his size and looks very natural in pursuit. But, his motor will run hot and cold at times.
Impression: It's rare to find a guy at his size with this type of first-step burst, flexibility and overall power. Isn't the most instinctive of defenders at this stage, but honestly I think with another year to mature, he will end up projecting as a starting caliber three-down lineman in the NFL with impact potential.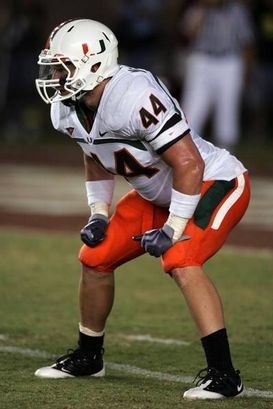 ICONMcCarthy's game really didn't live up to the hype on tape.
LB Colin McCarthy: No. 44 (6-3, 242)
A well-built linebacker prospect who possesses above-average range in pursuit and exhibits the athleticism to make plays away from his frame. Is more of a straight-line athlete who will struggle to break down in space, but has a nose for the football and consistently seems to be getting good jumps on the play. Reads his run keys quickly and does a nice job attacking downhill, finding creases inside and accelerating toward the play. Also does a nice job of keeping himself clean on the move. Isn't a guy who can consistently take on blocks and stack and shed on contact. However, plays with a good motor and his combination of instincts and overall grit allow him to consistently make a blocker miss and fight his way toward the ball carrier inside. Generates only average power on contact when asked to break down, but does a nice job wrapping up in tight quarters. Nevertheless, has a tendency to overrun plays and fails to break down on contact in space, as he isn't the most secure wrap-up guy when working in pursuit.
Possesses a good feel in the pass game and looks comfortable reading his pass keys, keeping his eyes on the quarterback and quickly putting himself around the football. Likes to be physical in man coverage and does a nice job disrupting the timing of tight ends in the pass game and getting his hands into their frame. However, is a bit stiff in the hips and will struggle to quickly redirect out of his breaks and generate a closing burst toward the football. Too often allows completions to take place around his frame simply because of his inability to quickly change directions and make a play on the throw. Really struggles to hold up in man vs. running backs out of the backfield, and simply lacks the fluidity, change of direction skills and initial burst to keep pace.
Impression: An overrated prospect because of where he plays — Miami — and his above-average straight-line speed. However, he isn't real impressive in man coverage, isn't a top-tier tackler and looks more like a reserve type/utility backer to me in the NFL.
CB DeMarcus Van Dyke: No. 8 (6-1, 185)
A tall, thinly built corner, but he possesses a frame that definitely has some growth potential as he continues to mature. Isn't the most flexible of corners when asked to sit into his stance off the line and has a tendency to bend at the waist a bit in press coverage. Now, does a nice job of being physical into contact and has the type of body control to slide his feet and stick to receivers after his initial jolt, and when he gets his hands on them he can be disruptive off the line and tough to disengage from. However, isn't as clean with his footwork as he needs to be at this stage. Has a tendency to get overextended into contact with his lower half, loses his balance easily and will struggle to quickly change directions. Now, he exhibits natural fluidity and has the ability to cleanly open and close his hips out of his breaks. However, because he lacks compactness in his footwork, he does struggle at times to quickly change directions and generate a burst for himself when closing on the throw.
Doesn't look real comfortable in space at this stage either. Has a tendency to allow his pad level/base to rise in his drop and struggles to quickly click and close on the football underneath. Possesses good straight-line speed down the field when asked to turn and run and can be rangy in space. But, he does lose half a step out of his transition because of his sloppy footwork and high pad level. Isn't a real physical tackler at this stage either and will struggle to break down and wrap-up on physical receivers one-on-one. More of a drag down guy.
Impression: Will be given a chance because of his natural fluidity and size/speed numbers. But as of now isn't a guy who you can trust on the outside in man coverage at the next level. Needs some time and coaching to clean his technique up, and he looks more like a developmental-type prospect to me with a good amount of upside.
Follow me on twitter: @WesBunting
Ready for fantasy football? Click here to purchase the 2010 Total Access Pass/Draft Guide from the NFP.