June 24, 2011 -
National Football Post
NFP Scouting Series: Michigan State
For the rest of the summer, the National Football Post will be breaking down every team in the Football Bowl Subdivision to identify which players could warrant the most interest from NFL teams in the 2012 NFL draft.
Therefore, today we take a look at the senior class of the Michigan State Spartans.
Offense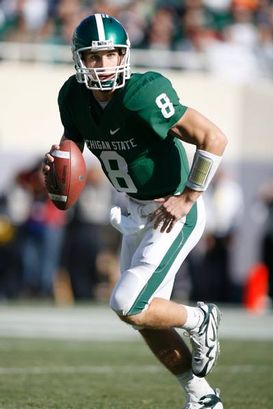 ICONCousins can buy time on the move.
QB Kirk Cousins: No. 8 (6-3, 205)
A savvy/experienced Big Ten quarterback who possesses natural leadership qualities and is the one guy everyone on the Michigan State offense seems to rally around. The guy is simply a winner. Has experience working in more of a pro style offense, looks comfortable/balanced taking snaps from center settling his feet well in his drop and spins a really clean football. Lacks "plus" arm strength, but throws a very catchable football and has some upside in that area. As he adds more weight to his thinner frame his arm strength should improve. Nevertheless, he has the ability to make all the throws as long as he's in rhythm. Looks natural working off the play action game, sells the play fake well, snaps his head around quickly and displays nice touch when asked to drop bucket throws into his receivers arms down the field. Ball placement/accuracy are both very good when he can stride into his target. He anticipates routes well, lets go of the ball on time and you can tell he has a natural mental clock of when the ball is supposed to come out. Displays a quick release as well and fundamentally he's very solid.
Deciphers information well, will step up into the pocket when he feels an outside rush, keeping his eyes down the field and can locate secondary receivers. However, too often his mind is already made up at the line of scrimmage. Gets caught with blinders on staring down his man and fails to routinely see underneath defenders in zone coverage. The majority of his picks aren't vs. the corner he's throwing at in man, but because he fails to see the coverage around him. Also, isn't real impressive when he feels pressure. Gets a bit fidgety in the pocket waiting for receivers to uncover and routinely falls off throws, causing his arm strength and accuracy to suffer. Needs to do a better job locating his hot man and living to fight another down. Is a solid athlete, can create with his legs and move the chains outside the pocket. Throws accurately on the run and seems to decipher info better when improvising on the move then from the pocket. Keeps a level head, gets his team in and out of plays quickly and always seems to be in control of the game.
Impression: A solid athlete who isn't overly impressive physically, but he has enough to make it in the NFL. Needs to take that next step in his understanding of the offense this year and cut down on the mental errors. However, he's a good kid, a hard worker and has some real similar qualities to some of the senior quarterbacks who came off the board this year (Ponder/Dalton). Nevertheless, his struggles with pressure could hold him back from ever becoming an NFL starter.
WR Keshawn Martin: No. 82 (5-10, 188)
A slight, slippery receiver who possesses only average height and needs to continue to add girth to his frame. Lines up both on the outside and from the slot, but is at his best with the ball in his hands. Does a nice job setting up blocks, is lose in the hips and accelerates very quickly out of his breaks. Consistently can make a defender miss in space and outpace angles toward daylight. Is a developing receiver, does most of his work in on crossers and in the bubble game where it's easy for him to get open and create. Is explosive off the line, eats up the cushion quickly and there is a natural snap to his game out of his breaks. Displays good coordination when the ball is in the air as he can adjust to the throw make a play on the football. However, he's raw when trying to re-direct and breakdown as a route runner. Seems to drift prematurely before getting into his routes and rounds off his angles routinely when trying to separate. Doesn't have the strength to consistently fend off defenders down the field. Is shifty, but can easily be pushed off his routes and re-routed. Nevertheless, has the speed to still outpace defenders vertically once he collects himself.
Can create as a punt/kick return man as well. His combination of vision, patience, wiggle and acceleration makes him one of the better threats in the Big Ten, which will add to his value on an NFL roster.
Impression: His ability to create with the ball in his hands gives him a chance and makes him an attractive later round/free agent type wide out. Needs to get a little stronger, but he's explosive, balances and fluid when asked to break defenders down. Just needs to learn to become a more polished receiver because the tools are there.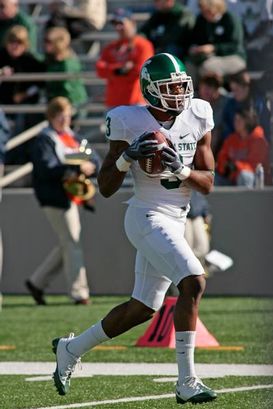 ICONCunningham is physical after the catch.
WR B.J Cunningham: No. 3 (6-2, 226)
A taller receiver who despite his weight, looks a bit leggy getting off the line and into his route, not quite as compact as his frame would lead you to believe. However does have a physical element to his game after the catch and when asked to go get the football. Doesn't waste much motion dancing once he gets his hands on the football. Gets his head snapped around quickly, puts his foot in the ground and likes to Stealing Sharp it right through the teeth of the defense. Displays strong hands and a powerful frame when asked to adjust and high point the football, looks like a power forward the way he comes down with the throw. Now, isn't real explosive off the line, a strider who takes a bit to get up to full speed. Isn't going to consistently run by defenders vertically at the next level, but he has the ability to gain speed as he goes and can be tough to keep pace with if a corner routinely sits on his routes as he displays the strength to shrug off a defender and turn his route up the field. Isn't real fluid out of his breaks, routinely is forced to slow his feet in order to break round and rounds of his angles consistently. Even when asked to run less sharply breaking routes he routinely rolls into his slants in the three step game.
Displays a good feel underneath working the short passing game. Recognizing zone/man concepts quickly does a nice job finding soft spots, breaking tackles and creating after the catch. Works well for his quarterback consistently drifting toward better angles and creating after his initial route is stalled. Plucks the football well away from his frame over the middle and is a natural plucker. However, will get lazy at times letting the ball into his frame, trapping it against his chest and occasionally will put the ball on the ground. Works a lot from the slot over the middle of the field and despite his physicality he's not real sudden off the line and strikes me as the kind of athlete who doesn't have the short area quickness needed to beat press on the outside in the NFL. However, vs. off man he has the kind of balance/grace needed to set up his routes and get his big frame between the ball and defender.
Broke his foot in December of 2010 and needs to prove he's clean medically.
Impression: Isn't real dynamic of an athlete and it takes him a bit to build speed. However, he can box out defenders, go get the football and break tackl es after the catch. More of the big slot guy only and fringe roster prospect.
TE Brian Linthicum: No. 88 (6-4, 243)
A more athletically built tight end prospect who possesses the ability to keep his base down off the line and displays some short area quickness in order to cleanly get into his route. At times will struggle to recognize the defensive front and really take some bad angles out of his stance, wasting motion and slowing himself into his route, but for the most part is solid off the line. Isn't a dynamic athlete who can consistently outpace defenders seam. However, tracks the football well and exhibits impressive concentration and body control when asked to extend and make a play off his frame. Doesn't exhibit any hesitation when asked to expose his body over the middle and will go up, pluck the football in traffic and come down with the grab. Is a coordinated route runner as well who sells his routes with a subtle head fake, is sharp in and out of his breaks and is comfortable working in tight areas. Does a nice job putting his body between the defender and the ball and snatching the football. Has a good feel finding soft spots and knows how to work himself open, however, isn't the type of athlete who can simply run away from man coverage. And isn't overly explosive out of his breaks.
Is a limited run blocker at this stage. Does a decent job getting out of his stance and trying to gain leverage on contact. However, isn't real heavy handed, allows his pad level to get upright and struggles to stick through contact. Will be used as a move blocker as well and even line up at full back at times. However, is routinely overwhelmed on the play when trying to take on backers and ends up on the ground too often. Has a frame to get bigger, but at this stage isn't going to be able to hold his own as an in-line guy and set the edge.
Impression: A limited blocker, but has some savvy as a pass catcher and adjusts well to get football. Isn't a dynamic athlete and his limitations in the run game will hurt him. Looks more like a late round type/reserve only who could potentially make a team because of his ability to work the middle and move the chains.
OG Joel Foreman: No. 67 (6-4, 315)
A thick, nasty looking Big Ten type lineman. Possesses good overall girth though his lower half and has the size to engulf defenders on contact. However, isn't the most natural of benders as he sits as high as any linemen on the Michigan State line, struggles to keep his butt under him off the snap in the pass game and has a tendency to bend at the waist. Isn't real quick off the ball, struggles to handle explosive lineman shooting gaps inside and looks heavy legged in pass protection. Get caught lunging into opponents, struggles with his short area quickness when asked to shuffle and slide and doesn't have the lateral quickness to routinely mirror through the play. He also allows defenders to get under his pad level off the snap and despite his size he can overwhelmed on contact vs. smaller defensive tackles.
He does possess natural power in the run game. Generates good pop into contact with his powerful upper body and punch, as he can really stun defenders at the point. However, lacks a great first step and struggles with body control/angles when trying to get into defenders as an in-line guy and stick through contact. Consistently is able to get a piece of his man, but struggles with balance and ends up slipping off blocks easily.
Is surprising a little more coordinated on the move than given credit for, but isn't real rangy and isn't a guy who can routinely reach his target. Does a nice job blocking down and sealing inside when a defender isn't over his face. Again, unleashes a powerful punch into contact, works hard to finish and plays with a nasty demeanor.
Impression: Isn't a guy who has the lateral quickness to hold up in the pass game consistently in the NFL. Has some power as a run blocker, but leverage and balance are both concerns through contact and despite his success at the college level, I don't think he warrants a draftabale grade.
Defense
FS Trenton Robinson: No. 39 (5-10, 195)
A compact, well put together safety who looks a bit taller than his listed height. Does a nice job sitting into his drop off the line. Reads and reacts quickly to the run game, doesn't waste much motion when asked to drive downhill on the football and is really compact/balanced with his footwork. At times gets a bit nonchalant when responsible for playing as the last line defender and will stop moving his feet and lose a bit of his angle. However, for the most part takes consistent angles in space, displays a natural burst when closing on the ball carrier and is a consistent wrap-up tackler in all areas of the game. Drops pad level well, creates a snap at the point and brings his legs through contact.
Doesn't sit into his stance nearly as well when he knows he has to play man coverage, as he allows himself to get a bit upright in his drop. Is quickly is able to diagnose the routes, but because of his higher pad level will take a false step collecting himself out of his breaks. However once he gets his feet under him exhibits a natural burst, good closing speed and adjust well to the football. Takes very good angles underneath as well in coverage when there is a completion under him and routinely tackles in space. Will get caught sitting on routes at times, causing him to stop moving his feet and despite his ability to fluidly open his hips up and turn to run, he doesn't have the kind of elite second gear to make up for a false step when asked to run vertically. Nevertheless, does display natural balance/coordination when asked to re-direct in coverage, both in the deep half and in man and feels routes around him and routinely is able to drive on throws. Has become quite the ball hawk at times in the deep half driving on throws in front of him and cleanly re-directing laterally and getting over the top in centerfield.
Impression: Not a dynamic athlete in any area of the game but does everything at a solid NFL caliber level. Looks like a guy who can contribute early on a defense and special teams and mature into a starter you can win with.
Follow me on twitter: @WesBunting